Wednesday, Feb. 8, The College of William and Mary administration notified faculty of the immediate discontinuation of the German Studies major. The decision came as a surprise to faculty and students in the Department of Modern Languages and Literatures, prompting a quick response from the German Studies faculty to students via email. 
"The German Studies faculty is, as you can imagine, deeply dismayed by this unprecedented move by the administration to delete a major that adds so much to MLL and to the college humanities curriculum, but there is nothing that will change their decision," the email said. 
According to an email sent to faculty from Acting Dean of Faculty for Arts and Sciences Suzanne Raitt, the administration had considered discontinuing the major for several years. Raitt wrote that the administration's decision came in response to changes in student demand, as well as the need to meet requirements set by the State Council of Higher Education for Virginia. 
"We understand the hurt and frustration that come with such a transition, and we do not make this decision lightly or quickly."
Though the change already went into effect, Raitt clarified that the German Studies minor, as well as opportunities for students to self-design an interdisciplinary major in German Studies, would remain. 
"We understand the hurt and frustration that come with such a transition, and we do not make this decision lightly or quickly," Raitt wrote. "All faculty positions will remain, and we will work with the faculty and students to ensure that declared majors graduate on time and have a full slate of courses available to them."
Students like Eli Weissenboeck '24, a German Studies major, expressed frustration with the decision, writing in an email to the Flat Hat that it diminishes the College's values. 
"It jeopardizes the safety and sanctity of the entirety of our language departments," Weissenboeck wrote. "It undermines what our school stands for. It disrespects the professors who have chosen William & Mary to share their life's work with. This decision expresses how little the administration cares about student's passions and their education. It is a slap in the face to any student who chose William & Mary for a potential linguistics or global studies path." 
German Studies Program Director and Associate Professor of German Studies Jennifer Taylor also expressed her surprise at the administration's decision, especially since the German Studies department has a substantial history of full classes and a successful program.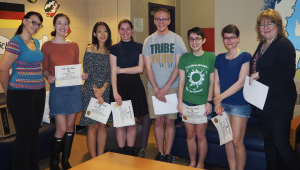 "I was quite shocked that all of a sudden it seemed to me, they decided to do away with the major so quickly," Taylor said. "So that was a surprise. There were other issues apparently, besides the numbers, of meeting SCHEV guidelines that were just sort of messy, and I don't understand all of it. So that contributed to the decision according to the administration."
"This is merely omen of what could and is already happening to the other departments in the Modern Languages."
Tristan Dunn '23, a German Studies major and head editor of Die Zeitung, a student-run newspaper within the German Studies program, wrote in an email that he was not surprised by this decision, citing budget cuts and a lack of resources provided to the department during the height of the COVID-19 pandemic. 
"This is merely omen of what could and is already happening to the other departments in the Modern Languages," Dunn wrote. "Apparently nothing is meant to change in the course offerings, the professors, or really anything; however, I doubt the administration will support the department in any way. There will be less interest from prospective students and the department could crumble."
Raitt assured that educational opportunities for students will not be impacted by the discontinuation of the major. 
"The German Studies minor is vibrant and will continue, as will the German language and literature program, study abroad, and the international house," Raitt wrote. "We are completely committed to German Studies as a vital part of our liberal arts and sciences curriculum. We are lucky to have such creative, determined and dedicated faculty in the German Studies program, and we are grateful for their patience and resilience as we begin this transition."
Board of Visitors member Kendrick F. Ashton, Jr. '98 commented that the administration made its decision in response to demands and interests of students, as well as the mission and views of the College. 
"To support a major has, you know, certain requirements," Ashton said. "And I think we've seen consistent trends in a number of areas that suggest to us that you need to perhaps offer some of those courses, but not necessarily all for a major. But, of course, these are the kinds of things that the faculty and the provost work very hard on to think through comprehensively."
Taylor expressed concern that the decision may have unknown consequences, but that the College and faculty would not know the extent of the impacts until more time has passed. She also mentioned her surprise that students intending to declare a German Studies major this semester did not receive time to do so after the administration announced its decision.
"I was a little bit surprised by the fact that they told us to not let anybody declare after the decision was made, because I assumed that people would be able to sign up that week if they had been intending to," Taylor said. "But that is not the case. So they will have to either self-design or become a minor."
"I think it feels for us faculty and our students that our work for the major, that the major is not valued."
Taylor said that although opportunities for students and faculty positions may not change, the decision feels like a demotion, especially considering that the MLL department is one of the oldest language programs in the country. 
"I think it feels for us faculty and our students that our work for the major, that the major is not valued," Taylor said. "And I think that's true, I think it's not, and it's not valued because of the small numbers. So it's about numbers. It's about money, I guess. It's about bureaucracy."
Dunn and Weissenboeck emphasized the value of the German Studies major, citing opportunities they have had in the program, as well as what this decision might mean for prospective students at the College.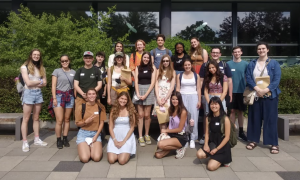 "I hope that incoming students and prospective students are made aware of this administration's vulturous actions and can hopefully find a home at an institution that cares about their passions and cultivates a campus of learning and opportunity," Weissenboeck wrote. 
Dunn criticized the administration's decision for being out of step with recent initiatives and the College's values.
"If William and Mary truly cared about their 2026 vision, which was made without the input of neither professors nor students, they would realize the value of learning German or any of the languages in the Modern Languages," Dunn wrote. "A German department featuring Black voices, Jewish voices, Roma and Sinti voices, Turkish voices and so many more diverse identities is a step forward. German is not a monolith and the dissolution of the major is a step backwards."
Raitt mentioned that regardless of this decision, the administration remains committed to strengthening the Arts and Sciences programs at the College and that they are lucky to have committed professors that will continue to cultivate meaningful relationships with their students. 
"As we make this decision, we know we are united by the shared goal of positioning Arts & Sciences to thrive and grow and we look forward to the many creative courses our German Studies faculty will offer our students as we move into the next chapter," Raitt wrote. 
"We are so sorry this is happening, but we need to move on together and support each other through it all," Taylor said.
Taylor is currently focused on supporting her students as the department navigates these changes and remains optimistic about the future of the German Studies program. She mentioned that the program will still continue to offer a variety of different classes in both English and German. 
"We are so sorry this is happening, but we need to move on together and support each other through it all," Taylor said. "You are committed, scary smart and deeply engaged, and we so appreciate you."