In college, every student — regardless of major, academic path, extracurriculars or social life — is faced with life's anxieties and challenges. These negative moments can lead to one's college experience being diminished or soured, and this gloominess has the potential to spread well beyond its reasonable limits. However, at the College of William and Mary, one organization seeks to combat these daily stressors by providing students with a plethora of good-natured deeds to brighten their day, and hopefully, leave a long-term positive impact.
The Random Acts of Kindness Club seeks to be a supportive and uplifting group that serves as a bastion of compliments and generosity for students of the College to benefit from. As the name implies, the random activities of the organization are meant to cast a wide net to benefit the whole of the College. When it comes to the acts of kindness themselves, RAKC employs a range of endeavors, but one of their most common is setting up a table on campus to directly interact with as many members of the community as possible.
"We find that tabling is a great way to engage with the campus community — being on the Sadler terrace on a nice sunny day or on the weekend, usually there's a lot of foot traffic around that area," RAKC Vice President Garrett Macrae '24 said. "It's a great way to directly speak with students and really engage in the acts of kindness."
However, tabling is far from the RAKC's only initiative. Another major activity RAKC enjoys doing is its coffee sleeve decoration, which has become so prominent throughout the organization's existence that it is seen as a tradition by many members. Hannah Jolene King '23, the president and founder of RAKC, describes the experience as a standout part of the club.
"Nearly every semester that RAKC has existed, we have decorated coffee sleeves and put them in either the Daily Grind or Swem Aromas," King wrote in an email detailing her involvement and passion for the group. "We have had a couple of instances of people contacting us or coming up to us while tabling to let us know that they received one of our coffee sleeves, and that always makes me happy to hear."
King is far from the only member of RAKC that enjoys the decorating. Elsa Quillin '23, the administrative executive of the organization, also highlighted this tradition as one of her favorite parts of the club. She talked about how she likes imagining the joy of the person receiving the special addition to their morning routine, and in turn, receives a great deal of happiness herself.
"You'll be going to get your coffee, and you'll have a note and some pictures on your coffee sleeve," Quillin said. "That's one of our favorites to do."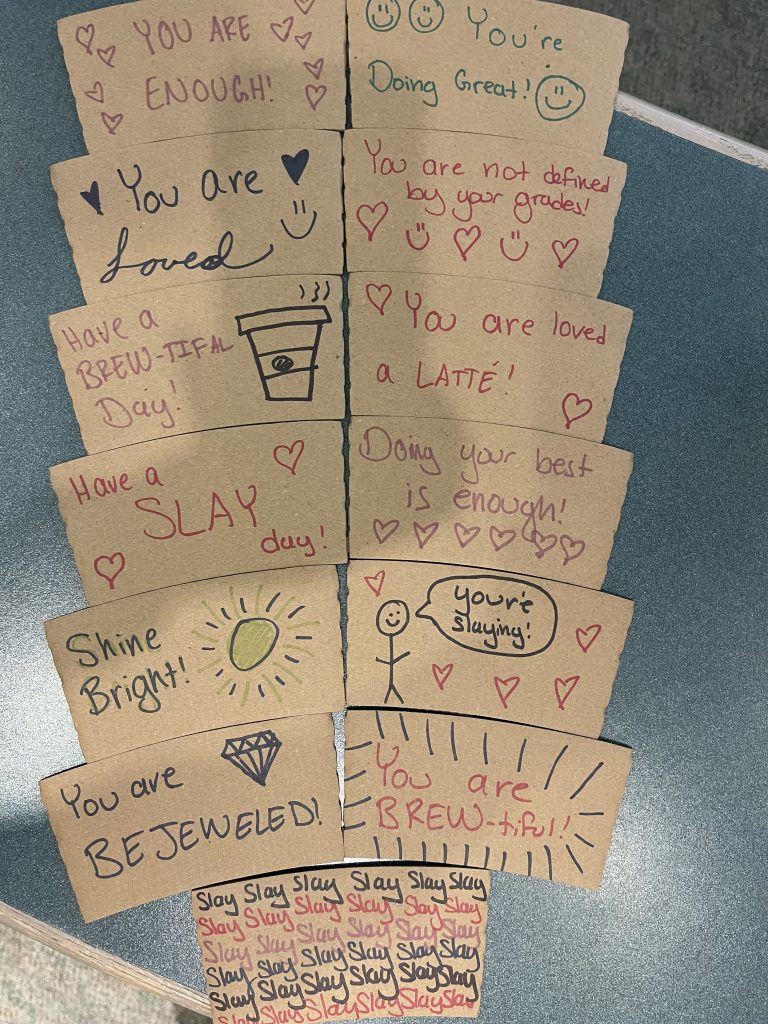 Additionally, RAKC holds events that are related to holidays or other relevant happenings, as themes are not only enjoyable for the club members, but also can provide significance to the greater community.
"When it was Parent's Weekend, parents and students could write notes to each other and give it to their parents or kid, or for Valentine's weekend, we had little affirmations where people could write a valentine and give it to one of their friends," Quillin said. "We also do other things that are related to whatever holiday or event is going on, so during finals week we might put little memes or notes around the library."
In addition to providing acts of kindness to the College at large, RAKC also places an emphasis on being an uplifting and positive influence on its own club members. The organization makes sure to consistently foster a strong community, and it tries to cultivate a culture of acceptance for all students who join.
"I hope that all RAKC members feel a sense of belonging and pride in being a part of RAKC," King wrote. "We always try to ensure that everyone feels welcome and that their ideas and suggestions are heard in our meetings."
To maintain this goal and the club's greater mission of promoting kindness as a remedy for stress, RAKC strives to remain a low-commitment undertaking. Reducing the level of involvement required of members not only allows participants to pull back temporarily if needed, but also serves as a great way to remove barriers of entry to the group so that anybody who finds themselves interested can join.
"Because RAKC is a low-commitment organization, we love to have people come at any time during the semester, and because of that, we want to make sure that we know everyone's names and give everyone a chance to introduce themselves," Macrae said. "We will always welcome you with open arms, and we want to hear your fun ideas, and we want to get to know you at any point in the semester, and we really want to emphasize that it's a welcoming community all times of the year."
Many members echoed Macrae's sentiment, praising the community of support that they have received from RAKC.
"Even though we have some established acts we like to do every semester, we also try to just foster a community of kindness, as cheesy as it sounds," Quillin said.
Although RAKC is a rapidly growing group at the College, the organization started relatively recently in the tail end of 2020. The club started with the simple aim of being a difference in the College community, but its pure intentions have since captivated students.
"I was looking for a low-stakes way to get involved on campus and spread kindness in the community," King wrote. "I wanted RAKC to be a low-commitment organization where students could join and meet others with a common goal of making campus a brighter place without the stress of strict membership requirements."
Though the organization may have come from humble beginnings, its strong impact has been reflected by its development as what the club's founders described as one of the fastest growing organizations at the College.
Overall, RAKC is dedicated to making the College a better place for all students. Though the organization started small and engages in activities that are smaller in nature, sometimes the smallest things have the biggest impact in our life. Although every student at the College is faced with constant challenges and hardships, RAKC seeks nothing but to serve as a positive counterbalance to this negativity.