In fall of 2023, the College of William and Mary will unveil the first phases of the campus's planned Arts Quarter, which includes a newly constructed music facility and renovated Phi Beta Kappa Memorial Hall. The project has been underway since the summer of 2018, with a brief pause during 2020 due to COVID-19-related construction cost increases and supply chain issues.
PBK Memorial Hall will house the department of theater, speech and dance, while the department of music will relocate to its own building right next door. 
"Key program elements include four classrooms/seminar rooms, 15 teaching studios, 33 practice rooms, 60 person choral and 45 person instrumental practice rooms, a 125 seat recital hall and a 450 seat recital hall," the College's Facilities Management web page reads. "All space will be uniquely suited to the instructional and acoustic needs of the Music program."
Construction costs for the buildings have remained steady at around $139 million in state funding, plus additional donor funds. Originally planned as staggered projects, builders combined the projects into a single phase, with the next phase to include the expansion and renovation of Andrews Hall. The Arts Quarter will also include the Martha Wren Briggs Center for the Visual Arts, which will house the renovated Muscarelle Museum of Art. The center is slated to open in fall of 2024 and relies on $43,800,000 in private donations.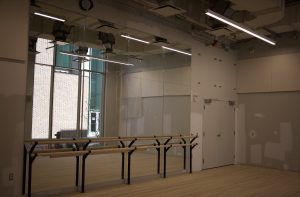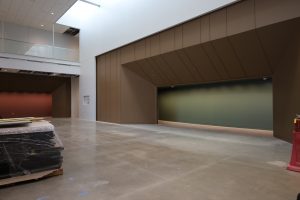 The College's Director of Facilities, Planning Design and Construction Dan Pisaniello estimates that the project is only a few weeks away from moving faculty and staff into the buildings. He also noted that the first student events in the new facilities will be held during freshman orientation this coming fall. According to Pisaniello, the buildings themselves offered a unique challenge during construction, as practice and performance spaces must provide specific acoustics that are ideal for sound to travel. 
"The room itself, they consider it an instrument," Pisaniello said. "The design team hired an acoustician to be part of the design team. So as they were working and laying out spaces, the acoustician's thinking about what will materials do to sound, how do we need to direct it or reflect it in a certain instance or amplify it in another."
Faculty, staff and students are excited for the completion of the project, with many emphasizing how important these modern spaces are to their art forms. Associate professor and director of the College's symphony orchestra David Grandis also mentioned that music is essential for the mental health of the College's students. 
"We are all very excited to finally have our own concert space," Grandis wrote in an email to The Flat Hat, "When PBK was still operational, being the home of the Theater department, we couldn't schedule any concert there other than during the final week of classes each semester, and the acoustic, better suited for projecting speech, was inadequate for an orchestra. Music is a vital activity for the William and Mary students who tend to work very hard, and who absolutely need a healthy way to blow off steam and manage their stress level."
Pisaniello emphasized other key elements of the spaces, including the sizing of venues to accompany various productions, retractable seating in dual practice and performance spaces, an underground tunnel between the two buildings to transfer equipment and the sustainability aspect of the construction project.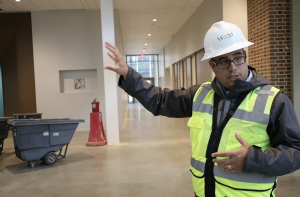 "What's really significant about this building in particular is that once it comes online and is certified by the U.S. Green Building Council, we will eclipse one million square feet of certified greenspace on campus," Pisaniello said. "That's a huge accomplishment."
Both PBK and the music facility are equipped with an expansive amount of natural light, soundproof teaching and practice spaces, classrooms, Wi-Fi, display cases, instrument lockers and accessible parking spaces. Pisaniello also mentioned the possibility of a new music library in one of the buildings. 
Layne O'Connell '25, a music minor, discussed the importance of these new spaces in her college experience. 
"As a really passionate musician, one of the things that initially drew me to William & Mary was the fact that there was a plan for a new music building and arts quarter. Often it seems the arts are neglected by educational institutions when it comes to funding and support, I feel lucky to go to college in a place that supports and sees the importance of the arts," O'Connell wrote in an email. "Dance, theater, and music can all thrive with bigger, more modern spaces."
Associate professor of Theatrical Design and resident Scenic Designer for the department of theater, speech and dance Matthew Allar has been a faculty member within the department for 14 years, and believes that these new facilities will assist with interdepartmental collaboration. 
"It will be the first time in the Department's history that theatre and dance students will take classes and share their work in the same building," Allar wrote in an email. "This type of community has been stretched thin over the past 5 years [with the] renovation project, so I'm very much looking forward to the next chapter of [the] program's growth with this multi-faceted group of artists and educators."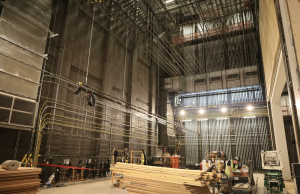 Pisaniello also discussed the importance of the buildings in the continued growth of the College's liberal arts curriculum by opening up more opportunities for students outside of the arts departments to take music, theater, dance and speech classes. 
Production manager for the department of theater, speech and dance Charles "Chuck" Bayang echoed Allar's sentiment and expressed his excitement regarding the move to a new building. 
"It is such a gift to be able to work in this updated building, which I hope can only energize people and spark their creativity," Bayang wrote in an email. "I am excited for the opportunities that this new space can provide — whether it's being able to do more because we have more room to work and more places to do that in, or engaging with the campus or the community more because we have more traffic through the building. Thanks to everyone who had a hand in making this happen. This has been a large project, spanning many years and much labor and many man hours put in from people known and unknown to us."
Other than the PBK and music facility buildings, Pisaniello is helping oversee the Integrated Science Center IV and Muscarelle Museum of Art expansions. He also mentioned that donor funds are set aside for improvements such as acoustical upgrades. Currently, builders are working to take down some of the fencing around the buildings and prepare for moving faculty into their new spaces.
"I am already all packed and ready, I even have a shovel in my trunk if it's not finished in time," Grandis wrote.