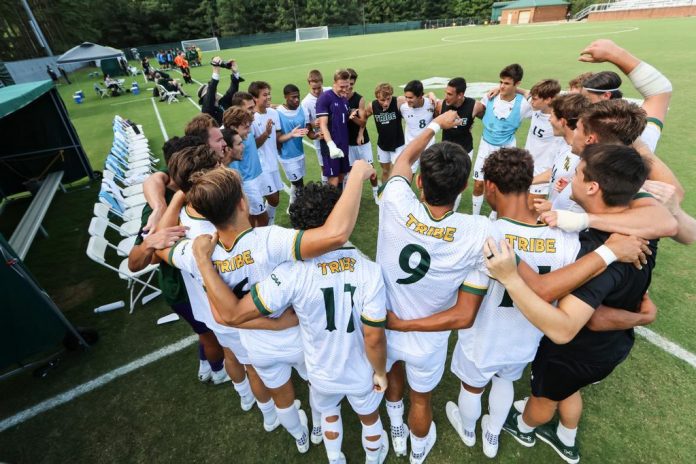 Thursday, Aug. 24, William and Mary men's soccer (1-1) fought back from behind and defeated Binghamton (0-1) 2-1 at Martin Family Stadium at Albert-Daly Field in Williamsburg, Va.
Thursday night's win began the Tribe's season on the right foot as they look to bounce back in 2023, following the team's first round loss in the Coastal Athletic Association tournament in 2022.
Hosting the Bearcats for the first time in over a year, the Tribe looked to jump out to a hot start and play aggressively on its home turf. The Bearcats, however, put up quite the fight.
Binghamton scored the game's first goal in the 27th minute after junior forward Mael Lopes cleaned up a rebound just outside the Tribe box. Tribe graduate student keeper Cole McNally managed to save Bearcat graduate student midfielder Jack Green's shot moments before, but Lopes found himself at the right place at the right time and secured an early lead for Binghamton with his first goal of the year.
Twelve minutes later, the Tribe equalized. Freshman midfielder Gabe Ruitenberg connected with senior midfielder Augie Cooper on a perfectly placed corner kick to score his first collegiate goal with a header to knot the score at 1-1.
The game settled down for the remainder of the half and continued to be evenly matched early in the second.
In the 72nd minute, a Bearcat foul in its own box gave the Tribe an opportunity for a game-sealing penalty kick. Graduate student midfielder Alfredo Bozalongo stepped up to take the kick for the Tribe, beating the Bearcat keeper with a clinical shot into the bottom right corner of the net. Bozalongo, who has started 52 of his 53 career games for William and Mary, scored his eighth career goal and put the team on top 2-1 with less than 20 minutes left to play.
The Bearcats failed to respond, and as the game came to a close in the 90th minute, the Tribe earned themselves a hard-fought win in their season opener at home.
Overall, the match favored William and Mary in almost every offensive statistic. The Tribe put more shots on goal (9-6), had a higher percentage of possession (59% to 41%) and had double the corner kick opportunities (8-4) than their opponent.
Despite dropping their next game to Coastal Carolina 2-1, the Tribe will try to maintain their early-season momentum rolling as they travel to Hamilton, New York to take on Colgate on Friday, Sept. 1.