On Thursday, July 20, voting for Tony Hawk's Skatepark Hero contest came to an end. In an impressive feat of dedication and just a little bit of luck, Izzy Anderson '25 finished in the final eight out of 55,000 contestants for a chance to skate with Hawk in San Diego as well as win a $10,000 cash prize.
Voting for the first round of the competition started on May 15, in which the top 20 skaters in each group were selected by the public. Anderson, the co-founder and president of the College of William and Mary's brand new Skate Club, initially decided to join the competition to raise money to build a headquarters for the club in her backyard. The do-it-yourself skate park would include a ramp and a free skateboard rental system open to all members.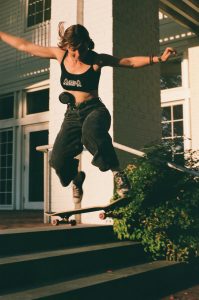 Especially with the skate park nearest to the College slated for upcoming demolition according to the Triangle Skateboard Alliance, the space would be especially crucial for Anderson and her club's members. While the $10,000 would not have been enough to fund an official, large-scale skate park, even a smaller-scale venue would have been beneficial for the College's skate community. 
"The goal is [to get] as many people on boards, as much as we can do with the space and within the law," Anderson said. 
The first half of the competition featured voting based on individually submitted profiles, and it involved five group-level elimination rounds until all but the top contestant from each randomly selected group remained. The second half of the competition included skate trick videos, and it ran from quarterfinals all the way to the last showdown.
"Every group winner had the ability to submit a clip of them skating to Tony Hawk. So no matter what happens in the competition, Tony Hawk sees me skating, which is crazy," Anderson said. "He could be watching me skate right now."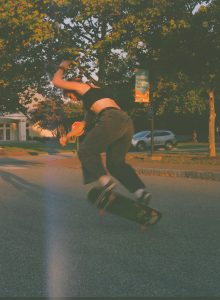 In order to progress in the competition, Anderson took to social media every day — even despite the summer camp she worked in having poor reception. However, she said her surprising success made her efforts all worth it. She charged on, posting daily uploads of her skating and sharing posters as well as a t-shirt with the slogan "I want to meet Tony Hawk." 
"Everyone in my camp knew, my whole family knew," Anderson said. "It became my identity a little, where I was like 'Go vote! Go crazy!'"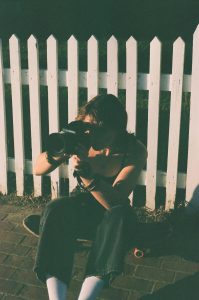 Supporters also had the option of making donations that would be converted to votes, and all proceeds would go to helping Hawk build skate parks in underprivileged areas. Anderson said she is glad to have contributed to such a cause. 
Results came out on Friday, July 28, with Michael Manion from Southern Georgia taking the title of 2023 Skatepark Hero. Robert Zamora from New Mexico was also selected by Hawk himself as a separately dubbed Tony's Pick. Anderson shared that although she finished in second place, she is thankful to everyone who voted for her and donated money to the Skatepark Project in her name.
"I will say I am disappointed just because I was so, so, so close, and it's pretty raw right now, but the bright side is that we have established such a strong support network, and I feel insanely grateful for everyone that did something to help out," Anderson said. "Being able to feel that amount of support in your life is not something I think everyone gets to experience, so I'm thankful for that, too."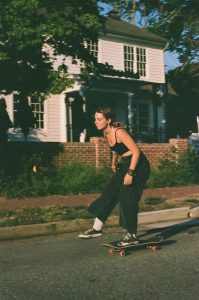 Anderson's near win in the competition comes as a culmination of years of skating. She experienced her first skate awakening after falling on a hill in the fifth grade while filming a video for a school project with friends, she says. 
"That's usually the reaction you'll get from a big slam," Anderson said. "It's either 'I quit skating altogether' or 'I'm going to go do that now.'…I was hooked, and the rest is history."
Reflecting back on her journey, Anderson said that no matter what, she has already reaped the greatest reward just by the sheer act of skating. She voiced that the most valuable gift was already at her feet. 
"I'm so grateful for skating," Anderson said. "Because, man, when I think about skating, like with the Skate Club, with this competition, with the sport in general, it's literally giving me everything that I love. Some of the best friends I've made in my whole life, I've made through skating, and some of the best memories have been through skateboarding… I just am so grateful for everything."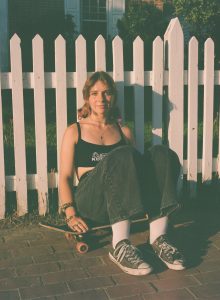 Skate Club Vice President Evan Melnick '26 expressed that he, in turn, is grateful to Anderson for putting her best foot forward into the Skate Hero competition. He recalled noticing Anderson's commitment to the club from the moment she encouraged him to join its Snapchat group chat, all the way to this most recent effort. 
"I think that what made it even cooler that she pushed through and made it happen is that it seems to other people who didn't know about the competition that it's just something she was trying to win. …" Melnick said. "… She dealt with that all in the pure spirit of just wanting to get more resources for the club … I'm just really happy that we have a leader of the club that puts the good of the members above her own pride."
Like Melnick, Skate Club Secretary Helena Huber '26 emphasized how thankful she is to Anderson, along with her co-founder Nora Wilson '25, for continuing to build up the club.
"Izzy gave me a place," Huber said. "I feel like I have a community, and I have my people, and she's extremely welcoming even besides all of the skateboarding. She's just a great friend … I'm really happy that she's giving so many people a place because I feel like without that club, a lot of people would not have a community for sure."
Melnick credits Skate Club's strength as a community to its co-founders' commitment to embracing skaters of all backgrounds. The club has even been affectionately nicknamed "Skate Club & Co." because its numbers include everyone from first-time beginners to pros with years of experience.
"[Izzy and Nora] are very open to having new people in the Skate Club, and all different types of people," Melnick said. "So I ended up meeting a lot of people in different groups in the student body that I think I definitely would have never met if I wasn't in the Skate Club. The energy that they bring to their social lives made it feel so much easier for me to meet people, not just with them … but just the way they lead by example in terms of talking to new people and having an open heart to strangers and other students. It made it feel like everyone wanted to build relationships at William and Mary. They showed me that when you put the energy out there, you kind of get it back."
Anderson, along with Wilson, structured the club to have a dual focus on both athletics and social connections, making it attractive to students of all levels of interest and involvement. Members can find skating mentorships, play tricks-based games like the Game of Skate with similarly skilled shredders or simply meet others interested in skate fashion and culture. Huber even says she has met international students from countries like China and Sudan while skating, proving just how diverse and welcoming the club strives to be under the watch of Anderson and Wilson. 
Looking forward, Anderson and Huber both noted that the gender gap which exists in the world of skateboarding marks an ongoing area for improvement. Anderson received special words of support from other women for being the only female in the final eight contestants of the Skate Hero competition, and Huber recalled having a similar experience.
"Izzy and I were skating at Lincoln Memorial, and so many people came," Huber said. "A lot of women, too, were like 'Good job, I never see women skaters.' It's just a real qualm. I think a lot of young skaters, people who are going to win the Olympics soon, are going to be women and are women already, but it's definitely male dominated."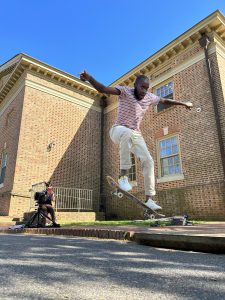 As the next academic year swings into action, Skate Club's members plan to capitalize on the momentum Anderson has started in order to continue growing the club and fostering greater passions for skateboarding in Williamsburg, according to Melnick. A former diver, he encouraged those interested in skating to take the first leap into the deep end. 
"I think definitely the most challenging thing in skating is probably getting started," Melnick said. "For most people, that's the hardest part. Once you start, you start to figure out what you have passion for and you have a reason to get back on the board and enjoy it."
"Any person can pick up a board," Huber reaffirmed. "Some people have boards that were found in a dumpster and some people have Walmart boards. It doesn't matter, you can still skate."