Thursday, June 29, public and private higher education institutions across the country experienced a historic shift when the United States Supreme Court effectively ended race-conscious affirmative action. Chief Justice John Roberts and the five other conservative justices ruled in Students for Fair Admissions v. Harvard and Students for Fair Admissions v. University of North Carolina that considering an applicant's race as a factor in admissions violates the equal protection clause of the Fourteenth Amendment and Title VI Civil Rights Act, reversing fifty years of precedent. 
In response to the landmark decision, College of William and Mary President Katherine Rowe released a statement on June 30 that indicated the College was in the process of reviewing the opinion and potentially adjusting its "comprehensive selection process" with guidance from the U.S. Department of Education and Virginia state agencies. Rowe also emphasized the importance of diversity and inclusion to a flourishing College. 
"This week, we are asked to consider again, how students are recruited and who comes here," Rowe wrote in the statement. "Within the law, William & Mary will remain intentional about recruiting the best and brightest students from a broad spectrum of backgrounds and experiences."
While the College has yet to announce any changes to its admissions practices, Director of News and Media Suzanne Clavet told The Flat Hat that the College will finalize any changes to its admissions practices following a board of visitors meeting in late September and prior to the College's Early Decision I deadline on Nov. 1.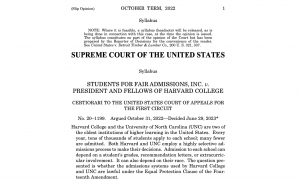 "William & Mary will continue to use a comprehensive admission strategy, including review of many components, such as strength of high school curriculum, GPA, personal essays and extracurricular activities as well as several optional elements, such as standardized test scores, teacher recommendations and interviews," Clavet wrote in an email. "This year we transitioned our optional essay component within the Common Application from a single, long-answer prompt to giving applicants the opportunity to answer up to two short-answer prompts from six options. Our hope is this new format, and multiple options, will provide all applicants with better opportunities to share about their interests, experiences, talents, and communities."
Clavet further confirmed that the College will fully comply with the ruling.
"In the past and aligned with prior Supreme Court decisions then in place, race was one of many factors that could be considered as part of a comprehensive application review process," Clavet wrote. "Moving forward, an applicant's race will not be included as part of the demographic information available to application reviewers during the admission process."
"I think that the perfect word to describe the feeling and reaction towards this ban is definitely frustration and disappointment," Diversity, Equity and Inclusion chair of the College's Latin American Student Union, or LASU, Maria Areyan '24 said. "And a setback, definitely a setback."
With the College's admissions practices in limbo as the administration evaluates how to proceed, students of color expressed concerns over the exclusion of race from consideration in the admissions process.
"I think that the perfect word to describe the feeling and reaction towards this ban is definitely frustration and disappointment," Diversity, Equity and Inclusion chair of the College's Latin American Student Union, or LASU, Maria Areyan '24 said. "And a setback, definitely a setback."
Areyan, a first-generation college student, currently works to uphold LASU's five-year plan to create a diverse and welcoming environment for the club's members. She says she is most concerned not about this upcoming school year, but the next one.
"I think we might see the effects of this ban for next year, and it's definitely something that I can definitely bring up within my committee and within my position within LASU," Areyan said. "It's something that we need to keep in mind and be proactive about so that we are not caught off guard next year [if] we see a decrease in minority group engagement — and representation, even — within William and Mary." 
Benjamin Boateng '25, who works with the Center for Student Diversity and holds leadership positions in multicultural organizations like the Black Poets Society, similarly voiced fears about the next class of students to come to the College. According to Boateng, an already small population of students of color may dwindle even further due to the ruling.
"I would say William and Mary has a lot of work to do on the diversity forefront," Boateng said. "Black individuals and People of Color make such a low percentage of students, and if that continues to plateau or even go down, I would be worried for the Black students that do get accepted in the future and just the student populace in general." 
Dylan Abrokwa-Jassor '24, a diversity fellow with the College's government department and institute scholar with the Institute for Responsible Citizenship, shared a similar sentiment. Abrokwa-Jassor argued that taking away race-conscious admissions would negatively impact minority students and referred to past instances where ending affirmative action caused steep declines in the number of marginalized students on campus.
"I think that when you have a decrease in the size of the student population for certain marginalized people, that takes away from priority and budget fund allocation because it just becomes less of a priority if there's less people who are going to be using that allotted resource," Abrokwa-Jassor said. "I think in that way I was thinking about the school's priorities, and [its protection of] marginalized people as-is is already so-so, so I think that in the wake of this decision, it might be even more of a drastic indifference towards our populations."
"Whether I like it or not, my Black makes me who I am, and just kind of ignoring that through admissions takes away from my identity, and I feel like my place here at the College," Boateng said. 
Boateng expressed that the removal of race from the admissions process leaves out a critical aspect of an applicant's identity. His younger brother, a junior in high school preparing to apply to college, is now unsure how to factor race into his upcoming college applications and essays and must face yet another barrier on top of standardized testing, academic achievement and extracurriculars. 
"Whether I like it or not, my Black makes me who I am, and just kind of ignoring that through admissions takes away from my identity, and I feel like my place here at the College," Boateng said. 
Diana Kim '25, the director of the College's Asian American Student Initiative, or AASI, echoed Boateng's sentiments and urged college admissions to continue seeking out and listening to applicants' stories.
"I think it's a fact that our culture and ethnicity and racial backgrounds influence the way that we live our lives, and the absence of that in telling our story is doing an injustice to that storytelling," Kim said. "Regardless of the Supreme Court decision, I think that college admissions can still include those stories because I think that's what is the most important part here… that [for] folks who feel that their ethnicity or racial background is a part of their stories, that aspect of themselves will be heard and that college admissions still can hear that part of them and still make that a part of their holistic process."
Notably, other higher-ed institutions have already implemented Kim's vision of a holistic admissions process following the ruling. Emory University will update its applications to feature targeted questions that give applicants the space to talk about their cultural backgrounds. According to Reuters, Emory University applications will include the new prompt: "Tell us about a community that you have been part of where your participation helped to change or shape the community for the better." Additionally, Sarah Lawrence College's applications will ask students how the Supreme Court ruling has affected their lives. 
While the College has not decided whether to change its admissions essay, there may be other ways for the College to allow race to be discussed on an application.
"As Chief Justice Roberts wrote in the majority opinion, 'nothing in this opinion should be construed as prohibiting universities from considering an applicant's discussion of how race affected his or her life' and further emphasized that any such consideration 'must be tied to that student's unique ability to contribute to the university,'" Clavet wrote in an email to The Flat Hat.
A statement released by AASI under Kim's leadership further outlined other strategies that the College should consider implementing, including rejecting race-neutral alternatives to affirmative action, increasing grant aid to underrepresented groups and hiring more diverse faculty members.
Boateng emphatically voiced support for diversifying the College's faculty, especially as corporate Diversity, Equity and Inclusion positions face historic lows after their initial surge in popularity following the murder of George Floyd in 2020. He encourages the College to continue supporting discussions about race and diversity and implement increased race-conscious training. 
Areyan, who says she experienced more bureaucracy than support upon transferring to the College last year, spoke to the benefits of having more faculty from marginalized communities.
"When it comes to admin level, I still feel a little bit of a wall in between us," Areyan said. "And I don't try to let that stop me from seeking help and also asking for help… but I know for some people it can be intimidating, and also obviously when you don't really see people that look like you, I'm sure that either consciously or subconsciously determine whether you go ask for help or not."
Abrokwa-Jassor alternatively recommends that admissions more heavily factor zip code into an applicant's profile because it can indicate what resources — or lack thereof — a student grew up having access to. 
"Race can be a good proxy for what you might have went through… but that's not necessarily to say that that's the best proxy or the most one-to-one to get an applicant that is of this race or ethnicity and to confidently say that they went through these exact things," Abrokwa-Jassor said. "But when you're weighting zip code and area and maybe what part of your school system, school county that you went to a little bit heavier in the admissions calculus, I think it also could serve to help in our absence of using race-conscious admissions because that deals a lot with socioeconomic factors that play heavily into whether you can get into school or not."
To Kim, it's these socioeconomic inequities that are the root issue at hand, not affirmative action alone.
"I think that the lack of support for other ways and means to address education inequity — as impactful as affirmative action has been — have not been happening, and I think that has been what people have been so outraged about," Kim said. "I personally haven't seen other big or impactful policies like affirmative action that really address the problem, and affirmative action is just a big Band-Aid to a larger issue, not only in education inequity, but just racial and socioeconomic injustice."
According to Kim, because national discourse surrounding affirmative action has primarily and incorrectly been framed as an Asian American issue, real, material gains towards socioeconomic justice have been slowed.
"I think we have to look at the bigger picture and what the media is doing and how the media is really construing what the actual problem is here, which is education inequity, but they're construing it as a problem about Asian Americans being discriminated against, which if you look up research and statistics… is not necessarily always true," Kim said. "Asian Americans are using this issue on affirmative action to finally feel this political liberation that they have been waiting to do, waiting to feel because there hasn't been a lot of ways of entry for Asian-American politics, and affirmative action is one of those entry ways."
Conversations about status and race-conscious admissions have also renewed a widespread call for the end of legacy-based admissions. On July 28, Virginia Tech became the first college in Virginia to pledge to remove legacy-based admissions, and on Aug. 1, the University of Virginia announced it will no longer offer a checkbox where applicants can indicate whether they are related to alumni of the university, according to Northern Virginia Magazine. 
Upon request, the College did not elaborate on whether legacy-based admissions were being factored into its considerations for admissions changes, but students and faculty alike expressed their opposition to the practice. 
"William & Mary presents an interesting case in this regard, given that it is a state school that is also a Predominantly White Institution," Assistant Professor of English and Asian and Pacific Islander American Studies R. Benedito Ferrão wrote in an email to The Flat Hat. "One may also point to the legacy admissions at such Ivies as Yale and Harvard, where the intersection of race, class and gender ensures that, year after year, white students of a particular economic echelon are virtually guaranteed admission simply because of their families' ties to such institutions." 
"If you give money to a university, you can get in even though it's an 'impartial process,' but if you want to talk about race, you can't, or you're dissuaded to," Boateng said.
Boateng further called attention to what he says is the hypocrisy of students being barred from sharing their racial identities but allowed to indicate their alumni connections to admissions officers. 
"If you give money to a university, you can get in even though it's an 'impartial process,' but if you want to talk about race, you can't, or you're dissuaded to," Boateng said.
With so many considerations to make before November, Areyan says she hopes the administration will actively continue supporting marginalized students and implement the initiatives that it may announce in the coming weeks. 
"[The administration] might say something on a communication report or a release, but behind closed doors, are they really taking in the time to learn how they can make an environment where these students strive on the same level of their other peers that have a little more of an advantage?" Areyan said. 
In the meantime, Boateng encourages the College community to continue to recognize the value of diversity even if this decision has indicated otherwise. 
"At the end of the day, I do think that people should still really care about that diversity and see that it does have a tangible impact on diverse populations of color, LGBTQ+ individuals, like it does help them feel more safe having these events," Boateng said. "Not only does it help them, but it also just helps the vibe of campus because of course you hear reviews of student life being better, outcomes being better if individuals are happier."
In one final message to those who may doubt that beneficiaries of affirmative action deserve their spots in higher education institutions, Kim reaffirms the importance of equitable access to colleges and universities around the country. 
"I have never met a William and Mary student, especially a William and Mary student of color or any college student of color, that didn't deserve to be in that institution," Kim added. "Something I really want to emphasize here is that every person deserves to go to a higher institution, period."