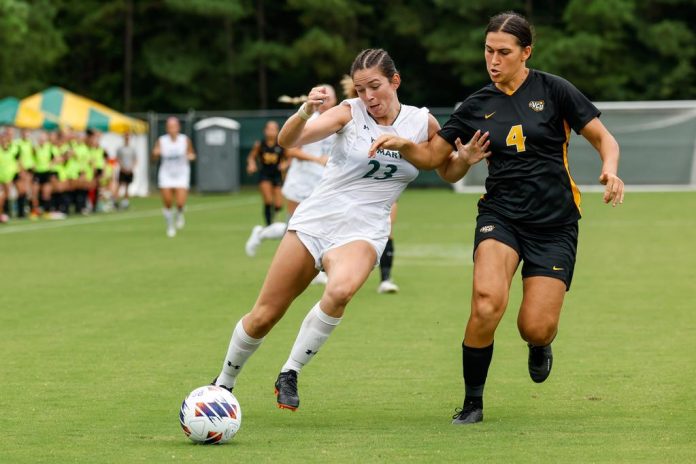 Sunday, Aug. 27, William and Mary women's soccer (2-0-2, 0-0 CAA) tied Virginia Commonwealth (1-2-1, 0-0 A10) 1-1 at Martin Family Stadium in Williamsburg, Va.
The Tribe entered Sunday's home-opener with three consecutive shut-outs at the beginning of a season for the first time since 2011. However, VCU was not phased and scored inside of nine minutes. Redshirt senior midfielder Anna Bagley served a corner to the head of sophomore forward Kendyl Sarver at the back post, who redirected the cross into the goal to give VCU a 1-0 lead.
VCU continued to dominate offensive opportunities in the first half, outshooting the Tribe 5-0 and forcing fifth-year goalkeeper Zoe Doughty into a save in the 33rd minute. Having lined up in an unfamiliar 4-1-4-1 lineup to match their opponents, William and Mary struggled to find any rhythm during the first half.
It took until the 59th minute for the home side to register its first shot and the 63rd for a shot on goal. Junior forward Leah Iglesias worked a cross to sophomore forward Ivey Crain in the center of the box, but VCU junior goalkeeper Allison Karpovich managed to collect the subsequent shot easily. However, William and Mary continued to generate chances, tallying three more shots over the next 20 minutes.
Persistent William and Mary pressure paid off in the 87th minute, when the Tribe equalized on a Crain score. After winning the ball off senior VCU defender Margot Nezaj, Tribe senior defender Ginny Delacruz lobbed a hopeful ball over the Rams backline. Crain reached the ball first and struck a half-volley over Karpovich just inside the box to level the score at 1-1. This goal marks the 2022 Coastal Athletic Association Freshman of the Year's third in four regular season games.
The equalizer seemed to further boost the Tribe momentum, as Iglesias and freshman midfielder Lindsay Wilson took a pair of shots inside the final two minutes. Following the match, head coach Julie Shackford recognized Crain's ability to impact a game when it matters.
"She could go 89 minutes and then win the game for you," Shackford said. "You can't put a price tag on that."
Shackford also highlighted the performance of sophomore defender Leila Greene, who was unbeatable in the right-back role, noting how she came off the bench to add defensive solidity and help the Tribe stay in VCU's side of the field for most of the second half.
Sunday's draw means the Tribe have extended their unbeaten streak to four, the best start to a season since 2017. The Tribe returns to action at home on Thursday, Aug. 31, facing George Mason in a 7 p.m. kickoff. Crain expressed a desire to capitalize on the current hot streak.
"I think we're going to be super fired up, really wanting to get that win again. [We] definitely want to stay undefeated," Crain said. "I think especially with tying VCU, we're going to go in with a bunch of momentum trying to get this win."