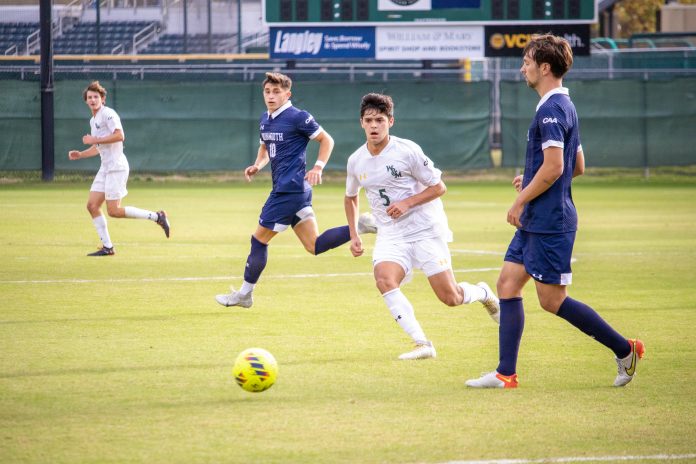 Saturday, Sept. 10, William and Mary men's soccer (1-3-1, 0-1-0 CAA) suffered a last-minute loss to Delaware (4-0-1, 1-0-1 CAA) 3-2 at the Stuart and Suzanne Grant Stadium in Newark, De.
The Tribe, which looked to begin its inter-conference season on a high note, carried a lead into the 86th minute of the match before letting up two last-minute goals to the Blue Hens.
Saturday night's game got off to a slow start due to a two hour weather delay. Once play started, the Tribe and the Blue Hens came out sluggish, playing more than 20 minutes before either team scored a goal.
In the 22nd minute, Delaware senior forward Carlos Fernandez put the Blue Hens on the board with his first goal of the game. Just over a minute later, the Tribe fired back with a goal of its own. Sophomore forward Lucas Caldas found the back of the net for his third goal of the season, with the assist on the play going to senior midfielder Ian Krajna and freshman midfielder Aidan Morrison.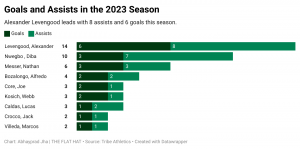 Tied at 1-1, the Tribe had no intention of slowing down and pressed with its offense to strike again while the iron was hot. In the 29th minute, freshman back Evan Rabush scored his first collegiate goal off another assist from Krajna, giving the Tribe a 2-1 lead.
Once the Tribe secured the lead, the team locked down on defense. For almost an hour of play time, Delaware's offense remained silent as the score held at 2-1 going into the final four minutes of regulation time.
However, when the clock struck the 86th minute, the Tribe's defense began to crumble. Fernandez struck again, tying the game with his second goal of the day off an assist from Blue Hen senior defender Liam Fuller. Before the Tribe could figure out what happened, Fernandez scored again, securing a hat trick for the match and a 3-2 Delaware lead with less than a minute left on the clock.
In an instant, the Green and Gold went from likely winning a tough road game against a Coastal Athletic Association (CAA) rival to leaving Delaware with its third loss in four games.
The Tribe looks to bounce back at home Sept. 12 when it takes on Old Dominion (1-0-3) at Martin Family Stadium in Williamsburg, Va.