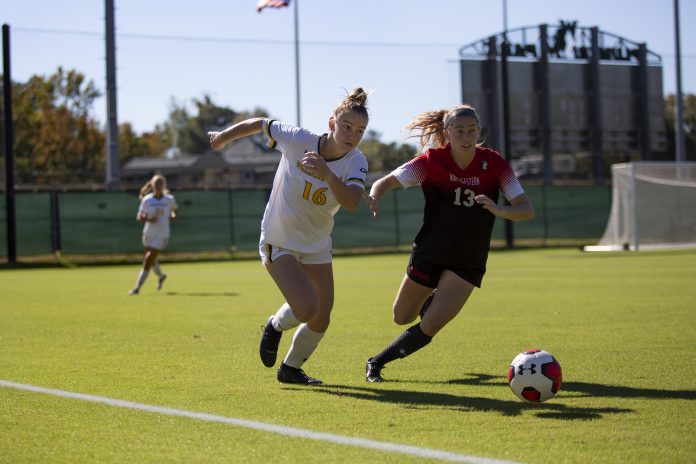 Thursday, Sept. 7, William and Mary women's soccer (5-0-3, CAA 2-0) defeated Drexel (4-3-1, CAA 0-1-1) 2-1 to secure its first conference win of the season in Philadelphia, Pa.
The Tribe remains undefeated through its first eight games, the longest opening unbeaten streak in program history.
"I think Thursday's game proves how far this team can go this season," sophomore defender Leila Greene said. "Drexel is a good, fast and gritty team that knocked us out in the playoffs last year. Getting to play them for our first conference game certainly sparked a revenge spirit amongst the team."
Drexel was first on the board, with a goal coming in the 18th minute from junior forward Casey Touey. The Tribe had numerous chances to even the game's score at 1-1, finally converting one in the 34th minute on a group effort. Sophomore forward Ivey Crain took a shot that was blocked by a Drexel defender, but freshman defender Molly Widderich recovered the rebound and shot the ball in the net, marking the first goal of her collegiate career. Crain received credit for an assist on the play.
The half concluded with an even score of 1-1. Entering the 59th minute, Crain managed to convert a goal of her own, with an assist from junior forward Leah Iglesias that gave the Tribe a lead they held until the end.
Fifth year goalkeeper Zoe Doughty held it down in the goal for the Tribe, recording seven saves on the day. With this matchup marking the beginning of conference play, William and Mary hopes to maintain its unbeaten record into the upcoming schedule.
"I think there is always pressure that comes with maintaining an unbeaten record, but for the rest of conference play, our team is focusing on always outworking our opponents and being unstoppable defensively," Greene said.
The Tribe continued its undefeated season with a win at Delaware on Sunday, Sept. 10 to move to 5-0-3. The team will take on Monmouth Thursday, Sept. 14 at 7:00 p.m. at Albert Daly Field in Williamsburg, Va.