Enveloped in the cloak of midnight, a dark-haired heroine stands triumphantly over a slain monster, her sharp metal sword hanging victoriously from her side. She's done it — she's saved the town from a terrifying beast. 
What the heroine doesn't know, however, is that she's made a fatal error: the so-called 'beast' that now lays lifeless before her was a crucial predator in the local ecosystem. Without it, the population of invasive unicorn bunny fairies — bunnycorns, as Ella Novogratz '23 affectionately terms them — explodes and overruns the town, and the heroine must quickly find a solution to remedy the unforeseen outbreak.
Of course, this tale isn't a retelling of reality but instead the fictional narrative told in Novogratz's original comic, 'Keystone.' Engaging with environmental justice themes through illustrative storytelling, the comic warns against the loss of keystone species and the destructive, snowballing consequences it can have on surrounding environments.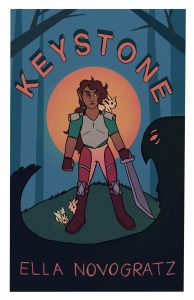 Keystone represents one half of Novogratz's two-pronged art style. The first is digital illustration that often takes a more cartoony look inspired by Dungeons and Dragons. It centers on environmental fantasy, and most importantly, leaves viewers with a critical message to take away with them.
"I really like story," Novogratz said. "I feel like I'm a storyteller, and part of the reason I'm an artist is to tell stories, so I'm really connected to the illustration side."
The second prong of Novogratz's artistic approach is based in the fine arts, which she picked up at the College of William and Mary as a studio art major. In terms of fine arts, she mainly works with relief printmaking, which she describes as the art of carving big stamps out of wood or linoleum before printing them. Her relief printmaking tends to spotlight topics related to mental health and draw from realism; together, these two halves of her art style come together to paint a full picture of Novogratz's intertwining passions.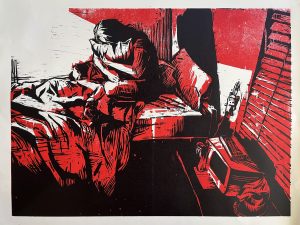 "I'm a really emotional person, and I think things that people can relate to on an emotional level or something important to me [are what inspire me]," Novogratz said. "Mental health and the environment are two topics I often touch upon because those are the things I'm very emotional about and care about deeply."
At the core of Novogratz's motivation to create art is its ability to tell important stories. She says the use of images allows people of all backgrounds and ages to engage with more complex or heavier topics in a more accessible way.
"I think people don't want to be preached at about these topics, but I think a lot of people are more willing to enter that interest in a lower-key way," Novogratz said. "So I think that's where I find interest in talking about those things but not as explicitly — so people who aren't as passionate about them can still get into it and be introduced to it in a more welcoming way."
Adopting a fantasy style with her illustrations further allows Novogratz to distill often grisly environmental themes into a more easily digestible tale that uses reality as a reference rather than a direct mirror.
"For [Keystone], I felt like her killing a monster was very different than someone just killing an animal, so I wanted to play off this heroic trope, like she's the hero until she realized, 'Oh, she actually wasn't the hero. She screwed up,'" Novogratz said. "And I thought that kind of twist was something that wouldn't have worked outside of a fantasy story because animals, I'm at least very emotionally connected to, so if I saw someone killing a bear, I definitely wouldn't be like, 'Oh, that's so heroic.' I'd be like, 'Oh, poor bear.'"
Novogratz has curated her passion and talent for art since she was a young child. It even runs through her bloodline. Her mother was also an art major and now works in interior design. All four of her younger siblings are similarly engaged in the creative arts in some form or fashion, with one training to work in Special FX makeup for films and another being a singer-songwriter, she says.
"I come from a very creative family, and that's really helped," Novogratz said. "But I was also very self-driven from a young age. I think most kids draw, and they just draw and draw and draw. But I just never stopped. I didn't stop when it stopped being what kids did, I drew all throughout middle school, and that's all I wanted to do. I drew all throughout high school, and I made characters, and I made stories."
It's fitting, then, that Novogratz returned to her home state of New York this past summer to attend a residency she had earned through the College's Louis E. Catron grant for artistic development. For a month, Novogratz immersed herself in the School of Visual Arts' summer illustration residency program, where she both learned from and worked alongside many industry professionals.
"That experience was really incredible because it was very focused on illustration, not just the art of it, but also the career side of it," Novogratz said. "So there were four instructors, and all of them are professional illustrators as a career while also being teachers, and they had guest speakers come in … And they talked about how to make it as a career, how to network, how to find an agent, how to do all these things that I didn't even know about."
Recalling the program's intensive nature, she explained that she spent many late nights in the studio finishing a multitude of individual projects that were meant to simulate commissions from clients, such as a book cover, an ex-libris, a mental-health-themed poster and a comic that ultimately became Keystone.
In addition to course instruction and work time for assignments, Novogratz said a significant portion of the program was dedicated to critiques, in which instructors had Novogratz and her peers constantly workshop, refine and even redo the same ideas and works over and over again. Though Novogratz labeled the experience of constantly restarting and having ideas shut down as "frustrating," she still found it helpful in developing her craft and pushing her outside of her comfort zone to pursue projects and ideas she had never considered before.
"That's how it goes sometimes, you know, if you're doing a commission for a client, sometimes they're not going to like anything you show them, and sometimes you've got to start over," Novogratz said. "So that was very frustrating, but I felt like it was good training for the real world to learn how to handle that and learn how to just drop everything on the fly and start over. Because sometimes the project just isn't going to work out, but sometimes you just need to think, sometimes there's something else you can think of real quick that they'll love, and you'll love, and you'll feel good about."
Though not in absence of challenges, Novogratz's relentless dedication paid off; by the end of the program, she had a wealth of completed illustrations that she, alongside other program participants, displayed in a professional art exhibition hosted by SVA that was open to the public.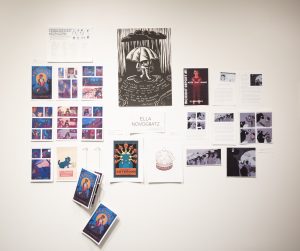 "It was really amazing to stand in front of all this stuff I'd just been pouring every waking hour into for a month and just present myself and my artwork to strangers," Novogratz said. "It was really amazing because it felt like a very good accumulation of what I'd been working on and what we'd all been working on."
She fondly recounts standing proudly alongside her peers, many of whom were already college-graduated working professionals, and deeply appreciating the wide range of art styles and strong community that come with illustrative artistry. 
"Honestly, [the exhibit] was probably one of my favorite moments," Novogratz said. "We're all standing together, but none of us are making anything that looks even remotely similar, and we're all right. And that was cool, seeing all of our approaches to the same project and really learning who they were and who I was, too."
One unlikely takeaway that Novogratz derived from the program was a newfound motif that happened to appear throughout a majority of the works she created and will continue to feature in her art when she says it makes sense: bunnies. 
For Novogratz, bunnies have always been a central figure in her life even prior to completing the program. Not only does she have her own pet bunny named Smokey who can be described as resembling a small, dark gray puff of a storm cloud, but she also has held the small mammal close as a symbol of perseverance in spite of anxiety.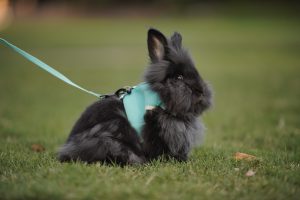 "For me, bunnies are a prey animal, and anxiety keeps them alive, and for me, it's a reminder that anxiety is a survival instinct, it's meant to keep you alive," Novogratz said. "Like it's not meant to hold you back, and for me, sometimes fear does hold me back, but that is a reminder that [anxiety] is there as a survival instinct, so to kind of take the shame away from it — like fear and anxiety — and remind that it's there to be protective. It might be a little misplaced sometimes, but that's what it's there for."
Wherever life happens to take her, one thing Novogratz is certain of is that bunnies will always hop alongside her. For now, Novogratz is focused on completing a heavy course load that encompasses two senior capstones in order to ensure an early winter graduation while also interning for the Muscarelle Museum of Art as a community engagement intern. She is also working on another fantasy comic that focuses on animal rights and will similarly incorporate a narrative twist like Keystone.
"She's a necromancer type character, but she's bringing back animals, and the conversation is like, is she evil for bringing them back? Or is what happened to them — that they died — evil?" Novogratz said when describing the upcoming comic.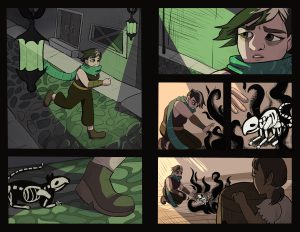 While Novogratz intentionally keeps her vision for the future limitless and flexible, she says she hopes to work in either illustration, animation or video game storyboarding, and she may even publish a book of her own short stories.
"All three — illustration, animation, video games — all of them use pictures to tell stories, and that's kind of my thing," Novogratz said. "People are going to see them and enjoy them. So that could be a book, that could be a game, that could be a movie. I'm pretty flexible in medium because I love all three of those mediums, so long-term, I think I want to see where it goes, but storytelling is my goal."
To support Novogratz's goal of storytelling through visual art, check out her Redbubble storefront or her Instagram at the handle @ellanovoart. And if you're lucky, you might see Novogratz taking Smokey out for a leisurely stroll (yes, on a leash!) on the Sunken Garden when she isn't too busy creating art.