Saturday, Nov. 11, William and Mary (6-4, 4-3 CAA) took down Hampton (5-5, 3-4 CAA) 31-10 in its final road game of the 2023 season at Armstrong Field in Hampton, Va.
Saturday's win cemented the Tribe's third consecutive winning season, a notable positive for the Green and Gold despite its unrealistic chance of qualifying for the FCS playoffs this season.
Going into this week, the Tribe knew that if it wanted even the slightest chance of making a late playoff push, securing a win on the road against Coastal Athletics Association opponent Hampton would be a step in the right direction.
Coming off of an unfortunate road loss to No. 23 Albany last week, William and Mary looked to silence the opposing crowd at Armstrong field with strong offensive production early on Saturday.
After an impressive defensive stop on fourth-and-two at its own 34-yard line, the Tribe offense took the field for the first time with just over 12 minutes left in the first quarter. Redshirt freshman quarterback Tyler Hughes got the nod for Saturday's start, and in his second appearance this season, the young quarterback did not disappoint. 
Despite a slow start, the Tribe got the scoring started in its second offensive possession of the day, headlined most notably by a 33-yard completion to junior running back Malachi Imoh and a 29-yard rush by junior running back Mattijs Lasore. Lasore, who made his season debut on Saturday, finished with a team-leading 42 rushing yards against the Pirates while averaging 7.0 yards per carry. After a quick eight-yard completion to redshirt freshman running back Tyson Garrett, Hughes connected with sophomore tight end Trey McDonald for a 10-yard touchdown, marking Hughes's second passing touchdown of his career. After drilling the extra point, the Tribe jumped ahead to an early 7-0 lead with just 11 seconds left in the quarter.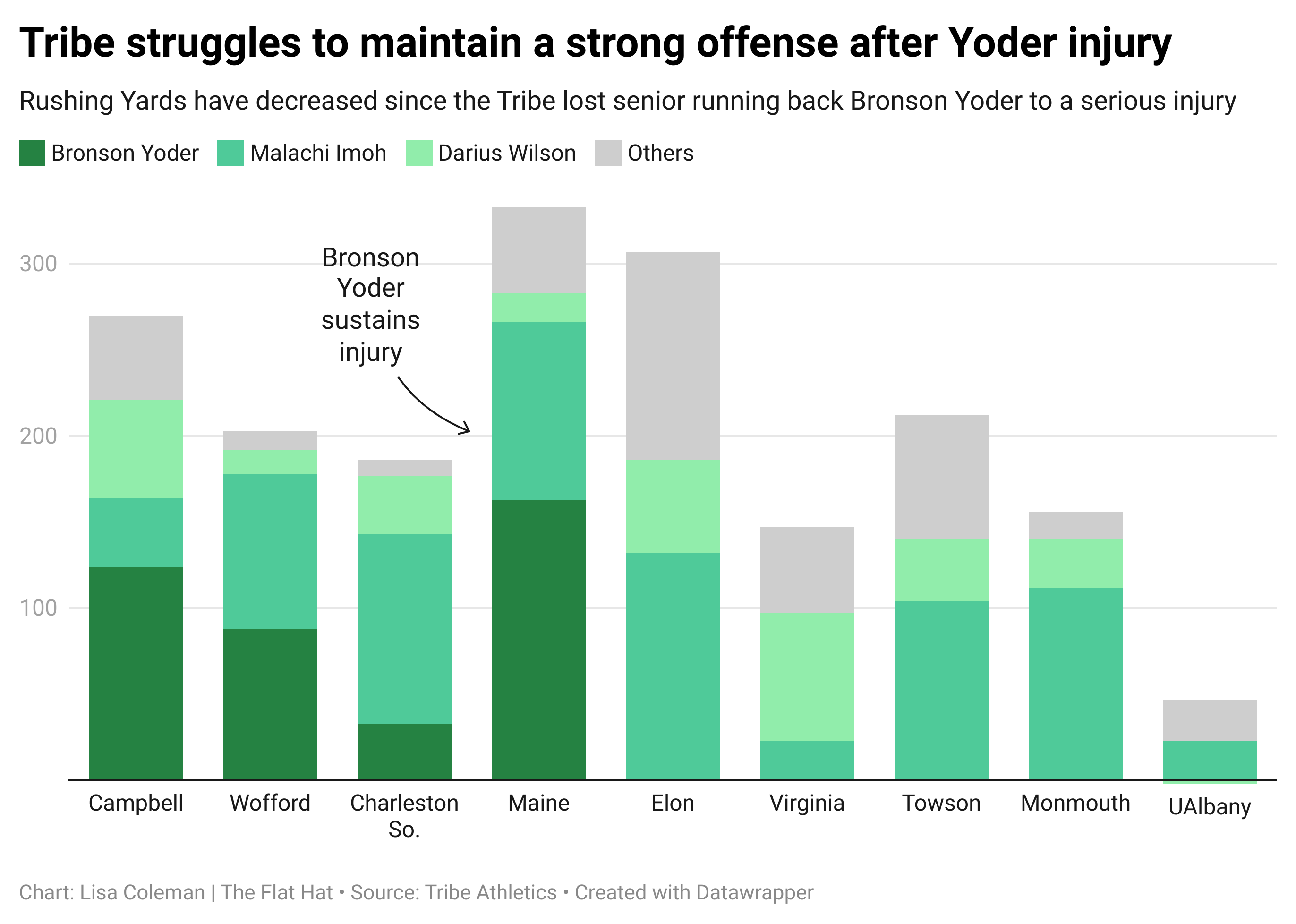 The Pirates steadily chipped away at the William and Mary lead in the second. In its second drive of the quarter, Hampton slowly worked its way down the field using a variety of short runs and pass plays to keep the Tribe defense on its backfoot. After an eight-yard completion and two rush attempts by Pirate redshirt junior quarterback Chris Zellous, Hampton decided to settle for a 29-yard field goal, cutting the lead to four. 
William and Mary, looking to extend the lead, started its response with a nine-yard gain from junior quarterback Hollis Mathis. However, just three plays later, an Imoh fumble returned the ball right back into the hands of the Pirates. After what looked like a Tribe interception that was overturned due to a penalty, Zellous settled down and found junior receiver Romon Copeland for a 45-yard touchdown with just 30 seconds left in the half. After a made extra point, the Pirates completely flipped the game on its head, taking a 10-7 going into halftime. 
With just 30 minutes left to keep this season's hope alive, the Tribe defense entered the second half set on shutting down the Hampton offense. On top of a first quarter interception by senior cornerback Ryan Poole, the Tribe defense kicked it into an even higher gear in the third, thanks to a dominant showing by senior linebacker Kevin Jarrell. After forcing a fumble in the Pirates' second drive of the half, Jarrell managed to force another fumble later that same drive, this time being recovered by Tribe senior defensive lineman Nate Lynn. 
To make up for the quiet third quarter, William and Mary's offense came out swinging in the fourth. After a game-tying 40-yard field goal from senior kicker Caden Bonoffski, Zellous turned the ball over again, this time via an interception by junior inside linebacker Quinn Osborne. With the ball back in his hands, Hughes connected with junior wide receiver JT Mayo for a 76-yard touchdown, securing a Tribe lead once again.
On the Tribe's next defensive possession, Jarrell added to his impressive statline once again, this time intercepting Zellous and returning it for a 40-yard Tribe touchdown. In less than 60 seconds, William and Mary tacked on 14 unanswered points, taking a 24-10 lead with just over seven minutes left in the half. 
However, the Tribe was still not finished. After another interception, this time courtesy of sophomore defensive back David Roulley, the Tribe wasted no time putting more points on the board. Starting at the Pirates's 33-yard line, back-to-back runs from Garrett set up an easy six-yard rushing touchdown for Hughes, extending the Tribe lead to 21. 
Although successfully avoiding a third consecutive interception, Zellous and the rest of the Pirate offense had no response as the fourth quarter came to a close. William and Mary walked off Armstrong Field with an impressive 31-10 win, and with just one game left in the regular season, head coach Mike London and the Tribe know winning is all the team can do to earn a miracle playoff berth next week.
The Tribe will host Richmond Saturday, Nov. 18 in its final regular season game of the season at Zable Stadium in Williamsburg, Va.