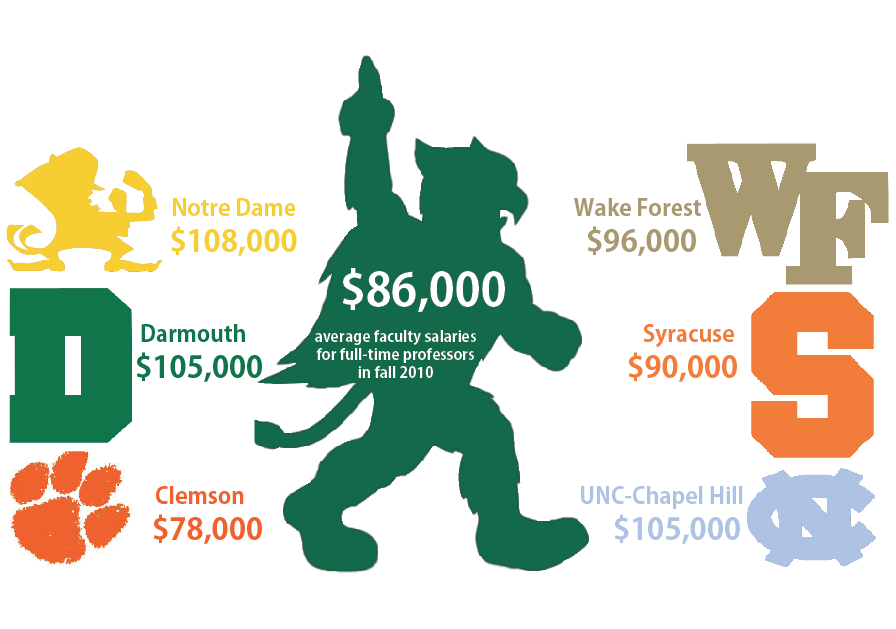 By the numbers, the College of William and Mary is the most efficient university in the country, but this adaptation to economic realities has left its mark on faculty paychecks.
"The latest [U.S. News and World Report] ranked William and Mary as 33rd among all national universities but 112th in the category of resources, a gap that is unmatched by any school in the country," College Provost Michael Halleran said in an email.
This gap means the College has had to tighten its belt, raising tuition and cutting expenses. One group hit particularly hard has been faculty members, who have not seen a salary increase since 2007. College administration has taken notice, setting aside $5.725 million next year to provide a modest raise for approximately one third of faculty.
"It is a high priority for the Board [of Visitors]; they've been consistent in saying that, I believe them," Faculty Assembly President Rick Gressard said.  "They've worked very hard for this; they recognize how important it is for the university because any university's reputation is pretty much dependent on the quality of faculty."
The difficulty is determining where this money will come from. Over the past five years, the state has reduced the College's funding to 13 percent of its overall budget. Even though tuition increases could help, they are largely unpopular among faculty and students alike, Gressard said.
Virginia has approved a bonus for state employees — including College faculty and staff — but it provides only a one-time income boost, and 70 percent of the increase must come from the College.
With state funding stagnating, the College has looked inward for additional sources of money.
"Last year, I asked all deans to reallocate or earn new revenues — over a 3-year period — equivalent to 5% of their base budget so that it could be used for highest priorities, including merit and/or equity increases for faculty and staff," Halleran said in an email.
This reallocation means the College will have to make some cuts, including new faculty hires.
"There are people that have retired or have left for another reason," Dean of Arts and Sciences Katharine Conley said. "We're holding back on the search to replace colleagues that have left to make sure that we have a pool of money to dedicate to the faculty base."
Even with these efforts, the College has a long way to go to bring faculty salaries up to par. Compared to its peer institutions as defined by the State Council for Higher Education in Virginia, the College is in the 14th percentile with an average salary of $86,000 and falling far short of the 60th percentile goal for Virginia's schools, which amounts to $105,000 on average.
If left uncorrected, this could have a substantial impact on the faculty — and the College — as a whole.
"The Board has established a goal in getting us to the 60th percentile. I think every faculty member would say that'd be fantastic. We're not asking to be at the top, but maybe above average would be great," Gressard said. "Realistically, can we get there? I don't know. Just moving up to the 30th or 40th percentile would be a welcome change, we wouldn't have to feel embarrassed about what the average salary is here at William and Mary."
Low salaries be not only a source of embarrassment, but also may have a negative effect on overall faculty morale.
"[Salary increases] are so without rhyme or reason that — I think I looked at it one time, and I realized there's no correlation between the time I put in and the pay raise that results —that I thought it was a bogus sort of incentive in that way," associate professor of anthropology William Fisher said. "It's a little demoralizing, and then you can either strive for the big carrot or just say, 'The hell with it, I'm going to take it as it comes because it's so arbitrary and inconsistent.'"
Low morale means faculty may have less reason to stay with the College in favor of higher-paying positions elsewhere.
"We've stood pretty well, in terms of losing faculty, but I think we're starting to see some attrition. And after three years with no raise, last year was just an adjustment for salary compression, so not everybody got it," Gressard said. "This year we're looking at a bonus, but that doesn't hit your base salary … so that's about five years for some faculty. You're going to lose people."