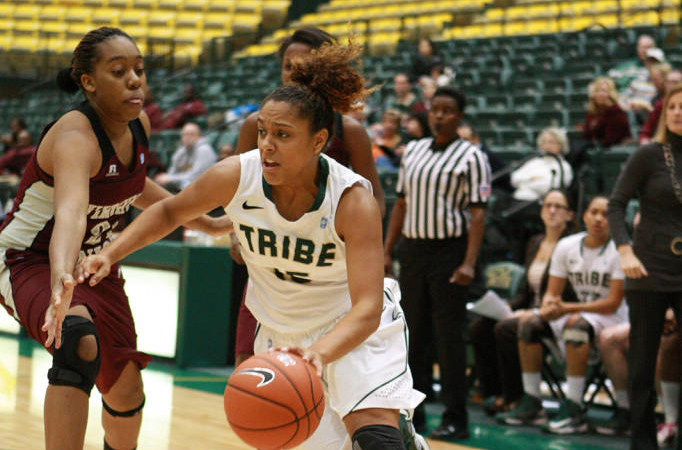 William and Mary continued its series of road contests, dropping a close game against Navy, 69-64 in Annapolis, Md. Tuesday. After grabbing an early lead, the Tribe (2-5) fell behind just before halftime and ultimately could not catch up to the hosts in a contentious second half.
The Tribe was led by senior forward Emily Correal, who continued her strong season with 21 points on a 9 of 16 shooting night to keep the College even with a strong opponent for the entire 40 minutes.
The game could not have started better for the College, who raced to a surprising 17-4 lead just seven minutes into the contest by forcing Navy to miss nine of their first 11 shots. Navy struggled with their shooting throughout the contest, making just 39 percent of their field goal attempts and a paltry 26 percent from three-point range.
"We were playing well," head coach Debbie Taylor said. "But they're a tough team, and they're always going to come back."
Navy did indeed rebound from their early deficit, outscoring the Tribe 24-11 in the next eight minutes to tie the contest and resurrect their chances in the game. From then on, the two teams exchanged scores up until halftime,  Navy ultimately holding a 38-37 advantage to complete their first half comeback.
The Tribe squandered its early lead largely due to a series of miscues. The College committed 18 turnovers in comparison to Navy's 11, and the hosts ultimately scored 20 points off of Tribe errors. Taylor saw these mistakes as a critical flaw in her squad's performance.
"It was a hard-fought game, we just turned the ball over two out of every three times and couldn't close it out," she said.
The College, to its credit, competed with Navy for the entire second half. They out-rebounded the hosts 44-34 in the contest and made 9 of 18 three pointers to ensure that the game went down to the wire.
After trailing by as much as seven late in the second half, the Tribe clawed its way back into the contest to force a 62-62 tie with just 3 minutes, 31 seconds remaining in the game. Navy scored the next five points, however, while forcing two Tribe turnovers to take control of the contest.
The Tribe earned a chance to tie the game at the end, but committed a crucial turnover while trailing by three with 13 seconds remaining. Navy's Kara Pollinger then buried two clutch free throws to give her squad the final 69-64 margin and dash the Tribe's hopes of the upset.
Senior forward Taylor Hilton gave a strong performance for the Tribe, notching 11 points with five rebounds and six assists. Fellow senior guard Janine Aldridge also played well, hitting 50 percent of her shots for 13 points and four assists. It was a senior-heavy effort for the College, with 52 of 64 Tribe points coming from the most experienced members of the team.
Despite the loss, as well as a road heavy slate stretching in front of them, Taylor and her team felt optimistic after the contest.
"We're in a good place. We get better every day, and we've got a really strong edge…We're staying optimistic, and we're going to keep working hard," Taylor said.
The Tribe travels to Radford on Saturday for their fourth of six consecutive road games. They will finally return home in the new year to face Winthrop Jan. 2.