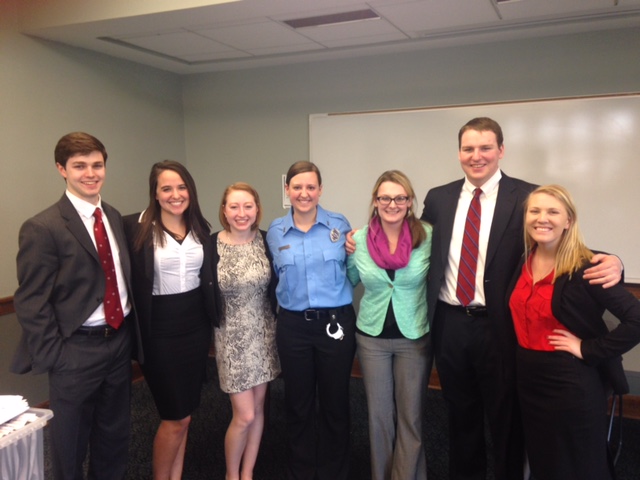 The College of William and Mary's undergraduate mock trial's recent performances at two regional tournaments earned them two bids to the American Mock Trial Association's Opening Round Championship Series Tournament.
The College sent two teams to a regional tournament at the University of Richmond Feb. 14-15, where one placed eighth, earning it a bid to compete in the first round of the national tournament. That team accepted its bid and will go on to compete at Furman University in Greenville, S.C. this weekend. The College also had teams qualify in 2011 and 2013.
This year, the program added three new coaches: attorney Brandon Harper and two College graduate students, Jacob Dominy M.P.P '15 and Laura Worden J.D. '17.
Tara Burns '15 said she believes there were a number of factors that contributed to the program's success, including the new coaches, more focused motivation and a great amount of practice. Burns competed with the winning team at the Richmond Tournament.
"This year we got amazing coaches, which definitely helped. Brandon has kind of changed everything for the program just because he has really great insight on what makes you successful in competition," Burns said. "We went in really trying to polish our public speaking skills in a way that we hadn't before and I think though, the one thing that really helped at Richmond was we prepared a lot in advance, much more than we had in the past so when we got to the competition we were able to kind of relax before rounds, have fun with it, and do what we had already prepared."
The College also sent one team to compete at the University of Maryland's regional tournament Feb. 21-22. This team also earned an open bid, making it the first time in history that two teams from the College have qualified for the first round of the national tournaments. It did not place in the top eight, but had a high enough overall score to be added during the open bid process, after the earned bids had been awarded. The College did not accept the second bid, however, due to financial constraints.
Harper attributes the teams' success to cohesiveness and hard work.
"People are working hard, but the reason they are working hard is because they like and respect their teammates," he said. "It's like any team where people do better when they are part of a team and are working toward a common goal."
Dominy has been on the team since his freshman year at the College and now coaches it. He said he was impressed with the competitors this year and remains hopeful that the team will advance to the second round of nationals.
"I think the biggest thing that we've been able to pull off this year as opposed to previous years was just having a very consistent level of quality and performance and presentation that we certainly didn't have last year and that just kind of comes with [practice]," Dominy said. "As long as everyone remains confident in themselves and maintains their composure and presence, I think everything will work out fine."