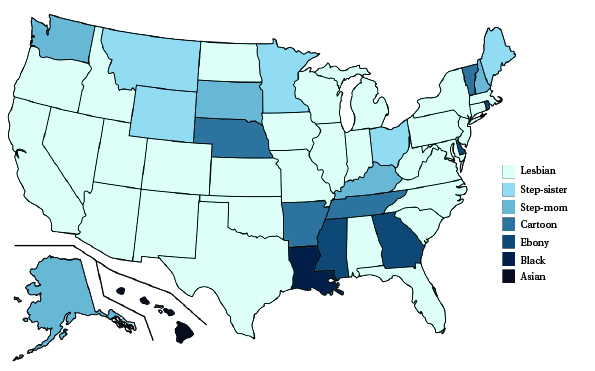 I was planning on dedicating this week's article to the discussion of non-goal-oriented sex, but then something truly worthy of my attention occurred. I noticed this incredible event while perusing trending Facebook topics (actually just scrolling through pictures of dogs on Dogspotting) — Pornhub released a map of their website's top searches by state.
After a few clicks and a number of misogynistic posts, I found the original article on what looked like a Pornhub blog. I had two initial questions: First, do avid watchers of porn really look to Pornhub for articles like "Valentine's Day — What Women Want?" Second, what are Virginians — and College of William and Mary students — searching for on everyone's favorite porn site?
Virginia, like a majority of the 50 states, apparently loves lesbians. And not in the #lovewins kind of way, but in the "I'm going to search this on a porn site and masturbate to it" kind of way. And while that in and of itself might seem a little disturbing, take a gander at what other states are typing into their search bars: Maine, Minnesota, Montana, Ohio and Wyoming all really seem to enjoy "step-sister" porn while Alaska, Kentucky, New Hampshire and Washington all really love watching the "sexy step-mom" have sex. But wait, it gets worse. State searches also included "ebony," "cartoon," "black," "MILF" and "Asian."
Now that we've gotten all the info out in the open, let's think about things for a moment. In theory, porn is pretty unproblematic. Confused about your own sexuality? Watch porn. Want to know what this sex business is really all about? Watch porn. Nervous about having sex for the first time or experimenting with something new in the bedroom? Watch porn.
But in reality, porn presents an unrealistic and uncomfortable take on sex for one main reason; it is produced with only the male gaze in mind. Ultimately it's conceptualized, filmed and edited in order for one to identify with the male figure. Even lesbian or female-friendly porn is created for the consumption of men. Women — and men — must fit into very specific definitions of beauty.
In my perfect theoretical porn, it wouldn't be created for the male gaze. Cellulite would be ever-present, hair removal would be very optional, and men and women would not have to fit into such strict definitions of respective masculinity and femininity. When it came to setting up a tripod and filming the sex, porn would consider viewers of every gender.
And while we're at it, my ideal porn wouldn't focus so much on the fetishization of races, and searches such as "teen" would direct you to self-help websites instead of videos of extremely young girls and their step-moms. Instead, it would offer racially, ethnically and sexually diverse videos of 18+ year-olds getting it on in sexy, fun and safe ways. Consent would be clear, and all BDSM would begin with a clear discussion of boundaries and safe words. And rapists like porn star James Deen would be banned from the industry.
Based on Pornhub's graphic, it'll be a while until my ideal porn is out there being made — but hey, a girl can dream. For now, I'll be out there dodging the occasional pornographic gif on my Tumblr dashboard and wishing for the day when two forms of contraception are explicitly used on camera.
Mallory Walker is a Behind Closed Doors columnist who still has a surprised reaction to statistics from Pornhub.com.