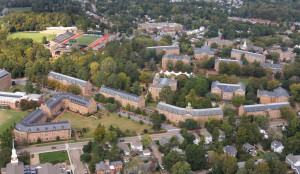 Student Assembly elections begin today. The Flat Hat has you covered with all the information you need to know about the candidates running for Student Assembly President and Vice President. The candidates are Senator Eboni Brown '17 and Hannah McKiernan '17; Class of 2017 President Katherine Ambrose and Liz Jacob '17; and Justin Canakis '17 and A.J. Scalia '17.
Voting will take place over email and will last until 9 p.m.
Don't have a lot of time? Start off with this video explainer which covers all three platforms in three minutes. If you want to watch the candidates explain their platforms and you have a little more time, watch our interviews. You can find our interview with Brown and McKiernan here, our interview with Ambrose and Jacob here, and our interview with Canakis and Scalia here.
If you want to dive deeper, we have some options.
To start off, here's a profile of all three candidates as told by the people who have worked with them in the past. You can find that here.
You can also find coverage of the presidential debate that took place Tuesday here, or go ahead and watch the whole thing.
If you're interested in where the candidates differ, we've written that article, too. Find it here.
Mental health has played an outsized role this election season. So has the Student Assembly website. You can read our article on mental health here and our coverage of the website here and here.
If you're interested in how these platforms were influenced by campus leaders, you can find that in this week's print edition's front page article, here.
Finally, click here to read The Flat Hat's endorsement.
Have a nice day, and happy voting from The Flat Hat elections team.