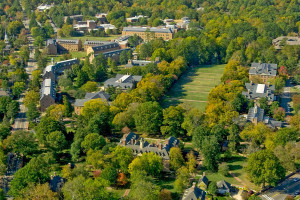 Slogans, buzz words and promises dominate any election. While the Student Assembly presidential campaigns all stress looking to the future, students should also look to candidates' past. To help them do so, The Flat Hat has interviewed those who have worked with the candidates and who know them best.
Katherine Ambrose
Current Class of 2017 President Katherine Ambrose '17 has used both her time in and outside of SA for service.
"She, being a class president, has been a very good figurehead for her class, and she also has done a lot on the service side of things," Sen. Brendan Boylan '19 said.
Ambrose sponsored the Tribe Turkey Drive bill this past fall that helped provide Thanksgiving dinners to low-income families in Williamsburg. Sen. Shannon Dutchie '19 said Ambrose's work for the bill inspired her as a new freshman senator.
"I've never seen someone pretty much single-handedly plan an entire event, get it subsidized," Dutchie said. "And she was calm, controlled and quick."
Ambrose's other work in SA includes coordinating with the College of William and Mary Office of Government Relations to organize the 2016 Road to Richmond, which brought students to Richmond to lobby local legislatures. Outside of SA, Ambrose is a campus tour guide, a Sharpe Community Scholar and a member of Pi Beta Phi Fraternity.
Ambrose's running mate Liz Jacob '17 also belongs to multiple on-campus groups. She is  founder and president of SchoolHouse Block, an eco-ambassador for the Office of Sustainability and an active member of the Student Environmental Action Coalition's Seize the Grid Campaign.
"Liz has done a lot of work with Student Assembly from other organizations," Class of 2018 President Laini Boyd '18 said. "So she has that perspective of being in a student organization and kind of having to figure out how Student Assembly works, which can be a daunting task at times."
Jacob is also the current Vice President of Sexual Health for Health Outreach Peer Educators. Sexual assault awareness is a central part of Ambrose and Jacob's campaign. Ambrose also has experience in that area as a weekly volunteer for the Haven.
The Haven advisory board member and a fellow member of Pi Beta Phi Julia Canney '16 said Ambrose's weekly shifts at the Haven have given her a unique perspective on how to deal with the issue of sexual assault on campus. She also said the Haven requires volunteers to continuously re-educate themselves on how to work with survivors and the resources available on campus for them.
"I think that with Katherine's experience she'd be able to say so 'These are the things in the process that I've been told by survivors don't work for them or these are things that do work,'" Canney said. "And be able to point out actual, tangible things to change as opposed to overarching, general things."
Moreover, Canney said Ambrose, who she has known since her sophomore year, was one of the most caring and approachable people she knew.
"The comfort that people feel around her and her presence as a welcoming individual, I've found, is unrivaled by basically anyone on campus," Canney said.
The comfort that people feel around her and her presence as a welcoming individual, I've found, is unrivaled by basically anyone on campus," Canney said.
Boylan said Ambrose's compassion in dealing with issues in SA was one of her best qualities. Agreeing with Boylan, Canney says that she has seen Ambrose's compassion affect her work.
"Every activity that she's involved with she makes it seem like it's the only thing that she's doing at that time," Canney said. "Like if she's doing something to help with our new members, or if she's doing something to help prevent sexual assault with the Haven, it feels like it's the only thing and that she's dedicated her life to it."
Other roles Ambrose has on campus include creating the "One Tribe, One Family" video campaign, being an Orientation Aide, and being the Blog and Video Coordinator for the Day for Admitted Students last year. Canney said that even when busy with everything, Ambrose makes time to care for and check up on her friends
Eboni Brown
Eboni Brown '17 has been on SA since freshman year and currently serves as finance committee chair and senate secretary. Boyd said that Brown is one of the most knowledgeable members of SA in terms of state laws and precedents.
"When I consider speaking to Eboni, I have the idea that she knows what has worked in the past and what hasn't worked in the past," Boyd said. "So it's been very introspective because there are a lot of things that get passed over and over again on Student Assembly, and it's good to kind of know what didn't work in the past and how they were able to fix it."
Beyond helping younger senators, Brown's work in SA has revolved around her desire to increase diversity on campus, according to Boylan. Brown has helped SA coordinate the I Am WM Week.
"Through both her funding and on the policy side of it, she's also just been an outright, passionate advocate for diversity," Boylan said. "And [she] makes sure that I am W&M week runs effectively, that it's truly a beacon for all of our students and a place to come together."
Boyd said Brown has never shied away from pushing SA to think critically about sensitive issues on campus.
"Eboni isn't afraid to address taboo topics like mental health and diversity on campus," Boyd said.
Eboni isn't afraid to address taboo topics like mental health and diversity on campus," Boyd said.
Outside of SA, Brown is an Orientation Area Director, a position that she also has used to push for diversity. Boyd worked as an OA alongside Brown.
"Something that she's very passionate about is making sure that the staff is very diverse," Boyd said. "I was an Orientation Aide this past summer and the majority of the Orientation Aides are not students of color, and that's something Eboni is very passionate about. The whole idea is having new students having an experience where they're able to relate to people and that they feel comfortable and that's something that Eboni has definitely pushed for."
Brown's desire to help new students acclimate to the College and increase diversity extends into her work as a multicultural recruitment intern for the Admissions Office.
"Eboni really has the opportunity to be the face of admissions in some sense, to really be able to sell the institution and talk about her personal experience here and hopefully increase the diversity of the campus through her work," Associate Dean of Admission and Director of Multicultural Recruitment Randy Tripp Jr. said.
Tripp said Brown works beyond the usual role of an intern. A few weeks ago, she offered to help show elementary school children from the diverse Matthew Whaley Elementary School around campus to encourage them to look to the future.
In discussing her platform, Brown has touched on her personal experiences growing up in a small town and the struggles she faced when she first arrived at the College as a woman of color. Boylan said Brown has talked to him about her personal struggle with initially fitting in at the College and how that has influenced her work on campus.
"She talked about how when she first came to William and Mary, she felt kind of like an outsider, but she quickly found both in the Student Assembly and the campus community a welcoming place where she could really come into her own and self-actualize and be a contributing part of the William and Mary experience," Boylan said.
Boyd also said that Brown's initial experience at the College has made her more passionate about helping new students.
"She wants to enforce the issue of inclusion because it's something that she initially struggled with," Boyd said. "But she was able to grow into it and she wants every student to have that experience as well."
Brown's running mate Hannah McKiernan '17 brings more political experience to their ticket. She is a member of Young Democrats and is the executive vice president of Alpha Phi Omega.
"What's really great about Hannah is she's very involved with political engagement on campus," Boyd said.
McKiernan and Brown both worked on and participated in the 2016 Road to Richmond, alongside Ambrose.
Boyd said she wanted voters to be aware that although Brown and Ambrose have stressed different issues in their campaign, both of them have overlapped on issues in SA and both have always been open to collaborating with other senators on a variety of issues.
Justin Canakis
Justin Canakis '17 is the only candidate running for president who has not served in Student Assembly. Canakis has been involved with medical research on campus and is a member of Sigma Chi Fraternity.
As a Monroe Scholar, Canakis spent this past summer researching the effect of workout supplements on rat kidneys. Sigma Chi Vice President Dave Pontari '18 said leading a group of other students in his summer research allowed Canakis to tap into his leadership skills.
"I know for the project he had to wake up every day and do a series of tasks," Pontari said. "He did an amazing job of being friendly and, I think, delegating tasks to his team. I know everyone absolutely adored him because he's the kind of person who knows how to bring out the best of everyone in a positive way."
Additionally, Canakis does medical research under Professor Michael Brennan Harris in his Molecular and Cardiovascular Physiology lab. Canakis will travel to San Diego for the Experimental Biology Annual Conference to talk about his research in April.
According to Pontari, helping others through medicine is Canakis' main passion. After college, Canakis plans to go to medical school to continue helping others. Pontari also said Canakis is one of the most determined people he knows, and that last semester, despite having a case of mononucleosis, Canakis still kept up with his grades and commitments.
"He's the type of kid that never lets any obstacle get in his way," Pontari said. "He knows exactly what he wants. He knows he wants to go to medical school, he knows he wants to make people happy, and he knows he wants to do great research, and he will never let anything get in the way of him accomplishing his goals while going about it in a positive and fun-loving way."
Sigma Chi member Nico Valle '16 said Canakis' dedication extends to his fraternity commitments as well as his academic ones.
"In all my time here, I don't think he's ever missed an, you know, event," Valle said. "And he's always been very, very into our Derby Days event, and he's always been very helpful, doing whatever we needed him to do."
Canakis' running mate A.J. Scalia '17 also has not served in SA but is involved within the Mason School of Business and Sigma Chi. Scalia, a finance major, is the current president of Sigma Chi and the vice president of Howard J. Busbee Finance Academy, the Mason School of Business club that teaches students about financial careers. Valle said knowing both Scalia and Canakis for a long time has solidified his trust in their general friendliness. According to Valle, Canakis has a big personality and gets along with people in his communities.
"He's always had a big personality," Valle said. "He likes to get along with his friends and with people in the community around him. He's honestly just like a very, very good kid."