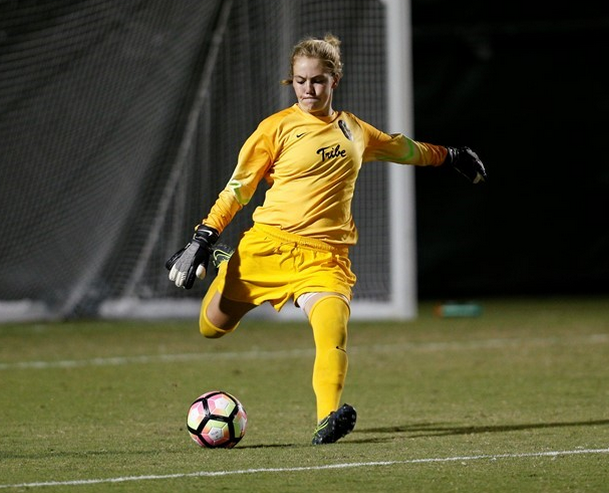 Sparked by Taylor Paradoski's two goals and assist, Elon handed William and Mary a frustrating 3-0 loss Sunday afternoon at Martin Family Stadium. With the victory, the Phoenix improve to 7-5-1 overall and 2-1 in the Colonial Athletic Association standings, while the Tribe fall to 7-5-0 and 1-2 in conference play.
The College threatened to score throughout the game, taking seven shots on goal to Elon's four, but struggled to find the back of the net. A series of narrow misses by the Tribe and impressive saves by Phoenix goalkeeper Taylor Mohr held the Tribe scoreless for the first time this season.
Paradoski notched her first goal 37:33 into the first period, sprinting left around the Tribe defense to score. Her second goal would come just a couple minutes later following an Elon free kick. Sue Anderson sent the ball into the penalty box and Rakel Jonsdottir redirected the ball backwards in front of the Tribe goal. Paradoski got to the ball first and sent a rocket into the net to secure a 2-0 Phoenix lead heading into half-time. The Phoenix padded their lead 20:37 into the second period when Tori Balatico scored after receiving a through-pass from Paradoski.
"We didn't play hard. The referee, he puts a marker down, he shows you what he's going to accept. And if you don't go to that level, it's like the basketball player who never fouls. Is he really playing hard enough if he doesn't get one foul?" Daly said.
Tribe head coach John Daly wanted a more competitive first half from his players and was not pleased that Elon dictated the pace of the game.
"We played very poorly in the first half. We didn't compete," Daly said. "We allowed them to play the way they wanted to play. We didn't play the way we wanted to play … We can't play for 45 minutes and expect to win games; it's just not going to happen."
After a second consecutive loss to a CAA foe, the Tribe will seek to regain confidence before heading north next weekend for matchups with Northeastern (8-5-1, 3-1 CAA) Friday, Oct. 7, and Hofstra (6-6-1, 0-4 CAA) Sunday, Oct. 9. Daly believes increasing the pace at which the Tribe plays is paramount to success.
"It's a case of trying to build confidence again by reemphasizing about what we need to do," Daly said. "Because when we don't do it, we struggle. And when we take four, five, six touches on the ball, opponents close down the options we have and we didn't play anywhere near quickly enough today. They dropped back, they made it difficult for us, and we weren't able to solve it because we played much too slowly. We got to put the emphasis back on playing the ball quicker, finding the targets, and work on our finishing."
Sunday's game was a physical affair, and spectators voiced their disbelief at the absence of a whistle on more than one occasion. But on the field, Tribe players remained calm and collected. When asked if a team's composure is a coachable aspect of the game, Daly gave a characteristically wise and honest response.
"We ask them not to retaliate, but I also ask them to play," Daly said. "And to play hard. And we didn't play hard. The referee, he puts a marker down, he shows you what he's going to accept. And if you don't go to that level, it's like the basketball player who never fouls. Is he really playing hard enough if he doesn't get one foul?"