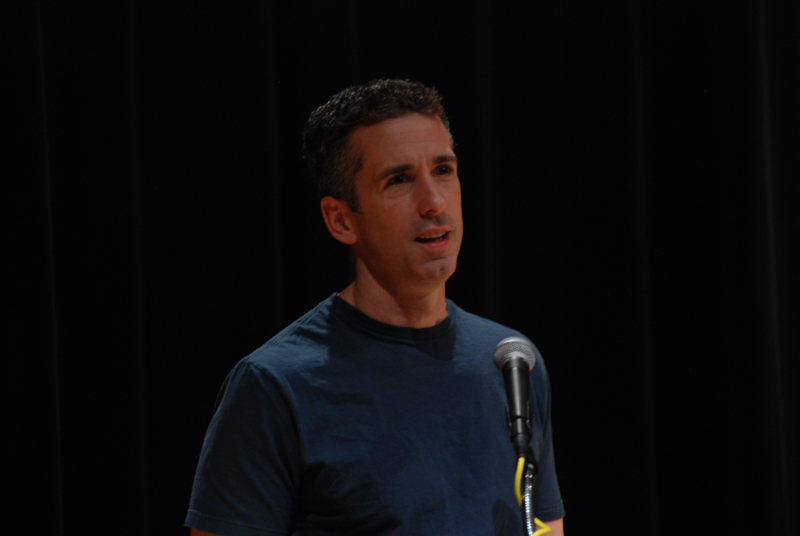 In 2010, Dan Savage and his husband Terry initiated the "It Gets Better" anti-bullying campaign. The project began with Savage's response to the 2010 suicide of Billy Lucas, a teenager who was bullied for being gay. Outraged at the bullying which pushed Billy to his suicide, Savage decided to encourage LGBTQ teenagers to talk about their struggles via a YouTube video.
"Every population has an obligation towards its youth," Savage said. "For too long the LGBT community avoided that responsibility for fear of accusation of 'recruitment' or 'pedophile.'"
The event, planned by AMP, was intended to present issues to students that they may not otherwise be aware of.
"At AMP, we want to create events that foster discussion and open communication on campus," AMP Contemporary and Cultural Issues Committee Chair Chelsea Moubarak '12 said.
There was a great deal of response from students when AMP announced that Savage would be coming to the College of William and Mary. Lively discussions took place among College students regarding Savage on the Facebook page in the run-up to the talk. The discussion focused mainly on whether Savage is bi-phobic, and whether he should be "bombed" with glitter at the event.
"The challenge used to be that such messages of encouragement would be blocked by homophobic school authorities or parents," Savage said. "YouTube changed that. It allows messages of hope and support to be delivered to struggling teenagers."
Initially Savage aimed to have 100 video responses so that the campaign would reflect the diversity of the LGBTQ population.
"The hope was that every LGBT teenager can find a video by someone he [or] she could relate to," Savage said.
Within five days, Savage's video inspired 600 responses. During that time, he and his husband watched all of videos to screen their content.
"We didn't eat, we didn't sleep, we didn't shower, and we didn't have sex," Savage said. "We wanted to make sure that no anti-gay messages were posted to our YouTube channel."
Two years later, the campaign has over 50,000 videos from the United States and abroad including Vietnam, Great Britain and Chile.
"It has saved lives," Savage said. "Two years ago I received an email from a 15-year-old girl who came out to her family as a lesbian. When her parents forced her into reparative therapy, she heartened herself by watching "It Gets Better" videos on YouTube, in her bedroom, under her blanket. These videos gave her hope for her future, and also hope that her family will one day accept her as she is."
In the question and answer session, a student in the audience said he came out to his family just two weeks ago, and his parents reacted negatively. Savage advised the student to give his parents one year to come to terms with who he is.
"Let them ask questions, however outrageous they may sound," Savage said. "Be patient. Be compassionate. And after one year, they can decide if they will accept you as you are, or they would never see you again."
Another student told the audience that to come to terms with his sexuality, he had to leave his church. He asked Savage what he would say to LGBTQ people who do not want to leave their religious communities, even when those communities are hostile to their sexuality.
"Not everything in a religion makes sense," Savage said. "The Bible does not condemn slavery, but asserts that shellfish is an abomination. One can accept that his [or] her religion is wrong on some matters, and enjoy the traditions of the religion."
Members of the audience generally responded positively to Savage, with frequent bursts of applause.
"The talk was really good," Mikki McCall '13 said. "Dan Savage came across as passionate about his cause and people."
Associate Director of the Center for Student Diversity Margaret Cook found the talk educational in that it provided personal context to issues that LGBTQ youths face. Morris Chen '14 said the event should help to the College a more tolerant community by showing that bullying affects all people, gay and straight, male and female. For the future, he hopes that AMP will bring more LGBTQ speakers to campus to show the diversity of the LGBTQ community.