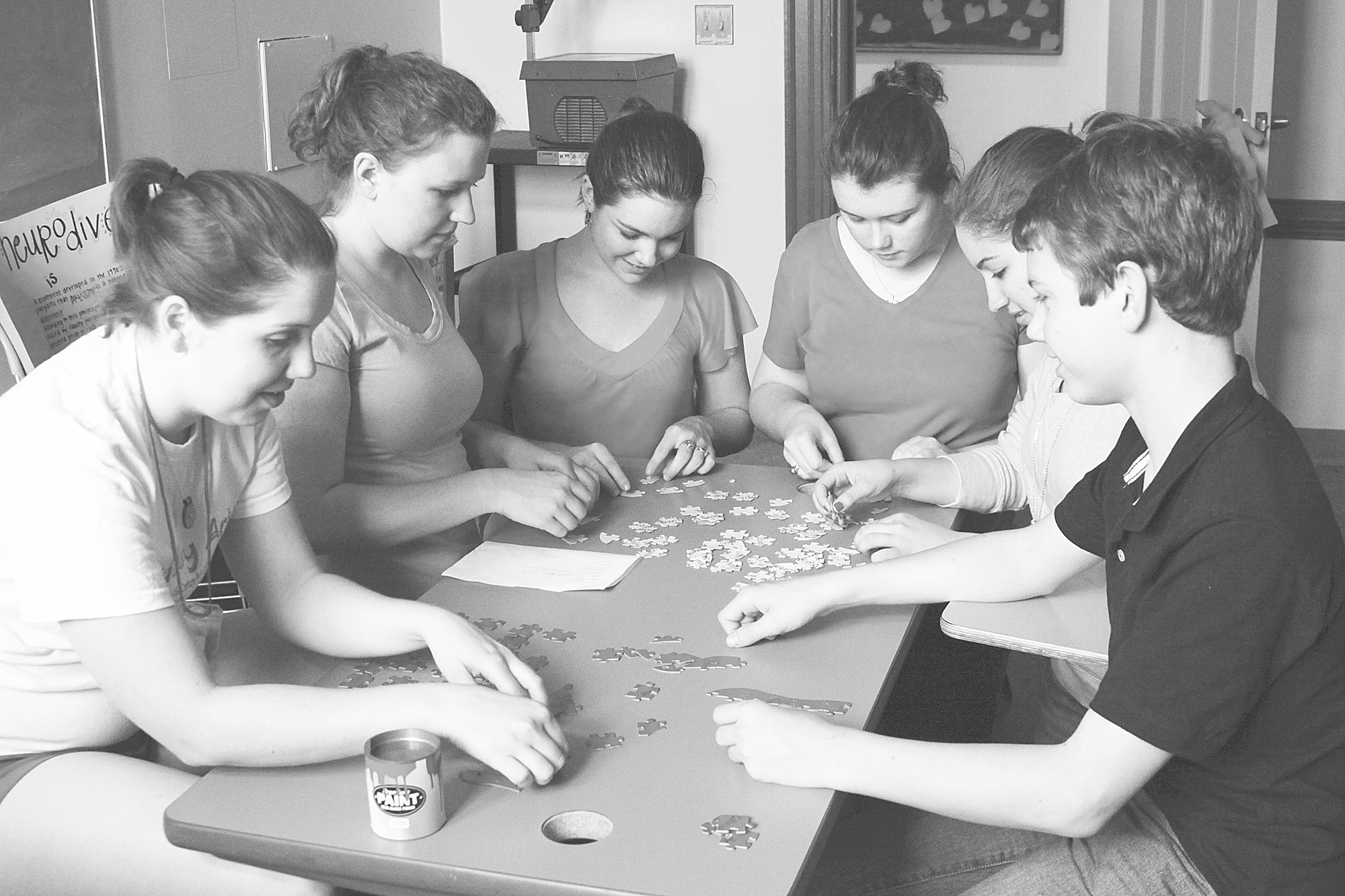 Ellie Walsh '12 cares about helping children with disabilities, so when she could not find an outlet for this passion on campus, she decided to start a club of her own.
The result was Campus Buddies, a club designed to raise awareness about disabilities, which is currently thriving at the College of William and Mary. On Sunday, the group hosted its first awareness event: the Diverse Abilities Scavenger Hunt Challenge, or the DASH Challenge.
"We founded it [Campus Buddies] in the fall of this [academic] year based on an absence that we felt on campus of a space for discussion, collaboration, information, these sorts of things," Walsh said. "A bunch of us had volunteered with the Buddy Art and Buddy Ball programs for the past four years and didn't really have a complementary space on campus to talk about what we were learning or to learn more or bring programs — specifically sign language classes, very remedial events like this — to promote awareness. These were just holes we felt, and we wanted to fill them. We're all seniors, and so we started it in the fall, and we've passed the mantle off to a wonderful new exec board now."
The goal of the DASH Challenge was to create awareness and inspire conversation about disabilities. Participants signed up in teams and visited seven stations set up in Washington Hall. Each station addressed a different aspect of disability awareness.
"We have an autism station, and we have one for visual impairment, so people are going to be blindfolded, and they have to try and tell what something is that they're touching without being able to see it, so different things like that," Riley Newland '14, the secretary for Campus Buddies, said. "We have a station that's about learning disabilities, and we have a jeopardy game with celebrities and people that have disabilities and fun facts and stuff like that."
Newland also stressed the importance of providing a channel through which students have the opportunity to become more involved in working with disabled children.
"I think for me a big part of it is trying to just get more people involved with volunteering with those kids because it's a wonderful thing to be able to do, and it's really fun, too," Newland said.
Traveling between stations, DASH Challenge participants experienced a variety of disability-related activities. At one station, participants worked on a puzzle that, when completed, displayed a message about autism awareness. At another station, they played computer games to explore the role of video games in improving motor skills in children with disabilities.
At the station for physical disability and visual impairment, participants were shown how to see through the eyes of the blind. They were blindfolded and challenged to identify certain objects, and they also learned to write in Braille.
"Our section is on visual impairment and physical disability, and what we are doing is we're blindfolding and then testing them based off of how they use their senses and how crucial it is to be able to see, but it's not necessary; you don't have to have it," Campus Buddies member Sherri Grierson '15 said. "And then we're also doing stuff with writing in Braille — of course, it's a little different — just spelling their name out and how certain letters are formed."
Participant Aidan Desena '13 first became interested in learning about disabilities on a Branch Out National trip to Camp Baker, a camp for developmentally disabled children.
"You realize that people are people — there's not really any difference whether they can do something or can't do anything — [a] 'people first' sort of mindset is important, so I think this event is important in promoting awareness of these things that I was so lucky to learn on my Camp Baker trip, and it's made me more passionate about learning more about people with disabilities and their hardships," Desena said.
Another important part of the event was addressing the idea that the College is not as accommodating to those with disabilities as it could be and that the disabled may not receive enough attention from the campus community as a whole.
"Most people, when they walk through this campus, don't realize that you couldn't navigate through here if you were in a wheelchair, which means that anyone who is physically impaired could not come to this university," Morgan Barker '12, Campus Buddies co-founder and vice president of programming, said. "It's a matter of recognition and awareness. People don't think about disability, at least not in daily conversation, so we want that to be a conversation on this campus."
Maureen Howard '14, a DASH Challenge participant, agreed that more attention should be given to disabilities at the College.
"It's all about raising awareness to the campus community about different disabilities on campus, and I think that we all need to realize that William and Mary isn't exactly handicap-friendly, but hopefully with the knowledge given by this campus DASH, we'll be able to think about it in the future," Howard said.
In addition to the seven stations, the DASH Challenge featured entertainment provided by student groups on campus, including the Spotlight Showchoir in addition to several a cappella groups. All participants received prizes at the end of the event.
Campus Buddies will be offering two more opportunities for students at the College to get involved this semester through Buddy Art and Buddy Ball, two programs that pair College students with special needs children. The events will take place on March 24 and March 31 respectively. The DASH Challenge also will become an annual event.
"I think what I hope most will come out of this event is that people on campus will have the same sort of opportunities to learn and grow as I have," Walsh said. "It's really enriched my college experience in a way that nothing on campus has, and I hope that I can expose more students to it and that they'll understand it more."