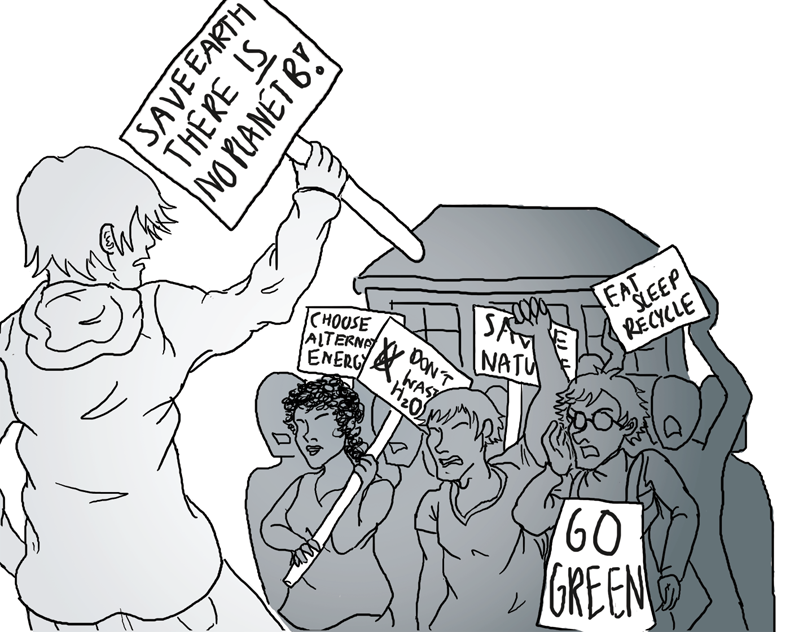 In 1970, frustrated college students nationwide — inspired in part by Vietnam War protests — decried the degradation of the environment. These protests resulted in Earth Day, which later became Earth Week in Philadelphia after a committee decided that devoting one day to environmental issues was insufficient.
Today, the Earth Week tradition continues at college campuses across the nation. Students, faculty and staff at the College of William and Mary are collaborating to host a wide array of events during Earth Week 2012 from April 14 to April 21. At the College, this year's celebration at the College will focus on the wide range of approaches to sustainability, both in academics and practice.
One such event, the Environmental Raft Debate, will touch on how several different disciplines at the College address sustainability.
"The premise of the debate is which discipline will contribute the most to sustainability and to helping to save the earth," Earth Week committee member Zander Pellegrino '15 said. "The goal is to point out the interdisciplinary nature of sustainability. We've found that a lot of faculty here are finding that they can work sustainability into their [curricula]."
Earth Week events will emphasize that you don't have to be a geology major or an environmental science and policy minor to be actively involved in environmental action.
"I think one of the overarching goals or themes was to bring to light how many departments and how many disciplines touch on sustainability," Environmental Filmmaker-in-Residence Jes Therkelsen said. "In planning the events, we've tried to include as many different departments and professors."
Jocelyn Jamison '14, a resident of the EcoHouse — an environmentally focused Special Interest Housing option — is an English and German double major, with a strong commitment to sustainability issues.
"As a language major, you gain [the] ability [to] speak to others in different countries about what you can do — as two different countries — working toward a similar goal," Jamison said. "Majoring in English also helps in the spread of awareness through communication."
Beyond academics, Earth Week will also focus on the importance of responsible citizenship at the College. Students can tour the solar panel structures at Small Hall or lend a hand to hazardous and electronic waste cleanup.
"William and Mary is a great place to make students aware of global citizenship," Therkelson said. "For this generation that's at school now — the more that they become aware of [environmental issues], the better prepared they are to deal with them. It's about cultivating responsible citizenship, whether you [will] do this as a living, or just incorporate it into your lifestyle … The College is known for its commitment to service and internationalism — and environmentalism fits into that very well."
Events such as the screening of Disney's EARTH at Matoaka Amphitheatre and the Earth Day Extravaganza on the Crim Dell Meadow simply seek to encourage a greater appreciation for the environment. For Saturday's Extravaganza, the Earth Week Committee has partnered with Home Brew to provide free food and performances from 12 – 4 p.m. Tables will be set up for the environmental organizations active on-campus, and College President Taylor Reveley's annual reading of The Lorax will take place at 12:30 p.m.
In addition to hosting its own events, Earth Week will also highlight ongoing efforts at the College.
"We're also reaching out to a lot of groups already doing these things so that we can start talking to each other about sustainability," Pellegrino said.
The Student Environmental Action Coalition, for example, has an active gardens group with projects by the Mason School of Business and the Commons cafeteria. This project is being included in Earth Week.
Such efforts continue year round. For example, residents of the EcoHouse dedicate themselves to striving for sustainable living habits.
"Everyone here is like-minded, in that we want to be more sustainable," Gabriella DeCuir '14 said. "There's an EcoHouse garden outside [Landrum] that a few people once a week will tend. One person on the hall monitors energy use. My favorite part is that, although in Virginia only plastics numbers 1 and 2 can be recycled, we have a collection container in the kitchen where numbers 3-7 can be gathered and sent off, so we're able to go beyond what students can normally do."
Organizations such as the Nature Conservancy see Earth Week as an opportunity to engage younger generations on college campuses in conservation efforts.
"The main point of my job is to engage a younger audience with nature conservancy," Community Engagement Specialist Kathryn Arion said. "I think volunteering and giving back is key — or even just getting out there in nature [and going] for a hike over the weekend."
For a full schedule of the week's, see the Sustainability at William & Mary's Earth Week 2012 event on Facebook.