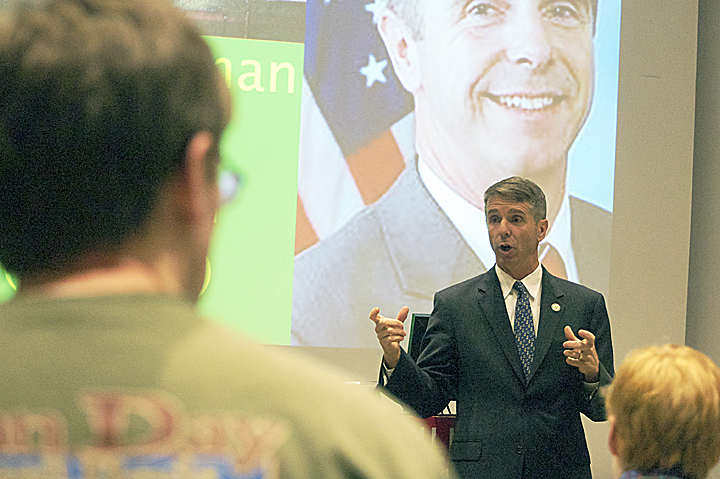 Rep. Robert Wittman VA-1 addressed the College Republicans Thursday Oct. 11, about the pertinent national topics of taxation, energy and civic responsibility.
Wittman, who assumed office in 2007, recognized the listless economy and criticized the current tax system's lack of clarity.  Dismissing the "tax-the-rich" rhetoric as counterproductive, Wittman charged the current tax system with driving jobs overseas.
The congressman's meeting with the late Steve Jobs, who blamed a repatriation tax for the sluggish growth of Apple U.S., served as an example for Wittman of the consequences of further taxation.
"Apple Computers was a wildly successful company," Wittman said. "But while the company was still growing internationally, Apple U.S. was stagnant in terms of revenue. Jobs said to me, 'If you want to help, do away with repatriation taxes.'"
Wittman sits on the Subcommittee on Fisheries, Wildlife, Oceans, and Insular Affairs as a member of the House Committee on Natural Resources. The congressman, who has an extensive background in environmental health, proposed a holistic approach to domestic energy development.
"Virginia has the opportunity to be a leader in terms of offshore energy," Wittman said. "I'm also a believer in alternative sources of energy. We have to look at everything: fossil fuels, nuclear energy and renewables."
First Vice Chairman of the College Republicans Chandler Crenshaw '15 expressed hope that the Congressman's multifaceted platform will inspire more political action as the election year wanes.
"Rob Wittman is one of the most pro-environment Republicans in Congress. Hopefully his speech will fire people up and encourage involvement," Crenshaw said. "It's just about getting involved."
Wittman concluded his presentation by imploring students to participate in the upcoming election.
"Be involved, get your friends and families involved. Encourage people to vote," he said. "Knock on doors, make phone calls. I can't even tell you how fundamental your grassroots efforts are to our system of government."
Director of the College Republicans' Mitt Romney for President campaign Evan Maraist '15 answered Wittman's call for political participation.
"It's crunch time, especially for us in a battleground state," Maraist said. "My team and I are going to be focused, full-steam ahead, right until November 6th. We are definitely looking forward to Election Day."