"Soap and water is the best way to clean it," Philip Goodling '14, a member of the Canterbury Outreach Committee, said. "We have to be careful not to wash the inside of the bell. It has very old chalk graffiti from students in the nineteenth century."
Student volunteers from Canterbury, the Episcopal Campus Ministry at the College of William and Mary, cleaned the "Liberty Bell of Virginia" at Bruton Parish Church Nov. 3 as the first step in the ongoing restoration project.
The Tarpley Bell, given as a gift to the church by James Tarpley in 1761, acquired its centuries-old nickname from the foundry where it was created, the same foundry that produced the Liberty Bell.
According to Lead Bruton Parish Guide Joseph Spruill, Canterbury's bell cleaning project will lead to further restoration efforts in preparation for the 2015 tercentennial of the church's current building structure.
"The church is much older than the [current] foundation," Spruill said. "This is the third building on this site. It was built after the capital moved here. Bruton Parish was founded in 1674. This area was initially settled in 1630, the first church was built in 1632."
Unfortunately, Bruton Parish had no belfry to properly house the bell upon receiving it in 1761, leaving the church scrambling to find a location for the bell.
"The tower was built specifically to house the bell in 1769 and has remained with all original timbers," Philip Goodling '14, a member of the Canterbury Outreach Committee, said in a press release. "Fingerprints and carved markings made by 18th century masons are still visible."
Upon its completion, the belfry caused outcry due to its haphazard appearance. However, it quickly became ingrained in the region's history, pealing in honor of the Declaration of Independence and the signing of the Treaty of Paris. Goodling cited the bell's historical status as the reason that restoration is necessary.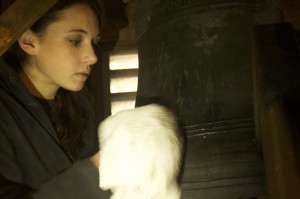 "Right now, [the bell] is encrusted with bird matter," said Goodling. "It's been up there ever since the steeple's been there. It even rang out in protest of the Stamp Act and in support of the Boston Tea Party."
Architectural history professor Carl Lounsbury, author of "Bruton Parish Church: An Architectural History", explained that the belfry's physical appearance has less appeal than its circumstances.
"Physically, it's not as exciting as most church towers," Lounsbury said.
He cited the constant threat of lightning and outrage over the architecture as providing more than enough excitement for one church.
Accounting graduate student and former Canterbury Senior Warden Stephanie Collins '12 expressed her support of the organization's ongoing service efforts.
"This is great," said Collins, discussing the bell cleaning enterprise. "I think that Canterbury has really taken another step in reaching out to the Parish."
College Episcopal Chaplain Reverend John Maxwell Kerr described the restoration as a part of Canterbury's ongoing efforts to perform service communities, locally and abroad.
"Canterbury has now got about a hundred members, up from around eight a few years ago," Kerr said. "The students [involved with Canterbury] do so much. I think that's what you want, to have the students run things."