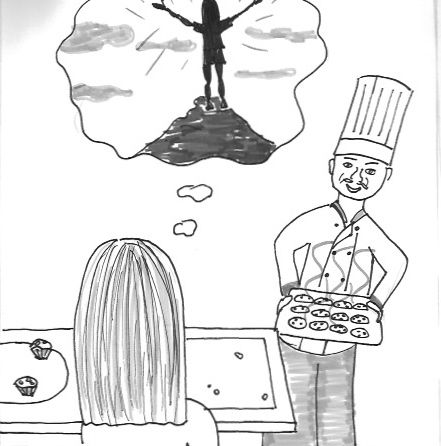 In Introduction to Psychology, I recently learned about human capacity for experiencing moments of utter bliss. They accompany life-changing events, such as completing a marathon, reaching the top of a mountain, or publishing a New York Times bestseller. We as college students can enjoy similarly blissful experiences. Alhough what we feel may be a bit different than the emotions of a mountain climber at the summit, they are wonderful nonetheless.
Academically, there is nothing better than watching the clock tick down until there are 10 minutes remaining in class, only to have the professor announce that the lecture will end early that day. A similar feeling occurs upon seeing an incredibly long line at the cash register, only to have the lane next to you suddenly open and the cashier look straight at you, saying "next, please?" Discarding all of the notes, study guides and scribbles we will never have to memorize again right before heading home after exams is another blissful college experience. It's also satisfying to close about 3,586 of your tabs, knowing that the Maji Maji Rebellion of some year in some nation is no longer your concern.
Emails from professors can be wonderful too, but they can also be terrible. The terrible subject lines, such as "hurricane force winds," and "Dalai Lama," followed by sentences like "does not merit class cancellation," are better left ignored and unread, like the many Student Happenings emails we stop paying attention to once they stop listing events with free food. But if the email starts with  "several of the questions were a little convoluted," or, "you may not have had enough time, so extra points will be added on to your final grade…" it's like you just ate out at an incredibly expensive restaurant where the manager offers to pay for drinks and dessert.
The dining halls can be unpredictable. You can expect long lines and mediocre food, and there is no worse sight than someone else taking the last chocolate chip cookie. Fortunately, there are also those redeeming moments, like when a fresh batch comes out of the oven and you're first in line, or when that pot of soggy french fries for the last half hour is replaced by another magical pot of fresh, crispy and salty fries.
Besides food, academics and taunting hurricane class cancellations, there are also the rare states of bliss only a few of us will get to experience, like waking up at 6:55 a.m. for 7 a.m. registration, only to cuddle back in bed five minutes later with your ideal schedule a reality. Or it's the knowledge that you just received an internship, grant or job and will be able to go home for break and deftly explain your successes to any family member bold enough to question your grades and summer plans. Last but not least, it is Family Weekend when your parents have missed you so much that no pair of shoes, trip to the grocery store or Starbucks latte can be denied.
Bliss also exists in also the small moments: You decide that watching an episode of the Walking Dead outranks your need to do that 63-page Socrates reading, then you go to a sparsely attended movie screening, where you get to take the several remaining boxes of Dunkin Donuts and cheesy pizza. The trifecta is rounded out when your 8 a.m. professor emails you the night before to announce that due to unfortunate circumstances, he or she regrettably will have to cancel class the next morning, and the scheduled pop quiz will be postponed to a later date.
The important thing to take away from all of these examples is that small, wonderful moments of bliss happen around us each and every day. It may have taken a psychology lecture to remind me of the fact, but I hope I'll never forget it.
Dasha Godunova is a Confusion Corner columnist and credits the free box of donuts she received this morning with the inspiration for this article.