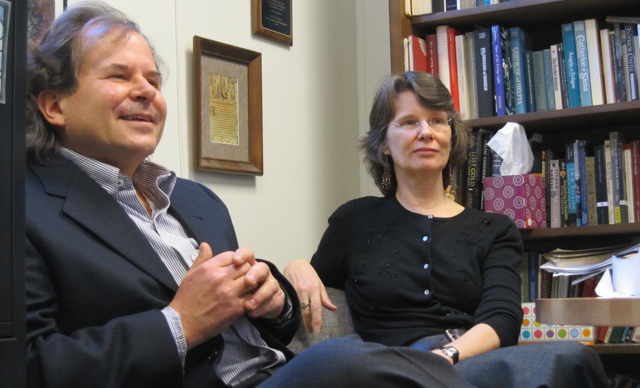 It was Jan. 11, 1990. The College of William and Mary had just hired the New Jersey native as an English professor and the department was throwing him a welcoming cocktail party. Amidst the celebration, Adam Potkay spotted Professor Monica Brzezinski. He walked toward her with a burning question on his mind.
"Are you Polish? You look Polish," he said.
The unusual meeting proved memorable enough for Brzezinski. Sixteen months later, they were married. Today, Adam Potkay is the William R. Kenan Professor of Humanities and Monica Potkay is an associate professor of English.
As a result of meeting through the College, the Potkays avoided the problem that sometimes plagues married academics: working at institutions geographically far from each other. Adam Potkay described one commuter marriage between professors in Canada and Poland, calling that particular arrangement "nuts."
"Our offices are down the hall from each other," Adam Potkay said. "Sometimes, when there's no one around, especially later on a Friday or Monday, it's like being home. There's no one but Monica, the secretary and I. We chat."
Commuting is not an issue for the Potkays. The couple chose to raise their son Aaron, now an engineering student at Virginia Tech, in Williamsburg. Monica Potkay walks to school every day. The Chicago native has dubbed her downtown Williamsburg neighborhood "the Big City."
"The people living around us are all Colonial Williamsburg workers," Adam Potkay said. "They have their 18th century garb on when they go to work. We live next to coopers and milliners and hurdy gurdy players and wainwrights. It's fun."
After school, literature remains a constant topic for the couple. One ongoing debate revolves around two great British poets: Monica Potkay prefers the blank verse of John Milton while Adam Potkay favors the Romantic poet William Wordsworth.
At the College, the couple has co-taught a large lecture course, Literature and the Bible, since 1991. They specialize in different areas, however — Adam Potay is focused on eighteenth and nineteenth century British literature, while Monica Potkay's expertise lies in medieval writings.
"It's useful that we're both in literature, but we have different specialties," Monica Potkay said. "Professionally, it's great to be married to someone who's in the same field as you but knows different things. It can get too competitive otherwise."
Similar but distinct academic interests prevent the couple's close work relationship from becoming stifling. Despite teaching at the same school and in the same department, the Potkays continue to change up their routines. This year, they plan to go out for Valentine's Day a day early to beat the crowds, an unconventional celebration that perhaps dovetails their extraordinary introduction.
"I tell the story of our meeting to people, and they ask, 'Weren't you insulted?'" Monica Potkay said. "But, I am Polish."