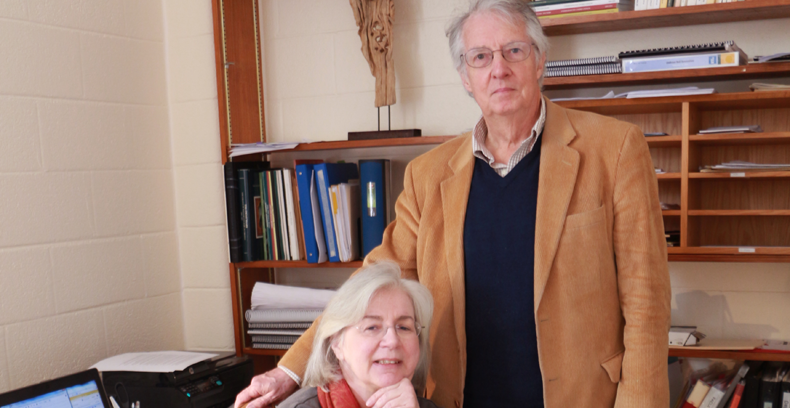 Shared interests and the ability to learn from one another are often considered integral to a strong relationship. Catherine Levesque, chair of the art and art history department, and Christopher MacGowan, professor of English, have their fair share of individual achievements. Yet both seem to hold a deep admiration for the expertise of their partner.
Given their shared artistic interests, it is natural they should have met in an artistic haven:  New York City. Originally from England, MacGowan found work there in 1984 after receiving his Ph.D. but before securing his position at the College of William and Mary later that year. Levesque was attending graduate school at Columbia University. The two were introduced by a mutual friend.
"The first time I met Cathy was at an English restaurant on 7th Avenue," MacGowan said.
Their natural appreciation of artistic works was made evident even during their first conversation which revolved around a French film starring Gerard Depardieu.
"We discussed that film, 'The Return of Martin Guerre,'" MacGowan said. "We didn't agree on the interpretation of it."
The two continued to bond through their shared love of theater.
"We certainly both enjoyed everything about New York, like the plays and the opera," Levesque said.
Both professors cite Mozart as their favorite composer.
The two married in 1988. Levesque became a professor at the College in 1995, adding her specialization in Northern Renaissance and Baroque art to the art and art history department's repertoire.
MacGowan and Levesque agree that working together at the College in separate fields of study has enriched each other's knowledge. MacGowan's specialization in the poetry of William Carlos Williams and Levesque's expertise in Pieter Bruegel's works have overlapped in their teachings. MacGowan once brought up a discussion of Bruegel in his Modern Poetry course.
"I got that from her," he said.
Levesque returned the compliment and acknowledged her husband's influence on her own studies.
"[Williams'] sensitivity as an interpreter of Bruegel, I think, sharpened my own vision," Catherine said.
"We help each other discover new things in painting and literature," Christopher said.
When they visit museums together, Levesque recommends Titian's work. MacGowan, in turn, has given her books to read.
"Shared interests are important to us," MacGowan said.
At the same time, the differences inherent in their international marriage have made them familiar with aspects of other cultures — especially food, Levesque said, joking about the poor reputation of English cuisine.
"We have different tastes in food, but we're understanding of each other's [tastes]," MacGowan said.
This Valentine's Day, the couple plans to celebrate at a nice restaurant, but probably not an English one like the one where they met.
"English food is really not popular here. Or in England anymore, for that matter," MacGowan said.
Despite differing culinary tastes, their marriage thrives on respect for and appreciation of the other's interests and talents.
"My dissertation was on poetry and painting," MacGowan said. "I published it as a book before I met her. And if I had met her before then, it would have been a better book."