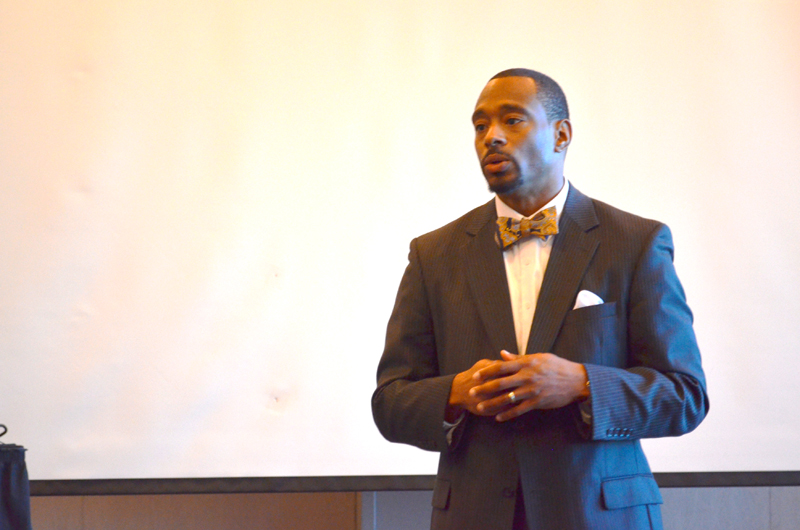 Dean of Students candidate Randy Williams Ph.D. '13, who drove two and a half hours from Farmville, often twice a week, to work on his doctorate at the College of William and Mary spoke on his dedication to the College.
After receiving his bachelor's degree from Hampden-Sydney College, he worked as a math and physics high school teacher and then as an assistant dean of students at Hampden-Sydney. He came to the College as an associate dean of students before moving to North Carolina Wesleyan College as the vice president for student affairs and dean of students.
At North Carolina Wesleyan College, Williams demonstrated his appreciation of adversity, as over 70 percent of students at North Carolina Wesleyan College receive Pell Grants. Dealing with students facing financial strains, he noted, helped him focus his efforts at the college.
"How can I, as an educator, help this student navigate and coordinate all the obstacles and challenges, while maximizing on some resources, to get the education that they very well deserve?" Williams said.
Now returning to the College as a candidate for the dean of students, Williams acknowledged how his situation might change.
"Coming back here, I'm going to be a different Randy and I should be," Williams said. "Three and a half years have passed and I've learned and gained some things, and I'm in a different role."
Williams explained his ideas for how the Office of the Dean of Students should address new students in new ways in an effort to change the perception of the office as merely a disciplinary area.
"I want them to know that there will be some challenges … but I want them to understand that there's a supportive system of well-able, capable minds," Williams said.
Aiming to return to the College in a higher capacity, Williams explained the fundamentals of his leadership style, focusing on the importance of being a teacher, a role model and expressing empathy.
"You're leading human beings, spiritual beings, people with feelings. … I feel that the ability to convey empathy is important in a leadership role," Williams said.
Williams plans to complete his doctorate of philosophy in educational policy, planning and leadership at the College within the coming year. As a member of the College community, Williams expressed his vested interest in the success of the institution.
"This will be my alma mater," Williams said. "I want to see it thrive. I want to see it do well. As I help students to do well and to reach success, the value of my degree enhances and the value of everybody else's degree from William and Mary increases as well."
For the other four Dean of Students candidates, click on the links below.