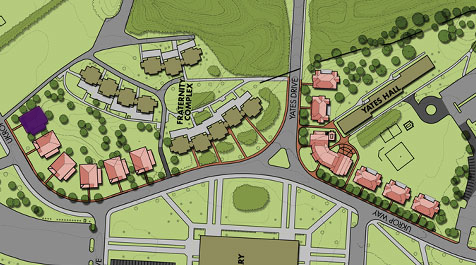 The Gamma chapter of Pi Kappa Alpha fraternity lost its position in the new fraternity housing complex, to open this fall. According to Associate Dean of Students Dave Gilbert, this loss is the result of a disciplinary sanction issued for serious violations of the Student Code of Conduct.
"We deemed it inappropriate for an organization to be provided housing so soon after a serious violation, and we felt the organization, through its response and future conduct, could earn back the right to seek on campus housing in the future," Gilbert said in an email.
Director of the Department of Student Leadership and Development Anne Arseneau elaborated on the nature of the violation.
"Pi Kappa Alpha was investigated in December for a violation of the Code of Conduct for hazing," Arseneau said in an email. "The case was resolved in January and they were held responsible for the hazing charges."
The house, located at 760 Ukrop Way and currently under construction alongside the rest of the fraternity complex, will be available to undergraduate students participating in the 2013-14 housing selection process in April.
"During the course of their sanctioning, [Pi Kappa Alpha] was led to believe the house they selected would be held for them," Director of Residence Life Deb Boykin said in an email. "Typically Residence Life does not assign the house they selected to another chapter for the 2013-14 year."
All fraternities and sororities must reapply to the Special Interest Housing committee after losing housing privileges through the Student Conduct process. According to Boykin, Vice President of Student Affairs Ginger Ambler '88 Ph.D. '06 makes the final decision on whether to approve or reject the proposal.
President of Pi Kappa Alpha fraternity Tony Hanagan '14 discussed the reapplication process.
"We're working with the offices of Greek Life and Housing and look forward to moving into the new house in the Fall 2014," Hanagan said in an email.
Arseneau elaborated on the future of the house.
"I know the chapter is very hopeful that in the following year … they will be able to move into the previously assigned space," Arseneau said. "No other group is eligible with Special Interest Housing status to currently pursue 760 Ukrop Way for 2013-2014."