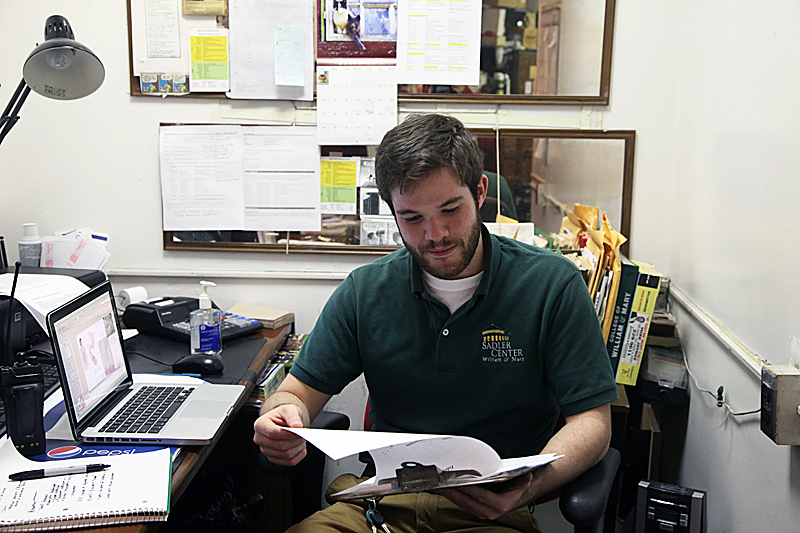 When Justin Poston '13 discovered that his laptop and camera had been stolen from his off-campus house during his sophomore year, he decided it was time to get a job. Almost two years later, he still has his job — and a new computer and camera as a result.
"Circumstantially, yeah, it helped me get a new laptop with the help of my parents, and the reason I kept the job is that I have a car," Poston said. I'm off the meal plan for the most part, so I use the extra money to buy groceries and gas, so it's definitely beneficial."
Through his job as a building manager at the Sadler Center and the Campus Center, Poston joined the 40 percent of full-time college students who are employed, according to a 2010 survey by the National Center for Education Statistics. His starting salary of $8 per hour was above the $7.25 minimum wage, but the same cannot be said for those starting out at the Earl Gregg Swem Library or the Campus Center's candy counter.
In his State of the Union Address, President Barack Obama proposed an increase of the federal minimum wage, which has remained static since 2009, to $9 per hour.
"Let's declare that in the wealthiest nation on earth, no one who works full time should have to live in poverty," Obama told Congress.
College students may not be full-time workers, but because workers under age 25 make up half of all people making minimum wage, they would be affected by the increase.
"That would be insane. I would have a lot more extra spending cash," Poston said. "I guess one of the biggest reasons I got the job was like with the camera, I realized that wow — there are a bunch of random expenses that come up in life that I need to prepare for."
However, according to Assistant Director of Student Financial Aid Ginia Anderson, universities are not financially equipped to handle the wage raise unless more funds are provided. Even federal work study recipients may have a difficult time since without additional funding departments may not be able to hire as many students as before.
"[It comes down to fewer] jobs, more competiveness, more students not able to work," Anderson said in an email.
Vice President of Finance Sam Jones was skeptical about additional funding coming from the state government.
"I would be surprised if the state contributes incremental funds to cover the cost of the proposed increase at state agencies and institutions," Jones said in an email.  "There is likely to be an expectation that agencies and institutions reduce the number of hours worked to remain within budget."
For some students, the increase in the minimum wage means increased opportunities while in school. Addie Schafer '13 currently works as a props assistant in the theater department for $8 an hour but says she will need something more substantial next year to help pay for books and other expenses she'll encounter in the fifth-year M.A.Ed. program at the School of Education.
"Anything will help because right now my parents pay for my tuition, but I usually front books and food and everything else, so that's why I'm working three jobs," Schafer said.  "Otherwise I wouldn't have enough money to do that while also trying to have savings and pay for other things that come up, like parking tickets."