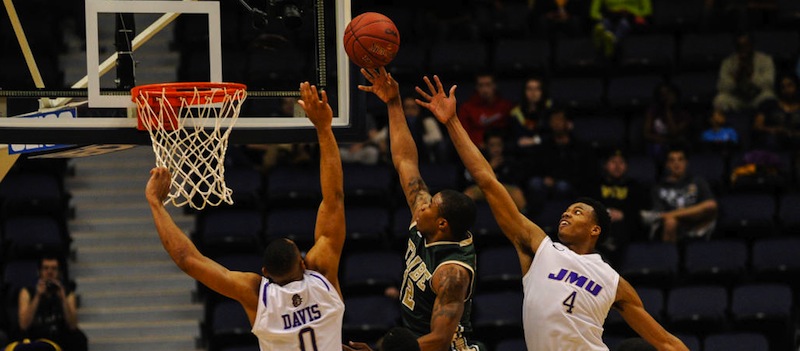 With just over 17 seconds to play and James Madison set to in-bound clinging to a three-point lead, William and Mary caught a break it didn't deserve.
The in-bound pass glanced off a Duke hand and rolled out of bounds, giving the College a shot in a one-possession game. Then the Tribe caught another break. Miscommunication on a high screen left sophomore guard Marcus Thornton wide open behind the three-point line. At that point in the contest, he was 3 for 5 from beyond the arc, with all three of his makes having come on much tougher looks than the one he was getting with the game on the line.
Thornton paused, only then realizing just how open he was. For the best three-point shooter in the conference, it's a rare occurrence. The shot went up; Thornton landed and immediately tilted his head, trying desperately to find an angle from which to see if the shot was on target.  It wasn't, bounding off the cylinder and into the waiting hands of JMU guard Ron Curry.
With four seconds left, Curry sank a pair of free throws to seal the 72-67 win. Thornton's 25 points had gotten the College that close, but it was all for naught with the miss.
"It was a good look, I just missed it," Thornton said, adding that he didn't think it was somehow too good of a look. "We had set up a ball-screen play and Moore had kind of cheated on the play, so I spun back [and] hedged on the other side of the ball-screen, so that's what got me so wide open."
This was typical of the whole season: Even when things lined up just right, it seemed like it was never meant to be.
"There's no good feeling for me right now," head coach Tony Shaver said. "I'll be honest with you: We didn't come over here to play a close ballgame. We felt that we were good enough to win this tournament, and we didn't have things work our way."
The entire game was close, but there were moments when the Tribe had a firm hold. With 9:35 to play, the College led by seven points. Then things went downhill, beginning on the defensive glass. Time and again, the Dukes got second, even third chances. Over the last 10 minutes of play, JMU grabbed 12 offensive rebounds, which resulted in a total of 17 second-chance points.
"We preach all year about offensive rebounds," Britt said. "And they got a couple during the free throw situation."
JMU reclaimed its lead with 7:18 left and expanded it to six, all on second, third or even fourth shots — then to eight with 3:41 remaining. Thornton stopped the slide with a jab-step that created just enough space for him to drill a three-point shot. Junior forward Kyle Gaillard then caught a deflected pass under the basket and laid it in, cutting the deficit back down to three with just over two minutes to go.
On the Dukes' next possession, the Tribe got the first of its big breaks. JMU guard Andre Nation, already with four fouls, got the inside position on senior guard Matt Rum and finished strong at the rim.
Instead of putting his head down and playing defense, he stared right back at Rum and barked, earning him a technical foul that sent him to the bench for good. Nation probably wouldn't have gotten a technical had he not already been warned by referees twice, once for hitting a three over Thornton and mouthing at him in the first half, and then for getting somewhat physical with Rum earlier in the second.
Thornton hit both of the resulting free throws, making it a three-point game with the College set to in-bound. But junior guard Brandon Britt — who also had an impressive night with 17 points on 4 of 10 shooting and three three-pointers — couldn't convert a tough-look shot attempt. The Dukes got the ball back and guard Devon Moore shook Thornton, forcing junior center Tim Rusthoven to close, leaving forward Rayshawn Goins wide open under the basket to get the pass and lay it in.
Moore teamed with guard A.J. Davis to finish with 20 apiece, while Goins scored 13 and pulled six rebounds for the Dukes.  For the Tribe, Rusthoven finished with 15 points — despite sitting for a long portion of the second half with four fouls — but just two rebounds. Overall, JMU out-rebounded the Tribe 34-23.
But Thornton wasn't finished, getting into the lane and hitting a wild finish to make it a three-point game again, where it would remain until Curry's late free throws.
The first half was as tight as the second. Both offenses started slowly. Davis, who had torched the College in both their regular-season meetings, didn't get going until he scored eight straight points for the Dukes around the 10-minute mark.
Thornton, meanwhile, didn't get on the board until hitting a three with 8:07 left in the first. But both players got warm quickly, leading their teams to over 50 percent shooting in the first half. On the night, the College shot exactly 50 percent while the Dukes went 49.1 percent from the floor.
JMU controlled the interior, particularly in the second half when Goins started to make his presence felt. The Dukes outscored the College 40-26 in the paint.
At the same time, however, the Tribe was kept alive largely thanks to JMU foul trouble. In the first half, the College took 15 free throw attempts and hit 10 while the Dukes went just 1 of 3. By the end of the night, James Madison had gone 9 of 18 while the Tribe knocked down 18 of its 24 attempts.
It's the second consecutive year that the Tribe has gotten bounced in the first round of the conference tournament. The loss shuts the book on a 13-17 overall season.
"…just a heartbreaking loss. As a coach, it's exciting to see them play as hard as they did and pour their heart and soul into an effort," Shaver said. "It's equally as disappointing and heartbreaking to see it not work our way. We've had a season where we've had a lot of those games. We've played the top teams in this league tough—especially the last five, six weeks of the season—toe to toe, every night. We just haven't won enough of those close games."
After a season full of missed opportunities and lost nail-biters, Shaver said his team, which will return every starter but Rum, needs to work to bridge the gap between close losses and wins.
"What we've got to spend the next seven months trying to do is find that one degree, that one percent, because we played the top teams in this league down to the wire night after night after night but we did not win enough of those ballgames, so we've got to find that," Shaver said.