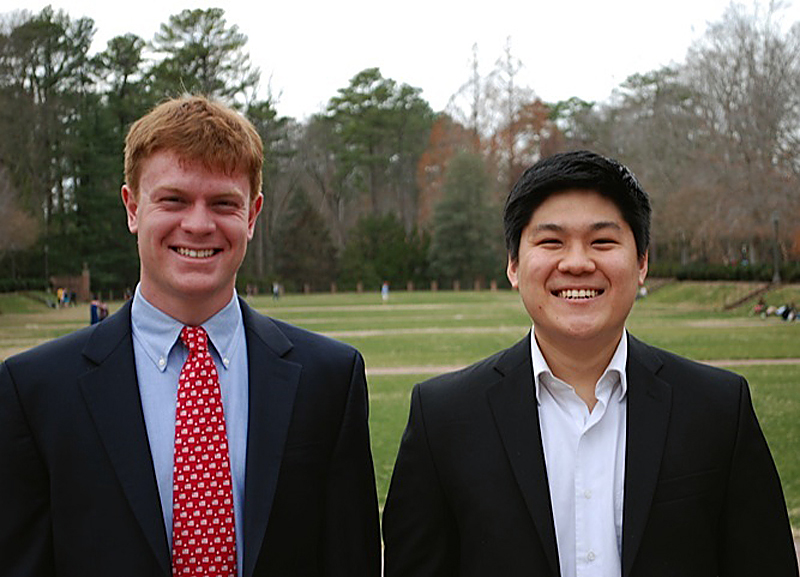 While freshman roommates and fellow Delta Chi brothers John Woo '14 and Griffin Stevens '14 banter about being stuck together for three years and about who is actually the snoring culprit, their campaign to become the nextStudent Assembly President and Vice President is far from a laughing matter.
"Between the two of us, we know most of the other candidates, and it seems like everyone is taking it very seriously and doing a great job doing what we're trying to do—getting their names out there," Stevens said. "The only reason I would say that we're better [is], because we think we're better obviously, and we really  want student input; we want to turn the Student Assembly into a more open forum."
Their campaign slogan, "Let Your Voice Be Heard," reflects their platform to increase student involvement in the decision-making process of the SA. If elected, their plan includes weekly forums with students to gauge and respond to student concerns, and to find out which issues are most important.
"It's the same with the Delta Chi executive or a student organization executive — you need to know what your organization wants to be able to lead them," Woo said, referring to his role as Delta Chi president. "If you don't know what they want, then you're just choosing what you guys are doing."
Woo and Stevens believe increased student input would also manifest itself in public referendums and online polls, especially for issues such as the artists brought to AMP sponsored concerts.
"That's been a common theme throughout our entire time that we've been here — there's been a significant amount of people who wouldn't go to those events because they weren't attracted to the artist decision," Stevens said. "You're not going to make everyone happy obviously, but we feel like we could do a better job having a more cohesive agreement on who we want to visit because there's a lot of money involved behind those decisions."
While Woo commends current SA President Curt Mills '13 for the work he has done in his term, Woo and Stevens would like to see the SA become a more transparent body.
"The students completely deserve to see everything that the Student Assembly is doing. They should make it as easy as possible for anyone to see where the money is going," Woo said.
Their platform also emphasizes access to more student services, such as late night dining options using meal swipes, 24-hour access to study spaces in academic buildings for those who do not have access to buildings such as the Integrated Science Center or the Mason School of Business, and more cooperation with the police including ride-alongs to encourage increased awareness of students' rights and minimize misunderstandings.