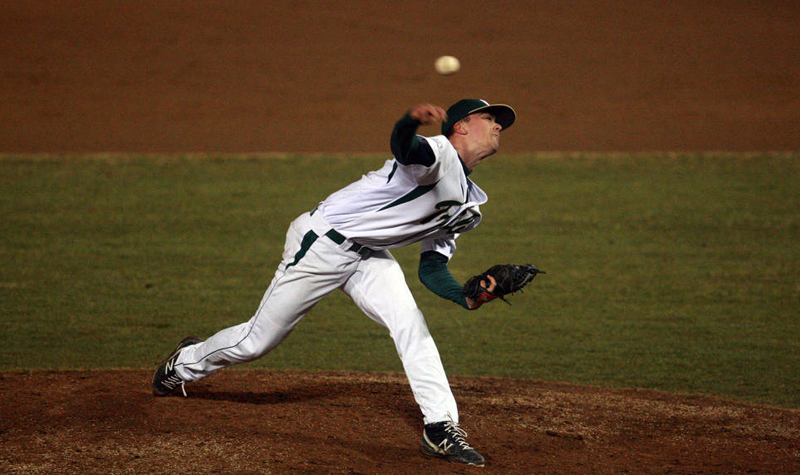 With an eight-game winning streak, William and Mary hasn't just been lucky. The College has been dominant. The Tribe pitching staff's five shutout games ranks second all-time, chasing the seven-game school record set in 2012.
Over the last 72 innings of baseball, the College has pitched 67 scoreless innings.
The trend didn't let up as the Tribe (18-8, 5-1 CAA) took to the road for a pair of mid-week contests, easing by East Carolina (11-14) 10-4 Tuesday before defeating Norfolk State (7-16) 4-0 Wednesday.
Both games featured strong pitching performances. Senior pitcher Matt Wainman (3-2) took the mound Tuesday against East Carolina, allowing two runs on four hits through five innings of work while striking out five batters.
East Carolina's fifth inning saw the Pirates plate two runs, breaking the College's 35-inning stretch of shutout baseball.
Despite the broken streak, the Tribe handily won the match, largely thanks to a litany of freshmen succeeding at the plate. Freshman catcher Ryan Hissey scored twice and drove in another two runs, while freshman designated hitter Charley Gould recorded two runs-batted-in in three hits. Freshman left fielder Jonathan Sarty also drove in two runs on three total hits.
All told, the College's offense scored ten runs on 19 hits while leaving 16 runners on base. East Carolina struggled to find a solution to the Tribe bats, using a combination of five pitchers.
Wednesday's game displayed another impressive pitching performance, as sophomore pitcher J.T. Castner's two-hit complete game shutout extended the College's win streak to eight games. Castner's complete game is the fourth such turned in by the Tribe pitching staff.
Castner walked no one while striking out eight batters in the win over Norfolk State. Collectively, the Tribe's infield forced out six runners and fielded 13 groundballs.
At the plate, the College couldn't muster the same offensive production from a night earlier. Nonetheless, the Tribe effectively utilized small-ball tactics to break a scoreless game open in the sixth inning.
Senior center fielder Ryan Brown watched four balls as he took first with a walk. Gould hit a grounder which, thanks to a fielder's choice, plated Brown for the game's first score. Hissey's bunt later in the inning allowed junior second baseball Ryan Lindemuth to score from third base.
Senior first baseman Jackson Shaver continued the inning with a ground ball to Norfolk State's shortstop, forcing another fielder's choice.
Once again, the small-ball strategy paid off, scoring Gould from third base. Hissey would score on a Norfolk State throwing error to cap the Tribe's four-run sixth inning.
With one of its strongest pitching staffs in recent memory, the Tribe looks to continue the streak this weekend as Plumeri Park plays host to High Point. First pitch is scheduled for 7 p.m. Friday night.