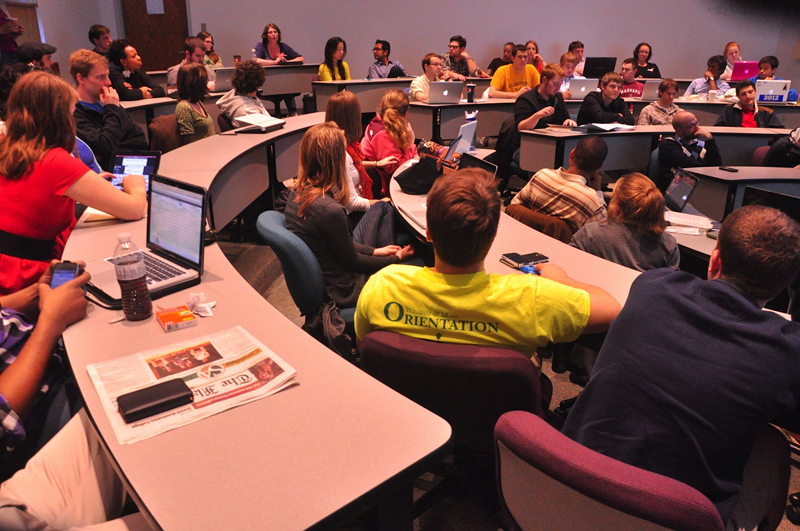 Student Health Center administrators met with representatives of the United HealthCare Insurance Company to negotiate changes to the Student Insurance Plan last week. These changes were instigated by student and SHC administrator concerns based on President Barack Obama's Affordable Care Act.
A greater percentage of the College of William and Mary's 2,129 graduate students use the Student Insurance Plan than the 6,071 undergraduates, many of whom  can remain on their parents' insurance until age 26 due to the Affordable Care Act.
Both faculty and students raised concerns over education about insurance.
"Even I [am] really interested in healthcare, and I don't necessarily completely understand my own family's plan," Secretary of Health and Safety Jake Lewitz '13 said.
Student Insurance Coordinator Trista Sikes offered after-hours sessions to explain the Student Insurance Plan. Sikes usually speaks at orientations, but some graduate schools have cut this part of the orientation due to its length. To reach out to arts and science graduate students, Sikes attended the Graduate Research Symposium in March.
Students who have specific questions regarding insurance claims can contact Sikes throughout the year. The SHC will use the graduate listserv and email undergraduates to notify them of changes that will happen based on negotiations with United HealthCare Insurance Company.
"The negotiations are going very well," SHC Director Virginia Wells said. "There will be some definite changes with actually a reduction in the premiums … primarily because we have managed the plan very well and taken care of most of students' needs here on campus."
United HealthCare Insurance Company also agreed to remove the preexisting condition clause for the 2012-13 academic year. According to the Affordable Care Act, all insurance companies must remove the six-month wait a person who switches health care insurance must wait for treatment.
Misunderstandings occur not only because of a lack of education among students, but sometimes local physicians do not understand the Student Insurance Plan and students do not know enough to follow up with Sikes.
"I think [one] of the most critical problems is there's a disjuncture between understanding what the plan covers and what you have to do in order to get it to cover," Graduate Student Association Treasurer Ellen Chapman Ph.D. '16 said. "This misunderstanding is happening by representatives of the health insurance company, by local physician officers and they're happening with students."
One concern Chapman raised was that graduate students on research leave who are not taking classes and thus not paying tuition must pay $134 to use the Student Health Center. Typically, this $134 is included in tuition.
"Often it's disproportionally affecting students who are already economically marginal anyway," Chapman said. "If they're already off stipend, sometimes they're living close to the poverty line. They're [maybe] having to work full-time, doing something else while they're trying to finish their degree. It affects people who are already the most stressed, financially and otherwise."
Students raised concerns regarding the insurance plan's lack of dental coverage. Also, the insurance company does not cover basic foot problems.
"There is no insurance plan that is all-encompassing and covers everything," Wells said. "No plan like that exists. It's just a matter of being familiar of what the limitations and what's covered."