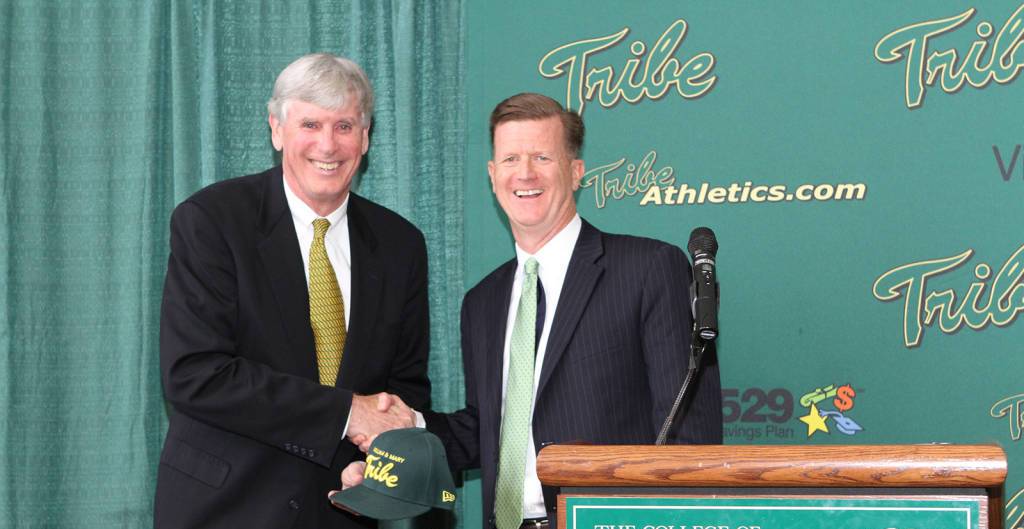 After the disappointment of last season, the William and Mary women's basketball program sorely needed a fresh burst of optimism.
The Tribe got just that Tuesday as Athletic Director Terry Driscoll introduced Ed Swanson as the new head coach.
Swanson could barely contain his excitement to take over the reins at the College and even made a few bold statements about the future of the program.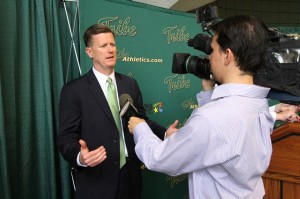 "I wouldn't leave a place if I didn't think that I had the opportunity to win, and I think William and Mary is a sleeping giant right now in the world of women's basketball," Swanson said.
His buoyant words don't quite fit with a program that hasn't gotten past the first round of the Colonial Athletic Association tournament since 2009; but, with over 23 seasons as head coach at Division I Sacred Heart, Swanson has a history of building success.
Attendees could be forgiven for not knowing much about Swanson's former school. Sacred Heart is a small school in Fairfield, Conn. that Swanson has built into a perennial power in the Northeastern Conference. Having spent his entire coaching career there, Swanson has won four NEC Coach of the Year awards and holds a 384-253 career record. Swanson has led the Pioneers to the National College Athletic Association tournament three times — a tournament to which the Tribe has never received an invitation.
These accolades, along with Swanson's obvious enthusiasm for the job, made Driscoll's decision an easy one.
"Our goal was to find the best possible fit for William and Mary so that they can enjoy the successes that some of our coaches have had.  There's no question that from a very strong candidate pool there was one person who distinguished himself."
Swanson replaces Debbie Taylor, the Tribe's former head coach of 14 seasons, whose contract wasn't renewed after a particularly ugly season ended with a first-round blowout loss in the CAA tournament. For Swanson, picking up the pieces will not be easy.
With the bulk of last year's team graduating this spring, Swanson faces the daunting task of shaping a largely young and inexperienced squad into a competitive team. Eight players return from last season's squad, complimented by four incoming freshmen. However, Swanson seemed excited for the challenge ahead of him.
"I think we have a great foundation of talent here, and that really sealed the deal for me in taking this job," Swanson said.
Swanson, By the Numbers
5 fifth head coach in College's Division I era
23 seasons at Sacred Heart
.606 career win percentage
40 No. 40 among all Division I coaches with 406 career wins
7 number of 20-win seasons
3 number of NCAA tournament appearances