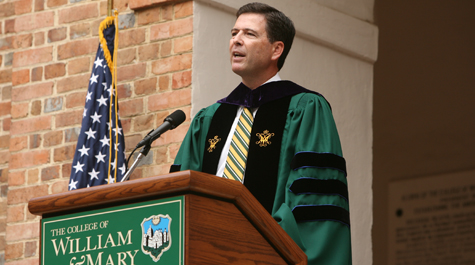 President Barack Obama nominated James Comey '82 to serve as director of the Federal Bureau of Investigation, the New York Times reports. Comey was deputy attorney general of the U.S. from 2003 to 2005. As he served as acting attorney general in 2004, Comey famously challenged the White House over the constitutionality of domestic wire-tapping.
William and Mary News reports that Comey graduated with a double major in chemistry and religion. He was the guest speaker at the 2003 and 2009 Opening Convocation ceremonies. After speaking at 2008 Charter Day ceremony, he received an honorary doctor of laws degree. Comey was a member of the William and Mary Alumni Association's Board of Directors from 2008 to 2012. He was awarded one of the highest honors the College of William and Mary gives for public service in 2011 — being named the Carter O. Lowance Fellow.
Comey will replace current director Robert Mueller, who was the College's 2013 convocation speaker. Mueller has held the position since 2001, making him the longest serving director of the FBI since J. Edgar Hoover.