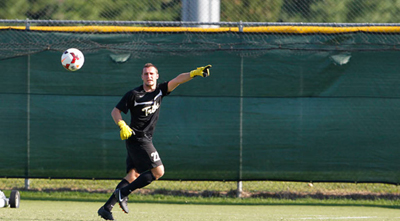 The excitement in the air was palpable at Martin Family Stadium, but William and Mary's home opener was ruined by a careless Tribe defensive mistake and an anemic offensive attack as it fell 0-1 to St. Francis (1-0).
"We are obviously disappointed with the performance and the results," head coach Chris Norris said. "I think St. Francis was good and solid, but it wasn't anything we hadn't seen in preseason or training."
The College (0-1) faltered in the 62nd minute, allowing the game's only goal to the Red Flash. Sophomore midfielder Ryan Flesch turned the ball over in the College's defensive third to St. Francis's Pablo Medina. After his steal, Medina fed Wallis Dabouru a pass, putting Dabouru in position to threaten freshman David Phillip's net.
Debourou fired a cross, which found Nick Kolarac in the center of the box. Kolarac kicked the ball off the post and promptly collected the rebound. On his second opportunity, Kolarac converted St. Francis's first goal of the season and the game winner.
"We made a lot of mistakes in possession tonight, and that was the one that cost us," Norris said. "We just have to be a lot better in possession."
Aside from the turnover in the second half, the Tribe put forth a solid defensive effort, limiting the Red Flash to eight shots with only one on goal.
Continuing a trend from last year, the College couldn't consistently penetrate the opposing box for shots. The Tribe started off the match outshooting the Red Flash 5-3 in the first half. Five minutes in, the Tribe set up for the only corner of the half, but senior defender Will Smith's header skittered just off target to the left of the net.
Red Flash keeper Andrew Garcia proved too daunting, collecting four saves during the game. In the 24th minute, junior midfielder Michael Teiman fired an audacious shot, but Garcia was there for the save. Garcia thwarted the Tribe's efforts again in the 31st minute when he stopped junior midfielder Chris Albiston's shot.
The College had the upper hand in shots during the match, finishing with 11 points to St. Francis's 8.
Late in the second half, trailing by a goal, Flesch had an opportunity to make amends.  In the 84th minute, Flesch put a dangerous shot on goal, but Garcia managed to make a diving stop.
"We win as a team and we lose as a team," Norris said. "But I expect our guys to have a very good response to this result and this game."
With the College's match against No. 5 Connecticut cancelled due to inclement weather, the Tribe will face Old Dominion on the road Sept. 7.