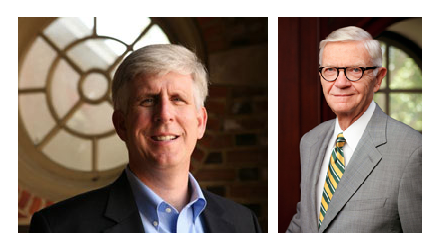 On Wednesday, Sept. 12, newly appointed Rector Todd Stottlemyer '85 held a forum alongside College President Taylor Reveley to hear the public concerns in regards to the College of William and Mary.
President Reveley and Stottlemyer started the forum by stating on their appreciation for the Board of Visitors. Stottlemyer has been a member of the board's financial affairs committee since 2011.
"In recent years, the Rector of the Board of Visitors has really gone out of his way to talk to different student groups on campus to hear about their needs, and I see Todd doing the same thing," Reveley said.
During the discussion, audience members raised their concerns as to whether the College will become private in the coming years.
"We are still a state university and we do not foresee the state severing ties with us and allowing us to do whatever we want," Stottlemyer said. "We were state-supported, state-assisted and now it seems that we are just state-located."
Reveley discussed the lack of funding from the state, which could potentially lead the College to consider becoming private.
"We were not born public, but in 1906 we became public for the money. If our money goes away, then we may not have the same philosophy," Reveley said.
The College is also looking to seek funding from other sources aside from the state, which include students, alumni and the general public. They are looking to these sources because they believe that if the College can continue to grow and invest in student's futures, then the students and alumni will want to support the school.
"Every great entity has to always be under construction or else they will start to slip back," Reveley said.
The pair also addressed the lack of funds for out-of-state students who need financial aid.
"We don't have enough financial aid for need based out-of-state students, but we have enough for in-state students," Reveley said.
Stottlemyer also responded to a question referencing Section 8 of the William and Mary Promise, which the Board of Visitors approved last spring. This part of the resolution states that the College seeks academic innovation through looking at the needs of its staff and faculty. One such innovation they are looking at is to have more students be taught by full-time faculty.
While Reveley and Stottlemyer are working to increase their financial support from the $700 million endowment that they currently have, they are positive for the future of the College.