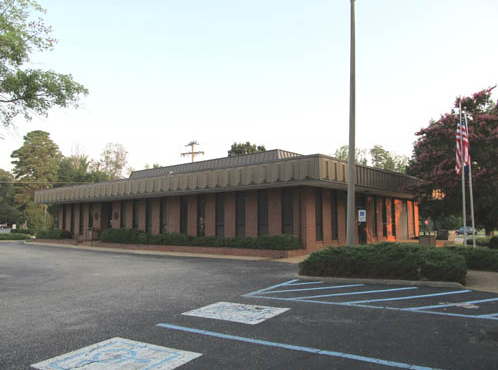 The Department of Motor Vehicles' mobile bus unit will be on campus in the Morton Hall parking lot this Saturday from 10 a.m. to 4 p.m., providing an opportunity for international students and faculty to obtain ID cards and to apply for driver's licenses.
The event, organized by the Wendy and Emery Reves Center for International Studies, is in its second year.
Stephen Sechrist, director of international students, scholars and programs, said the mobile unit operates a full-service DMV center while on campus, meaning it can process written and road tests and can handle vehicle registrations, titles and state ID cards.
He said the event is just one way the Reves Center works to help international members of the College of William and Mary community obtain IDs or driver's licenses.
"On campus, we advise them on the general processes and requirements," Sechrist said in an email. "We have also partnered with the Registrar's Office so that they can provide the type of transcript/enrollment verification document needed to demonstrate proof of address, for students living on campus."
Sechrist said the College maintains relationships with DMV branches throughout the area, which helps the Reves Center address individual issues that can arise when students with visas apply for driver's licenses.
He added that there are multiple programs and services at the College that help international students adapt to life on campus, including initiatives through the Student Activities office, the Office of Community Engagement, the Charles Center, the Recreation Department, the Writing Center and the Counseling Center.
Student Assembly Vice President Mel Alim '14, an international student, added that the Reves Center also hosts workshops on American-style writing and organizes events before major campus occasions like Convocation and the Last Day of Classes. They also help international students apply for social security numbers if they are employed on campus.
She also emphasized that international students' peers are instrumental in easing the transition to campus.
"It can definitely be intimidating when you first arrive and you don't know anyone on campus, so a friendly face or small talk can be helpful," Alim said in an email.
Sechrist agreed.
"Peers are essential in helping acclimate to life in a new environment," Sechrist said in an email. "Students that go out of their way to talk with a new student, invite him/her to hang out with them, can have an enormous impact on that student's well-being and sense of community."
Alim said the SA's Department of Diversity Initiatives is in the process of brainstorming and finalizing more events geared toward better integrating international students on campus.