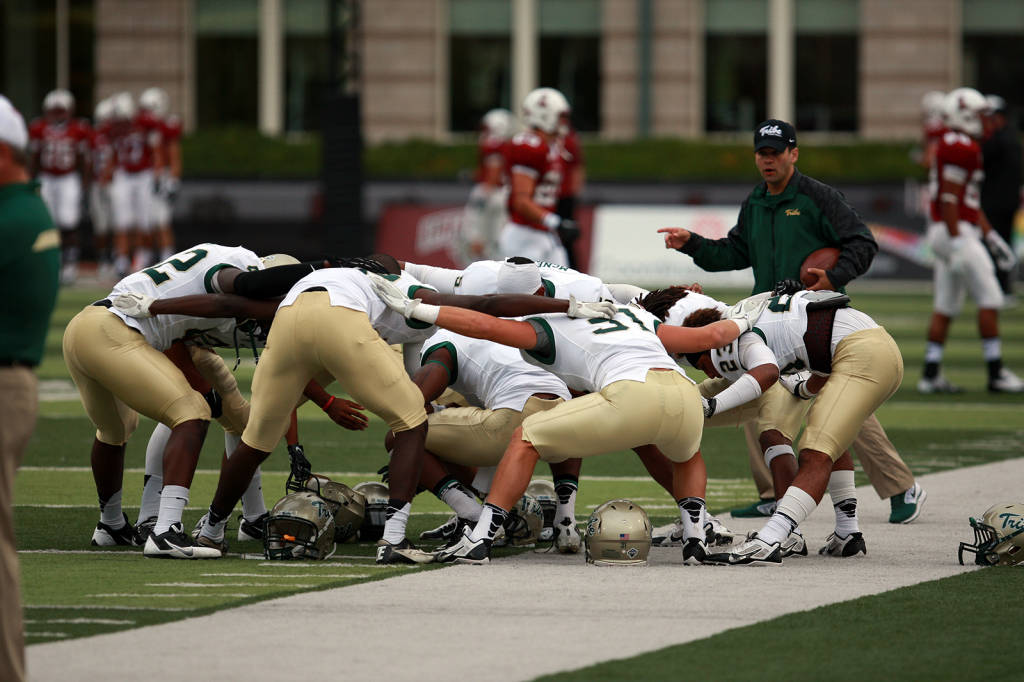 In just its fourth game of the season, William and Mary has the chance to overtake its win total from last year. The Tribe will begin its Colonial Athletic Association schedule Saturday, hosting Rhode Island at Zable Stadium. For head coach Jimmye Laycock, the timing couldn't be better.
Laycock and Offensive Coordinator Kevin Rogers have the offense humming. The College (2-1, 0-0 CAA) has scored more than 30 points in each of its last two games, both of which were overwhelming wins. Senior quarterback Michael Graham, prone to turnovers in the past, has yet to lose the ball since an interception late in the season opener at West Virginia.
Graham has played consistently so far this year, but he hasn't shown any big-play ability outside of a few long throws and a 55-yard scamper a week ago against Lafayette. With the running game averaging 208 yards a game, however, Graham hasn't needed to be spectacular.
A trio of Tribe backs — sophomore Mikal Abdul-Saboor, redshirt freshman Kendell Anderson and junior Keith McBride — have combined to run for 5.3 yards per carry.
Defensive Coordinator Scott Boone's side has been equally effective. Led by senior safety Jerome Couplin and sophomore middle linebacker Luke Rhodes, the Tribe has allowed only 37 points through the first three games. Averaging 12.3 points allowed per game, the College ranks eighth nationally in scoring defense.
Thanks in part to a defensive line led by senior lineman George Beerhalter, the College ranks second in the nation in third down conversion percentage, allowing offensive conversions just 23.3 percent of the time.
As the College leaves non-conference play and enters its CAA schedule, junior wide out Sean Ballard is focusing more on momentum than on the game itself.
"We started off with a tough opponent in West Virginia; then the last two weeks we came out with a win — much needed wins. Now we're looking to keep that momentum going," Ballard told Tribe Athletics.  "The CAA is looking tough … and we're looking to start off the CAA schedule strong."
Rhode Island (1-2, 1-1 CAA), winless all-time at Zable Stadium, enters the game a week after breaking a 15-game losing streak. The Rams beat Albany 19-13 in overtime for the program's first win since its 2011 win over the Tribe.
"We know they're going to be a very physical team. They're always well coached, they play hard, and this should be a big test for us," Laycock told Tribe Athletics.
Graham and company face Rhode Island linebacker Andrew Bose, fresh off a 17-tackle performance that garnered him the CAA Defensive Player of the Week and FCS National Defensive Player of the Week from Sports Network. Overall, however, the Rams' defense has struggled, allowing 29.3 points a game.
Defensively, Couplin and the secondary will contend with Rhode Island's versatile senior quarterback, Bob Bentsen, whose 59.7 completion percentage is first in the Rams' program history.
When Bentsen isn't in the pocket, he will be rushing the ball to break another Rhode Island record. Bentsen needs just six rushing yards to top 500 yards for his career, which would make him the only quarterback in Ram history to rank in the school's top-10 in passing and rushing yardage.
For Laycock, the game is another chance to grab a win at home.
"It's always great to be back here at home, and have our fans and our students and everyone out there. It should be an exciting night," Laycock told Tribe Athletics.
Saturday's game kicks off at 7 p.m. at Zable Stadium.