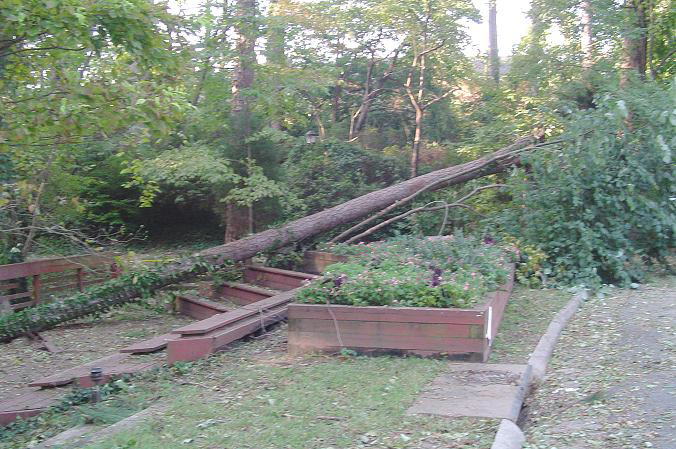 Ten years ago to date, Hurricane Isabel made landfall in Virginia and has since been hailed as one of the most severe storms in the history of the state. In the hours preceding the storm, the College of William and Mary urged its residents to evacuate, and it became a haven for the few who had no choice but to remain.
"We ate lots of fried chicken," Area Director Jenn Garcia said in reference to the food that was served at the Campus Recreation Center during the hurricane. The building served as a temporary home to 50 students who were unable to evacuate, as well as Residence Life staff, who remained at the College as necessary personnel during the 11 days the school was without electricity.
The lack of electricity was not the only problem. A William and Mary News story from the time reported that a tree fell through a Lodge behind the Sadler Center, an unwelcome addition to the 22 trees found strewn across the Wren Yard.
However, professor Marylou Zapf said she thought the school handled the disaster well.
"There was clearly coordination in planning … most of the damage that could have been a threat to someone had been removed by the time we got back to campus," Zapf said.
After days of no electrical outages, the College was able to pull together a cleanup coalition manned by the inhabitants of the Rec, who began the process of restoring the campus as quickly as possible so classes could resume.
Even today, ten years since the arrival of Isabel, Anna Martin, vice president for Administration, emphasized the College focused on bracing itself for the storm's aftermath.
"Evacuation really is not just about the incident itself but what's going to be the consequence of that incident," Martin said.
In terms of readiness for future disasters, Garcia said she encourages residents to take an active role in campus safety.
"Everyone can be a part of keeping the community safe," Garcia said. "Considering our timeline, what we did, the way the school was able to pull together … it was a huge reflection on how community-oriented [the College] is."