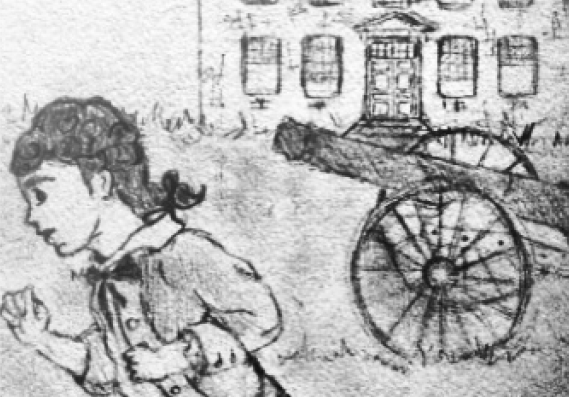 Have you ever heard a child's faint laughter on Old Campus late at night?  Ever feel someone run past you when you walked through the Sunken Garden but, to your dismay, saw no one there?
Maybe you have  had a run-in with one of the Brafferton's past alumni, one who tragically never graduated from the former eighteenth-century Native American school.
The College of William and Mary's Ancient Campus is located near Colonial Williamsburg. Today, Colonial Williamsburg recreates the eighteenth century lifestyle for tourists and students alike, honoring deceased shadows of American history.  While the original historical figures may be dead, they may not necessarily be gone.
Built in 1723, the Brafferton is the only building on Ancient Campus that has not been destroyed in its 290-year history. It is now used by the College's president and provost.
The Brafferton was home to the Indian school from 1723 until the Revolutionary War, when the College lost its funding. It was originally built as a school for young Indian boys, many of whom were kidnapped.  The Brafferton's purpose was to indoctrinate the Indian boys with English religion and culture in hopes they would become ideal British subjects.
Since the American Revolution, the Brafferton has been used as a dining hall, faculty residence, dormitory, hospital and guesthouse, as well as an office for student activities, the alumni house and the bursar. Every inhabitant has needed to work around the building's original purpose of housing the Indian school.
Clare Britcher, a ghost tour guide with the Original Ghosts of Williamsburg Candlelight Tour, emphasized the dire situation surrounding many of the Brafferton's students.
"[Living in the Brafferton,] the children suffered greatly from homesickness, disease and an inability to easily learn lessons of an alien culture," Britcher said.
Britcher noted that one of the homesick Native American youths found comfort in running.
"Every night he would sneak out of the Brafferton and run free through the darkness," Britcher said. "During one evening run, the Indian boy dropped dead in the woods on what is now the campus of the College perhaps from disease, perhaps from feelings of desolation. The reason doesn't really matter, because dead is dead."
Though the young Indian boy passed away in the eighteenth century, don't be alarmed if you hear his faint voice late at night. He just wants you to go on a nighttime run with him.
Before you run away, check out more campus ghost stories here.