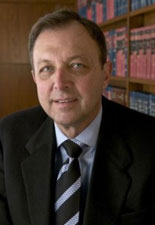 The Board of Visitors' Committee on Academic Affairs discussed the potential impacts of increased student enrollment during its meeting Thursday morning at the College of William and Mary.
In his opening remarks, Committee Chair Robert Scott J.D. '68 described the effects of the increased number of students on class availability.
"We face an enrollment crunch," Scott said. "We're adding 200 more students to the 300 that were added through the 2011-14 period. What that means, I've been told, is by the fall of 2017, we will need 7,000 additional seats."
Provost Michael Halleran said that, with regard to the larger student population, there are two main issues the administration is working to address: handling the increased number of students by ensuring there are enough classes and reducing the class enrollment capacity at which the College operates. Last semester, the College faced almost 95 percent capacity in seating, Scott said. He added that the College's goal is to reach 85 percent capacity, which would give students more opportunity to take the classes they want.
Halleran emphasized that it can be difficult to know which classes at the College are the most popular.
"If a course is closed and you go to register, it's not there," Halleran said. "So whether a class that holds 50 and is filled at 50 had 50 students interested in it or 150 students interested in it, we don't have a clear sense."
To combat this issue, Halleran said the College will be working with a new program, DegreeWorks, to track waitlist enrollments on Banner. Committee members expressed hope that DegreeWorks will allow administrators to better assess the demand for certain classes.
In addition to discussing class enrollment, the committee focused on ongoing efforts to better incorporate non-tenure-eligible faculty on campus. Scott said that, by the next meeting, he hopes to have a new name, rather than NTE faculty, to better reflect the group's role at the College.
"I think it's fair to say that the integration of our tenure and non-tenure-eligible faculty is good and getting better," Dean of the Mason School of Business Larry Pulley said.
Pulley gave a presentation on the growing number of NTE faculty — whom the business school refers to as clinical faculty — at the school. Over the next three years, the number of clinical faculty will grow from 17 percent to 30 percent, due in part to upcoming retirements, he said.
"This is really one of the ways that we are moving to be sustainable financially, but also — and most of our faculty understand this — this is the way we're going to be able to support top-notch research from our research cohort. … At the end of three years, when we get to this point, we will have taken $600,000 out of our annual budget, which will be a permanent savings," Pulley said. "It's a win-win."
Following Pulley's presentation, Faculty Assembly Vice President Susan Grover gave brief remarks to the committee, mentioning that the assembly hopes to work on an initiative to address faculty diversity on campus, as well as to have faculty take a leading role in fundraising at the College.
After Grover's presentation, the committee entered closed session and adjourned.