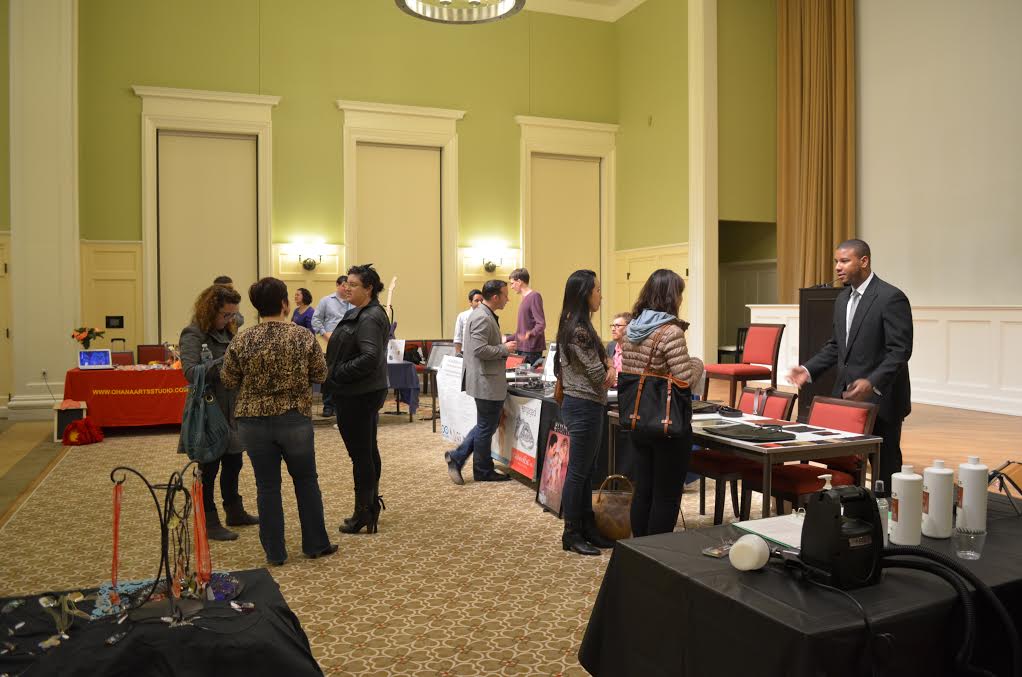 Brinkley Commons was packed with gilded glasswork, chiseled diamonds and jamming tunes — all pioneered by student entrepreneurs at the College of William and Mary. A showcase at the Mason School of Business brought together an assortment of small student-run businesses from a multitude of trades.
Whether they view their business as a hobby or a kick-start in an established profession, all of the owners have a unique background story.
Vermillion Composting Services is a business dedicated to environmental sustainability in Williamsburg. It takes its name from vermiculture, the use of worms in composting.
Julia Swalchick '14, Katie Thoma '14 and Sydney Gennari '15 co-designed Vermillion Composting Services after taking a class on social entrepreneurship at the College.
"It's not even a coincidence that we all vibed well, because that class had a goal of bringing people together to use business as a social good," Swalchick said.
The women plan to launch their business for a trial period in the spring. With the help of three restaurants, they will collect food waste, cycle it through a vermicomposting system, and sell at either farmers markets or in stores — or they will partner with local farms to use the compost as fertilizer.
Although the business is still gaining ground, the owners are excited about its potential.
Swalchick is looking forward to working with the worms and the actual compost the most, whereas Thoma is passionate about interacting with different businesses and educating the community about what they do. Gennari, the marketing guru of the team, hopes that the business will become a staple of sustainability at the College.
"We all have different strengths, so it works really well because we're all really excited about different facets," Thoma said.
Austin Ziltz's Coldcraft Effects produces an array of effects units. The name takes inspiration from his study of ultracold atoms and love of guitar.
Ziltz started making effects units as a hobby in 2006 after becoming intrigued by both an electronics course and many DIY projects on the Internet. In 2011, after attending a few years of graduate school at the College, Ziltz sold the first version of the Cascade, now his best seller.
The brightly colored units alter the sound of musical instruments. In layman's terms, the systems consist of two circuit boards: one for the effects and one for turning the unit on and off and supplying power.
Apart from branching out into new hues like "Fiesta Fuzz" and "Sweet Kiwi," Ziltz has expanded the business to include DIY projects, allowing customers to purchase materials and instructions to construct their own units.
Ziltz plans to keep the business going part-time since he enjoys the ongoing revision and production of projects.
"What I really like about it is designing and creating the product itself," Ziltz said. "My favorite part is plugging them in and playing really loudly when I'm done."
Amy Schmidt began creating glass art in 2006 in Dallas, Texas. Inspired by the stained glass of Rome and her mother's own glasswork, Schmidt took warm glass technique classes at the Craft Guild of Dallas. An aficionado of fusing glass, she focused on honing her ability to make glass jewelry.
"My big thing is trying to make the different shapes," Schmidt said. Guitar and "happy snake"-shaped pendant pieces are her favorites to construct.
Since moving to Williamsburg three years ago, Schmidt has branched out to making jewelry out of paper-spun beads. Stringing together tightly spun paper beads to form bracelets, Schmidt stamps the paper with original patterns to put her own spin on things.
Schmidt is a student at School of Education, so she views her business as more of a pastime than a serious occupational endeavor.
"It's a really fun thing to do to blow off steam," Schmidt said.
Lisa D'Aromando '07, co-president of the Entrepreneurship and Innovation Club, says her business began with making jewelry from Michaels' beads on the floor of her sorority house.
Now, Bell'Amore Jewelry Designs caters to the fashion-minded with handcrafted, custom designed jewelry.
"I needed something creative to do every day," D'Aromando said about her time as an undergraduate student here at the College.
Classes in 3D art brought to her attention the intricacy and care for detail in artwork, sparking an interest in making jewelry.
D'Aromando uses Swarovski Crystals, freshwater pearls, semi-precious stones and sterling silver to create both elaborate and simple pieces for weddings, formal dances and other events. The business aims to produce "affordable luxury," envisioning extravagant items that won't break the bank.
D'Aromando plans to take an independent study next semester and a visit Florence over the summer. There, she will learn how to take the next steps in becoming a successful business owner and launching running Bell'Amore Jewelry Designs into a full-time occupation.
A candy wrapper and an invitation all in one — what's not to love? Graduate student Kelly Hench, of Kelly's Kraftworks, produces both crocheted and digitally based candy wrappers that double as greetings and invitations.
Hench began crafting in her dorm room as an undergraduate student. After entering graduate school at the College, she decided to use her crafts to make a little extra money.
"There was always this thing echoing in my head, something my mom used to say: 'Find what you love to do, and then find a way to make money doing it,'" Hench said.
Through an established page on Etsy.com, Hench sells crochet scarves and gloves, custom invitations and custom candy wrappers.
"I love any of the digital stuff. I love crocheting, but with the digital you get to be a little more creative," Hench said.
Hench reaches her intended audience by marketing mainly by word of mouth and through networks such as Facebook and LinkedIn.
After graduation, Hench plans to use her extra time to ramp up the business in preparation for wedding season.
Be it an engagement ring, wedding ring or holiday gift, Lyons Jewelry aims to create elegant, yet affordable, jewelry.
Graduate student Chris Lyons joined his wife Ashley's business last year after he wasn't able to find a job. Together they work with manufacturers to provide jewelry products for high-end suppliers.
Lyons enjoys the personal interactions with customers, including many exchanges of wedding proposal stories.
"It's a fun business because it's a very good time in life that our customers come to us," Lyons said.
In the future, Lyons hopes his wife will have the opportunity to design some of the jewelry.
"She has an eye for design," Lyons said, "and it would be a big step down the road if we had the resources to do that."