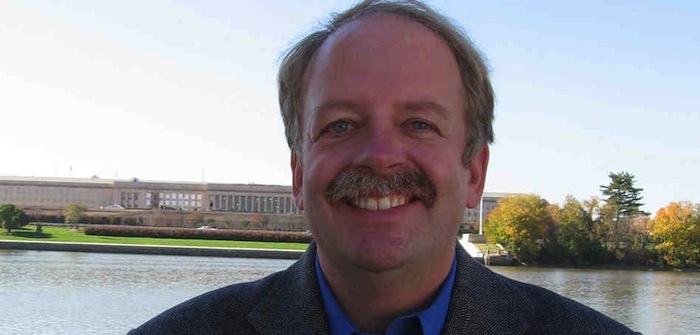 Washington Post reporter Steve Vogel '82 got his start writing about stolen cacti in Millington Hall.
Now, three decades after leaving The Flat Hat office in the Campus Center basement, the College of William and Mary alumnus found himself in another basement.
This time he was in Early Gregg Swem Library, talking about his most recently published book, "Through the Perilous Fight."
The former government major is now a reporter for the national staff of the Post, covering the federal government as well as military and veteran affairs.
"Through the Perilous Fight" tells the story of the British Invasion of the Chesapeake in 1814. Vogel's first book, "The Pentagon: A History," was inspired by his time reporting on the U.S. Department of Defense and the Pentagon.
"I'm attracted to telling stories, stories that people have kind of forgotten," Vogel said. "The Pentagon was one, and this is another."
While at the College, Vogel wrote for The Flat Hat, was an active member of the Sigma Pi Fraternity and played for the men's rugby team.
Outside of his major, Vogel took numerous classes in English and history. He also fondly recalled one particular non-fiction seminar in the English department as helping him prepare for his journalism career.
"I think that, as a reporter, I was really lucky to have a liberal arts education where I got to learn about everything," Vogel said. "In a lot of reporting it helps to have a background in history, economics [and] science. To know a little bit about a lot of things has been very helpful."
The College does not offer communications or journalism majors, so any student who wishes to enter the media must learn skills from other news outlets.
"Because there wasn't a journalism program at the College, I took a few classes in the English department, and that gave me a good foundation." Vogel said. "Most of what I've learned about journalism was on the job."
After graduation, Vogel went on to work for a local newspaper in the greater Washington, D.C. area. From 1989-1994 Vogel wrote overseas, covering the fall of the Berlin Wall and the first Gulf War as well as U.S. military operations in the Balkans, Iraq, Afghanistan, Somalia and Rwanda.
After coming back to the States, Vogel reported on defense for The Washington Post, covering the Sept. 11 attacks on the Pentagon. Today, Vogel focuses on veterans' affairs, especially returning veterans from Iraq and Afghanistan.