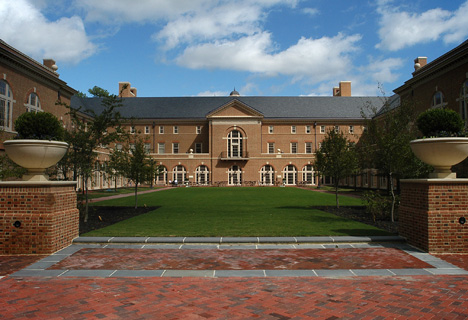 The College of William and Mary's Miller Hall, home to the Mason School of Business, has sustained water damage in various parts of the building after leaks were discovered last week.
A leaking water line seemed to be the source of the problem, the Virginia Gazette reported. Staff members found water in several areas of the building, including the atrium, staff lounge, Brinkley Commons and the Admissions and Career Services suite.
Director of News and Media Suzanne Seurattan said that drying and dehumidification efforts are complete, although some finish wall and ceiling repairs will still be necessary. The College does not yet have a complete estimate of how much damages cost.
"In-house and vendor personnel are working jointly on clean up and repair," Seurattan said in an email. "Water was shut off upon detection of the leak; however, water had already seeped to the carpet of the adjacent Brinkley Commons room and down to the first level of the building directly below the kitchen space. Water infiltration was in inches, not feet. MBA program offices in that area sustained water damage."
The College's second semester begins Jan. 15, so the water damage has not affected classes, Seurattan said.
Miller Hall is one of the College's more recently constructed buildings. It opened in 2009 and is named for Alan Miller '58.