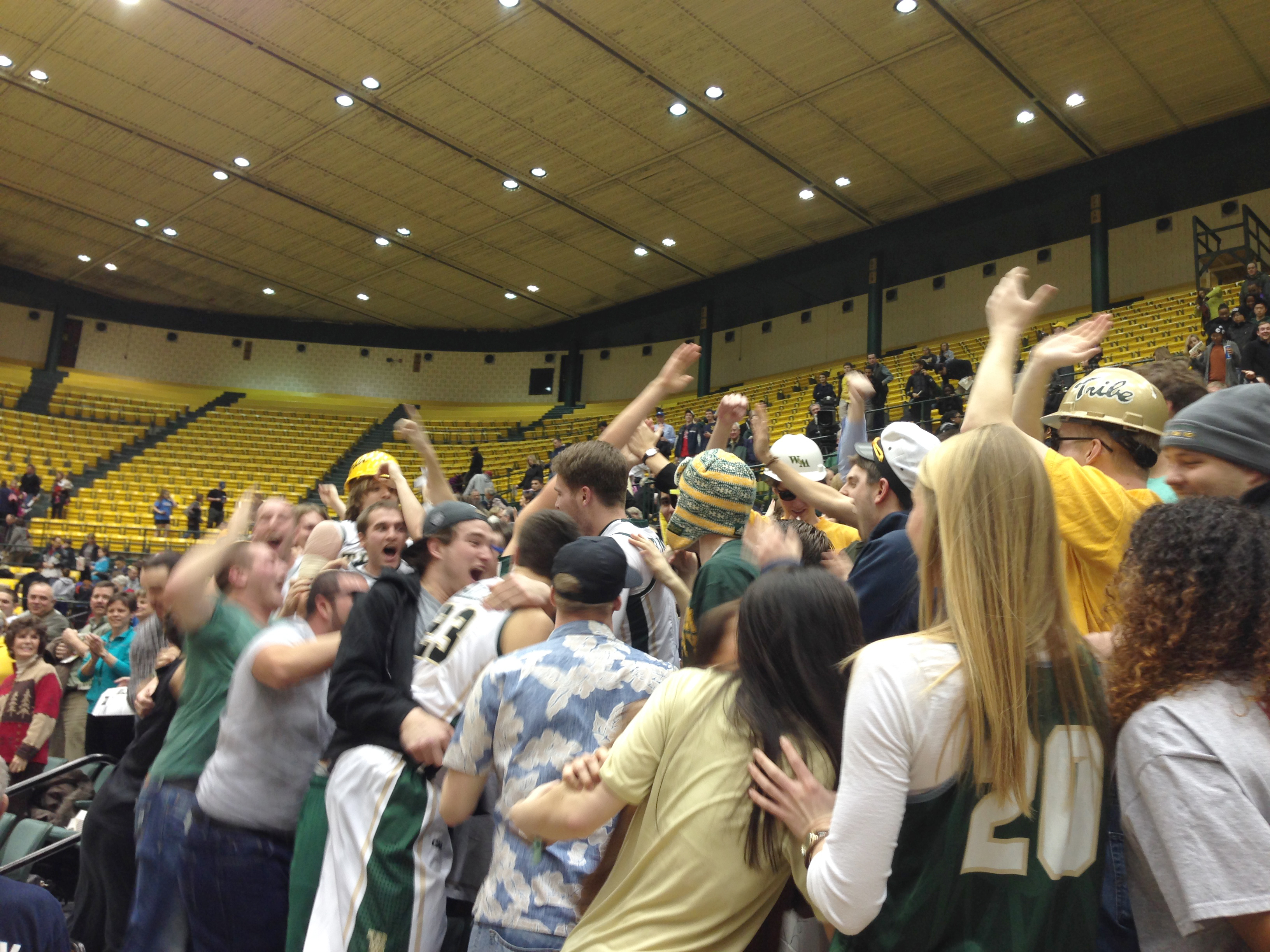 Last season's three losses to eventual Colonial Athletic Association tournament champion James Madison still weighed on junior guard Marcus Thornton and his William and Mary squad.
Saturday afternoon's emphatic 78-56 win helped relieve that weight and marked the first win against the Dukes in the program's last four meetings.
"We definitely didn't forget about it — it was just last year," Thornton said. "The CAA tournament hurt the most, so we definitely had a chip on our shoulder this game."
The College (10-6, 2-1 CAA) shot a ridiculous 70.8 percent from the field to build an 18-point halftime advantage. In a closer second half, the Tribe held James Madison (6-13, 1-4 CAA) to a 41.7 field goal percentage in front of a jubilant 4,102-person crowd.
"We talked about it all week. We had a really good defense; we had a lot of enthusiasm on defense too," senior forward Tim Rusthoven said. "That's another thing that we really pride ourselves on and try to get better at. We did that tonight."
Having allowed over 40 points in the second half of its first two conference games, the College clamped down on a largely inexperienced squad and limited the Dukes to 32 second-half points.
James Madison capitalized on three early Tribe turnovers to establish a 10-4 lead after five minutes of play. Thornton, senior guard Brandon Britt, freshman forward Omar Prewitt and senior guard Julian Boatner all scored over the following five minutes to recapture the lead, an advantage the Tribe would hold the rest of the way.
Fueled by a bevy of Thornton jumpers and three-point shots, the College seemingly couldn't miss en route to outscoring the Dukes 29-11 the remainder of the half.
"We understand basketball is a game of spurts," Thornton said. "They're a talented team, a young team, a good team — so we understood they'd make a run. It was just a matter of us refocusing."
Thornton finished the game with a team-high 20 points on 6-of-10 shooting, including 4-of-6 from three-point range. Thornton wasn't alone, however; nine of the 12 players seeing minutes scored as the College ended shooting 56.9 percent from the field for the game.
"We're good shooters. … We have a lot of guys that can shoot the ball, but the thing that got it going for us was the defense," head coach Tony Shaver said. "We defended hard, we rebounded hard, and as a result we got transitional baskets."
Despite outscoring James Madison by just a point — 10-9 — on fast breaks, the College dominated on the boards. Sophomore guard Terry Tarpey led with nine rebounds as the Tribe out-rebounded the Dukes 35-24.
Tarpey turned in another all-around performance, recording four points, nine rebounds, five assists and a steal and block.
"Terry Tarpey and Kyle Gaillard may be the most important players on the team," Shaver said. "When they play at a high level, when they play with confidence, we go from [down] here to [up] here."
Gaillard added seven points, five rebounds and four assists in 24 minutes.
Britt, who has yet to return to his starting role after returning from suspension, added 12 points alongside a pair of rebounds. Six-time CAA Rookie of the Week Prewitt had eight points, four rebounds and two steals as the College's bench outscored James Madison 27-12.
"This year our bench has been amazing. It helps because we have so many weapons," Rusthoven said. "If you take away Marcus or me, you have guys coming off the bench like Brandon and Omar and the other guys. You can't stop everybody."
Rusthoven, after joining an elite list of 1,000 point scorers earlier in the week, shot well and avoided foul trouble while recording 17 points and seven rebounds.
With conference play in full-swing, Shaver knows the ceiling is high for his squad. Nonetheless, Shaver maintains a simple philosophy when it comes to success on the court.
"It sounds simplistic, but I think we played with more intensity," Shaver said. "We played with more passion, more energy, and I think we played each possession more consistently."
The College returns to action Wednesday as it travels to Hofstra for a 7 p.m. tip.