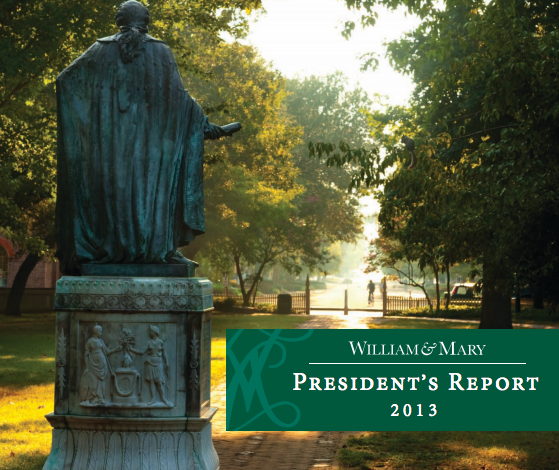 College of William and Mary President Taylor Reveley recently published the annual President's Report titled "Creating Leaders for Home and Abroad." The report outlines the College accomplishments throughout 2013.
In the report, Reveley provided statistics highlighting the College's admission rates.
"William & Mary's strength in the marketplace for applicants has never been greater," the report reads. "We enrolled a freshman class of 1,479 students from a record pool of more than 14,000 applicants. … William & Mary Law School was one of only 11 U.S. law schools with an increase in applications in 2012-13. Our 226 entering J.D. students were selected from nearly 5,900 applicants. Whether undergraduate or graduate, our students are extraordinarily able."
Reveley mentioned the College's rankings, including its U.S. News and World Report recognition as the first among public universities for undergraduate teaching. The College ranks third among all universities, public and private, in that category.
The College's emphasis on branching out globally was also mentioned. On campus, there are 580 international students from over 55 countries. The Wendy and Emery Reves Center for International Studies celebrates it 25th anniversary this year.  The College is also ranked first in the Institute of International Education Open Doors 2013 Report on International Education Exchange, with 45.7 percent of undergraduates participating in study abroad programs before graduation.
The report also addressed athletics.
"More than 80 percent of our students play on varsity, club, or intramural teams, take part in fitness and wellness classes and programs, use the Student Recreation Center on their own, or get involved with outdoor activities," Reveley wrote in the report.
Additionally, Reveley highlighted the 109 conference championships the Tribe holds in the Colonial Athletic Association since it was founded 31 years ago.
Reveley also highlighted the arts' successes on campus. The Muscarelle Museum of Art presented the "Michelangelo: Sacred and Profane, Masterpiece Drawings from the Casa Buonarroti" exhibition in 2013, which attracted almost 50,000 visitors to campus.
Over the course of the year, the College acquired the Hospitality House — now known as One Tribe Place — as a new dormitory and built a new fraternity complex with 11 houses and a joint activities building. The Sadler Center was also expanded, and Facilities Management completed renovations on both Tucker Hall and the Brafferton.
Toward the end of the report, Reveley discussed the College's financial foundation and hopes for continued alumni support.
"A great institution is always under construction, always evolving to take advantage of new opportunities and to meet the realities of ever-changing times," Reveley wrote in the report. "William & Mary has been under construction for more than three centuries. It is thriving in the 21st century. I firmly believe its greatest promise lies ahead."