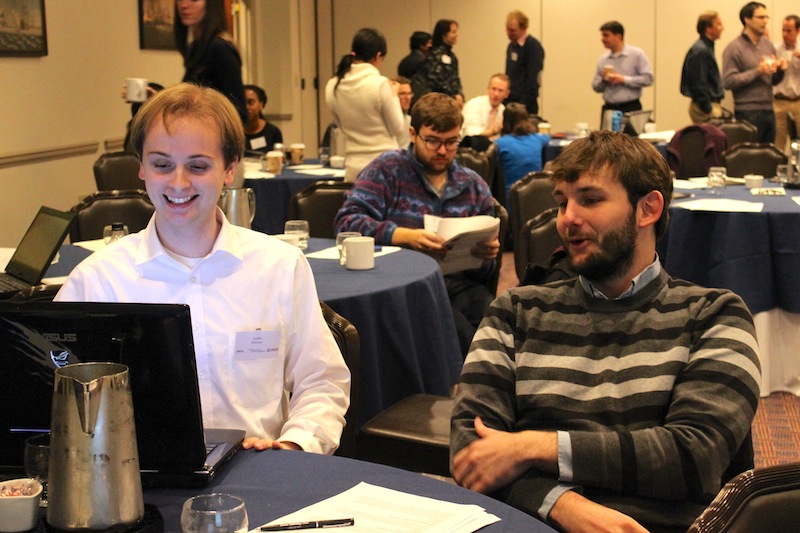 For Justin DeShazor '15 and Rebecca Schectman '16, late-night coding sessions are a regular past time.
Both DeShazor and Schectman work at AidData, a research lab partnered with the College of William and Mary.
Broadly speaking, AidData strives to make development finance more accessible. Researchers collect information about aid projects around the world and file it into a public database. The database then produces personalized maps and details about aid-based projects in specific geographical regions. The lab tracks the data in order to "increase transparency, efficiency and coordination by donors and recipient countries."
DeShazor learned about the AidData internship program from a friend's older brother. Intrigued by the field of study, DeShazor began as an unpaid intern in the fall of his sophomore year. A little over a year later, he now serves as a Senior Research Assistant, leading a team focused on geocoding AidData's data collection for China.
Geocoding pinpoints the exact locations of aid-based projects. Producing a sea of red dots across continents, the mapping provides concrete evidence as to who funds projects within specific regions.
Concentrating on the media-based dataset for China, DeShazor supervises a team of about ten interns and research assistants. Fond memories accompany the atmosphere of the lab, even during crunch-time.
"[AidData] has a great environment," DeShazor said. "It's a great place to grow."
Grateful for his involvement with AidData, along with the networking opportunities, DeShazor looks forward to future research involvement.
"AidData is the perfect place to kickstart your professional career," DeShazor said. "I'm very lucky and thankful."
DeShazor worked at the Senate Foreign Relations Committee, and has his eye on the Center for Global Development for post-graduation.
Although she began as a Research Assistant with AidData last fall, Schectman has worked on related projects since her freshman year at the College. Now a Research Fellow with AidData, Schectman works on geocoding with students in the office and with a professor on his independent research project.
Captivated by both the geocoding process and the intricacies of development finance, Schectman considers this job an extension of her academic life.
"The more I do it, the more I realize what I'm interested in. It relates to my major and influences what classes I take," Schectman said.
An international relations major, Schectman plans to continue research in development projects.
Later this year, both DeShazor and Schectman will study abroad as summer fellows for AidData. Serving as representatives of AidData, both researchers will work to promote the use of AidData information and its effects within the region.
Although the fellowship plans are not yet fully developed, DeShazor and Schectman expressed enthusiasm for the trip and the role it will play in increasing their hands-on experiences.
"I just hope I get to keep traveling and keep learning more about development finance," Schectman said.