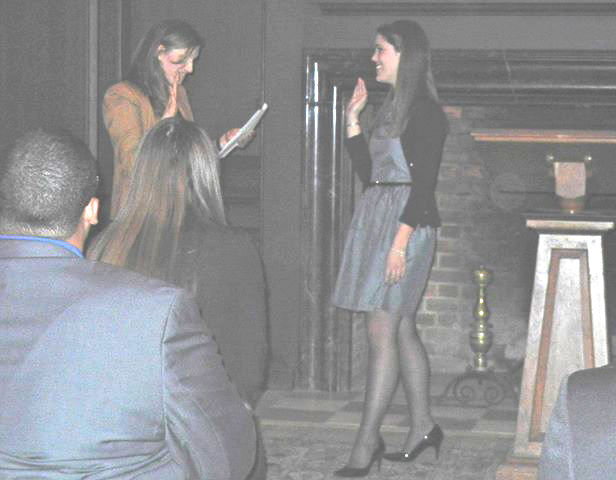 During a standing-room only ceremony in the Great Hall of the Wren Building, eight returning members and 16 new members were inducted to the College of William and Mary's Undergraduate Honor Council.
College President Taylor Reveley and Associate Dean of Students and Director of Student Conduct Dave Gilbert spoke during the ceremony. Gilbert, who was attending his tenth Honor Council induction ceremony, said he had never seen the room so full.
Gilbert noted that the year had been mostly devoid of controversy and that it had been the first year under the new Honor Code. He said it was the strongest group of leaders he had ever worked with and commended the leadership team of outgoing Chair Erin Hills '14 and Vice Chair Emmy Newcomb '14. Gilbert stressed that while the job is difficult, it is also rewarding.
"For those of you who are not part of this system, who are here as friends, family, I want you to understand and appreciate this endeavor that these folks have pledged," Gilbert said. "I can tell you that my experience working with the council, it is rarely fun, but it is vitally important."
In addition, the new executive board members were sworn in. Caroline Chalko '15 will serve as chair, Nicole Walsh '16 will serve as vice chair, Brian Fuller '15 will serve as chief financial officer and Kacie Rettig '16 will serve as secretary. Chalko and Walsh both had the most votes in their social classes, with 933 and 629 votes, respectively.
Outgoing members were allowed the opportunity to give some thoughts on their experience in Honor Council. Hills, Newcomb, Michael Gibbons '14 and Dylan Frendt '14 all spoke.
"I just feel lucky. I feel nothing but gratitude to this organization, this school and for the opportunity to work with you all," Hills said. "Thank you for all your hard work, your late nights and your sacrifices."
Newcomb shared some favorite memories and echoed Gilbert's sentiments.
"This can be some heavy stuff, like Dean Gilbert said. This isn't always fun. It's rewarding, but you don't necessarily always enjoy it," Newcomb said.
All four bestowed advice on the new council. Newcomb urged them to listen, breathe and smile. Hills told Chalko that she had earned her role and she should "own it."
"My advice to the incoming council is — believe in the process, believe in yourself, and use your heart," Hills said.
The Honor Council elections were originally intended for Jan. 29, but were rescheduled to Jan. 30 after the College canceled classes due to snow. Members are not allowed to campaign in order to encourage students to elect peers based on their reputation as student leaders and their involvement in the College community. Each social class has eight slots on the council. 11 juniors, 18 sophomores and 31 freshmen ran for the 24 slots.
To see the complete 2014-15 Undergraduate Honor Council member list, go to Flathatnews.com.