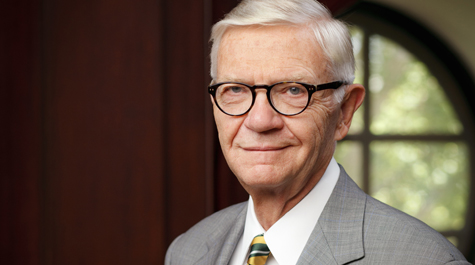 College of William and Mary President Taylor Reveley
College of William and Mary President Taylor Reveley has had a hankering for leadership since he was 10 years old.
Winning his first race for class president in the fourth grade, Reveley knew from the beginning that he wanted an occupation with influence. Although Reveley discounts his elementary school accomplishments as "not a big deal," the early exposure to presidency sparked interests in politics and international relations.
"I got interested in international affairs really early on, when I was a kid. It was pretty clear to me that what I wanted to do was in that field," Reveley said.
Still passionate about politics, Reveley worked on multiple campaigns throughout high school.
"I worked really hard on one campaign and won; on another, I lost. I have had experience on both ends of the spectrum," Reveley said.
Combining an enthusiasm for both politics and international relations, Reveley had practically his entire life planned out by age 16. He sought to earn a Ph.D. in some form of international relations, work for the U.S. State Department, and then become an ambassador.
This arrangement shifted, however, during his junior year at Princeton University. A life devoted to politics became increasingly unappealing and, although at the time he was also uninterested in law, he decided to attend law school. A few decades later, Reveley notes he has worked for a law firm and served as dean of the Marshall-Wythe School of Law.
"It just goes to show that [your] thinking about occupations can, in fact, evolve," Reveley said.
Reveley has served as president of the College since 2008.
"When you are a leader you get involved in a great many things," Reveley said.
Although the pursuit of becoming an ambassador never came to fruition, Reveley still maintains a strong interest in international relations. To this day, he travels widely and serves on boards pertaining to global affairs.
Professor George Greenia
For Hispanic studies professor George Greenia, higher education was a vocation from God.
For 10 years, Greenia served as part of the Franciscan brotherhood in the upper Midwest. Curious about the holy orders, Greenia attended Catholic school for five years before joining the order for another five years.
"My older brothers were rebelling by smoking and riding motorcycles. I needed to do something, so I went off to the order," Greenia said.
Greenia greatly enjoyed his time with the brotherhood, participating in a cappella groups, other music groups and service initiatives.
"My first thrill, my original happiness, was being a Franciscan brother," Greenia said.
After ten years, he felt a calling to attend college. With the support of the order and funding for his academic endeavors, Greenia left the brotherhood and enrolled in his first of six universities.
Once at college, an eccentric Spanish professor, a Greek woman from Alabama, encouraged Greenia to pursue a career in Hispanic studies. Six years later, Greenia graduated with 188 credits, a triple major and double minor, and went on to get his teaching certification in Spanish and Latin from the University of Michigan.
Throughout his undergraduate experience, Greenia also maintained his childhood affection for science fiction. He attributes his interest in the Middle Ages to his science fiction-inclined mindset.
"The Middle Ages [are] so wonderfully strange, and it actually happened," Greenia said. "If you want to look at someone from another planet, look at someone from the Middle Ages."
Robert Heinlein and Isaac Asimov are among some of his favorite science fiction authors. Greenia is  a self-described "Trekkie."
Greenia has worked at the College of William and Mary, at his first job in higher education, for over 20 years. While being a professor was not his original goal, Greenia does not regret his career path.
"God called me into the order, then back out of the order and into higher education," Greenia said.
Professor Laurie Koloski
Brain surgeon, backup singer, priest, ceramic artist, journalist — for history professor Laurie Koloski, the list of former dream jobs is boundless.
As a child, Koloski was dedicated to becoming a backup singer.
"I remember watching a lot of those variety shows, thinking about how fabulous it would be to be a backup singer," Koloski said.
Beyond the obvious appeal of uniform dance moves and catchy pop songs, Koloski attributes the attraction to the artist lifestyle to the low amount of pressure involved.
"[Backup singing] seemed to involve less of what society told me, what I intuited from society of what would be a high status job, and more of, 'Oh, God, this would be so much fun,'" Koloski said.
In high school, following her backup singing fad, Koloski channeled her inner activist and yearned to save the world. Planning to work in inner-city communities, Koloski was passionate about dismantling social injustice.
From this passion for action stemmed an interest in journalism. A career as a journalist maintained appeal as Koloski headed off to college and pursued a degree in English.
A trip to Poland for four years, however, shook up the plans. Koloski read U.S. newspapers while in Poland and was disgruntled and disappointed by the misleading depiction of current events.
Koloski returned to school in the United States and developed an ardor for Russian and East European history. She went on to receive a master's degree, and it was in this program that she found an affinity for teaching history.
Koloski still dabbles in many of her childhood interests today: photography, pottery and Sunni- and Cher-inspired backup singing.
Koloski appreciates her multifaceted professional and personal lifestyle. She encourages students to do the same.
"I always tell students to plan one step at a time. If you plan 20 steps out, you miss potential open doors along the way," Koloski said.